Summer Camps in and Around Louisville, 2015: General Camps
This is a partially sponsored post
We have 4 total posts about camps – click HERE for all 4!
Join us this summer for fun, friendships, and exploration.
Day camp programs at Bright Horizons® offer indoor and outdoor activities, plus opportunities for fun, friendships, and exploration.
Our programs group children by age and encourage their growing ability to make choices, work with others, and assume responsibilities.
Our camp teachers work collaboratively to develop a fun curriculum that takes advantage of all that the summer offers. They use playgrounds, the surrounding communities, and special visitors as an extension of the camp, helping children to discover science, explore nature, and engage in the creative arts, while learning about the vast opportunities in the world around them.
Our Summer Camps run all summer long! Spaces fill quickly – contact us today for more information and to register your child.
Bright Horizons at Downtown Louisville: 632 South 4th Street, Louisville, KY (502) 584-0716. Bright Horizons at the Plainview School: 10320 Timberwood Circle, Louisville, KY (502) 245-1333.

Experience the magic of JCC Summer Camp where there is something for every child.
JCC Summer Camp offers traditional camp for children 2 years through 9th grade with arts & crafts, sports, free swim, swim lessons and more!
Children 2 years old receive private swim lessons twice a week, children 3 and 4 years old receive group swim lessons three times a week and children in Kindergarten through 3rd grade receive group lessons daily.
Specialty camps are also offered which include: Soccer, Theatre, Gaga, Dance, Lego, art and more. All specialty camps enjoy a daily swim.
We believe that all campers can participate, all campers can succeed and all campers can make a new friend. Our Yachad program integrates children with special needs fully in our regular program. We also offer a special unit for preschoolers transitioning into Kindergarten.
The beautiful JCC campus includes two outdoor pools, baseball and soccer fields, basketball courts, as well as indoor gymnasiums, auditorium and more!
Call for a brochure and additional information.
3600 Dutchmans Lane, Louisville, KY 40205
502.459.0660
http://www.jcclouisvillecamp.org/
Los Monitos camps are the perfect combination of fun and educational value! 5-12 year olds and their parents can choose from themes including cooking, travel, mystery solving, the arts, and the one-of-a-kind International Spy Camp for 8-13 year olds! Combine multiple camps for discounts! Summer camps cover a variety of languages and their respective cultures and geography, including Spanish, Portuguese, French, Italian, German, Chinese, Japanese, Korean, and Hindi! Visit www.losmonitos.com/summercamps or call (502) 893-0933 for more information.

Mix children, the arts and some fresh air, and you have a recipe for summer fun! Come and enjoy a variety of programs which develop a positive self-concept, including Yoga one afternoon each week. Each camp program is planned thematically, with off-site field trips organized over the course of the summer. Destination Discovery is a safe, nurturing, educational program for children ages 3 – 10 years.
Call to receive your Destination Discovery information package – 502-640-8585 or email office@msl-edu.org

Hwang's Martial Arts summer camp is an all-inclusive enrichment program where kids have fun as they get in shape, build leadership skills and develop positive attitudes. Camp provides basic Taekwondo lessons plus bi-weekly field trips to area attractions like the Louisville Zoo, local pools and parks. Students form long-term friendships as they develop important life skills — all in a fun, positive environment.
Come for one week or stay for all weeks! Drop off times are between 7:30 A.M. and 9:00 A.M. Pick up is between 5:00 P.M. and 6:00 P.M. For more info visit us at http://www.hwangsmartialarts.com/programs/summer-camp/ and connect at facebook.com/Hmalouisville.
The Kentucky Humane Society offers two great summer camps for children six through 12: Lifelong Friends and Kids & Canines. Weeklong camps run June through August. Both camps provide age-appropriate enrichment activities, time with our shelter pets and fun. Kids and Canines even lets the child's own dog come along. Give your child the gift of better understanding companion animals. For more information, visit www.kyhumane.org or contact Community Outreach Manager Valerie Merrifield, 515-3149 or vmerrifield@kyhumane.org.

Adventure awaits this summer as your child explores something new each day at Camp Primrose. Exciting summer curriculum projects, special events, and field trips keep your child's imagination growing. Summer at Camp Primrose is filled with excitement, enthusiasm and creativity! On summer splash days your child stays active and cool with safe water-themed games and activities. Summer campers take field trips to parks, museums and local landmarks to help learning and themes come alive! Call today to learn more (502) 974-4111.


Planetarium camps engage kids in exciting, hands-on activities that spark curiosity and a love of science. Campers are immersed in visualizations that awe and inspire as our virtual spaceship rockets kids from Earth to the edges of the universe.
Camp options include Space Adventure Camp (entering 2nd – 4th grade) and Space Engineering Camp (one week for 5th-6th grade and one week for 7th – 9th grade). Unleash the inner scientist in your kid!
Get outside this summer with The Parklands, offering 10 different week-long camps for ages 5-12. Engaging, discovery-based investigations into gardening, art, storytelling, biology, bugs, mud, paddling and aquatic life- all in beautiful Beckley Creek Park.
Parklands Members also receive a reduced rate (theparklands.org/member for info. on the perks of membership).
Camps run 9am-4pm, Mon-Fri, June-August. TheParklands.org/camps or (502)584-0350 to learn more and register.
At the Y, you can count on the best summer ever for your kids, filled with friendship, accomplishment and belonging. Campers will try new things, make new friends, and discover all they can accomplish when they believe in themselves.
Choose from over 30 locations in Jefferson, Bullitt and Oldham counties. We offer a full day of fun activities for ages 3 – 16 including field trips, swimming, sports, games and plenty of fun. Our trained, certified staff will help your child flourish socially, emotionally, cognitively and physically. The Y is for everyone. Financial assistance is available.
Register online by May 6 at ymcalouisville.org and get a free backpack!

YMCA Camp Piomingo
The
YMCA of Greater Louisville's premier overnight camp offers coed
programs for children ages 6 to 16. Nestled in the beautiful woods of
Otter Creek Outdoor Recreational Area, Camp Piomingo builds self-esteem,
promotes friendship and instills in your child an appreciation of
nature – all in a safe, fun and nurturing environment. Activities
include swimming, bicycling, archery, arts and crafts and of course the
traditional final campfire. Camp starts the week of June 7. Register
today at
ymcacamppiomingo.org
or call 800-411-5822 for more information.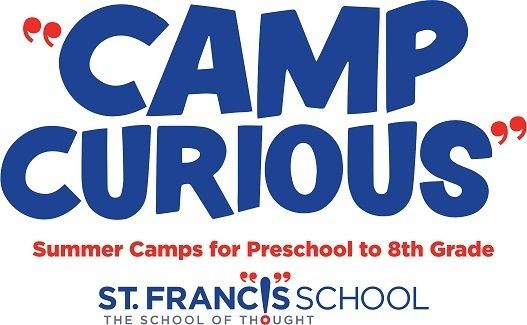 St. Francis Goshen is offering "Camp Curious" day camps for Preschool and JK-8th Grade (half- and full-day options available). Children can make the most of their summer and enjoy the peace and tranquility of camp in the country! These camps will offer crafts, outdoor activities, field trips (for JK-8), and much more. This camp runs from June 8th – July 31st. 5% discount for early registration through May 9th. For more information, go to StFrancisSchool.org
Girl Scouts of Kentuckiana K-12 grade, not just for girl scouts! 2 options – The Bear Creek Aquatic Camp, near Paducah, with 200 acres of waterfront property and 2 miles of shoreline or Camp Pennyroyal, near Owensboro, with a private lake, horseback riding, and lots of outdoor choices. June 14-July 30. $100-$600/week with financial aid available.



Camp Maple at St. Luke's Preschool 9-1:30, Monday through Friday, May 26 – August 7. Ages 2-10. $150/week with discounts for siblings. Different themes each week including space and pirate weeks! Contact 502-245-8828 or stlukescampmaple@gmail.com
In Alphabetical Order – It will continue to be updated as camp information is released.
** denotes "preschool too!"
Camp HiHo 9 weekly sessions between June 1 and August 7. $245/week. Ages 5-13.
Camp Quality Kentuckiana A camp for children ages 6-16 who have cancer. June 28-July 3. Free!
Cedar Ridge Camp Tra­di­tional day camp and overnight camps. $179-$659.
Chance School ** – Under the Trees theme
Creasey Mahan Nature Preserve June 15-18 and 22-25. 9-2. Outdoor activities and crafts. $145.
Earth Path Education Nature camp in Cherokee Park. Two weeks in July, 9-3.
Frazier History Museum Grades 1-6. $40/day or $170/week. Options in June and July. 9-4.
GymTyme Fun Gym Summer Camps ** Ages 3 and up. Gym, games, crafts and more!
Jefferson Memorial Forest Ages 5-15. 9-4. Camps in June and July. $115-$195.
Kentucky Science Center ** Science camps. Ages 4-15, full and half day camps. June 1-August 7.
Lions Camp Crescendo Camps for children with disabilities or in foster care in June and July.
Louisville Classical Academy Latin, greek, soccer, invention camp options. $60-$220. Ages 7-13.
Louisville Nature Center *** Camps in June and July. Ages 4-13 depending on session chosen. Half and full day options. $125-$220/week.
Louisville Zoo *** PreK-6th grade. June 8-July 31. Half day options for Pre K-K, all others full day. $130-$245. 9-4 with drop off and pick up an hour before and after.
Meaningful Day Services** – Jeffersonville camps for children with disabilities
My Gym ** Ages 3-7 or 4-9. $100/week or $30/day. Camps in June and July, 1-4 Monday-Thursday.
Oldham County YMCA ** variety of programs, ages 4-14
Passionist Earth and Spirit Center Odyssey Camps Art, yoga, science experiments, exploring nature. Morning and all day options in June. $95-$200.
Smiley Camp ** Ages 3-6. 9 – 21 week sessions for 3 weeks June 8-26, $150/week with discounts for additional weeks/siblings.
St. James Preschool camps** – Pewee Valley
Sullivan Camps Culinary and pastry camp options. June 14-19. $650-$800 depending on housing.
VIPS-Louisville Open to all community friends, ages 3-6. "Come, See, Feel & Learn!" Part summer camp, part preschool, all fun! Choose by the week or day, June 8 – July 30. $40/day or $120/wk.
White Mills Christian Camp A variety of faith-based overnight camps (general, science, sports & performing arts & more) for children of all ages.
YMCA Louisville ** See ad above. Lots of affordable options and locations!
YMCA of Southern Indiana Many options available.