Review of George Rogers Clark Park By:Stephanie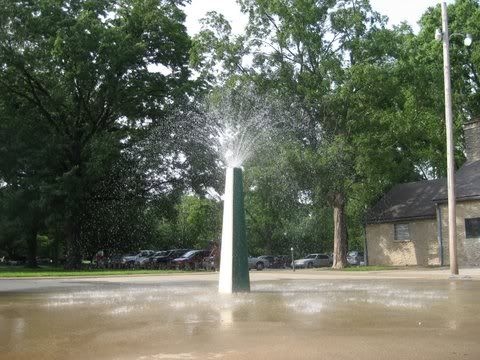 Over Memorial Day weekend, we visited George Rogers Clark Park (off of Poplar Level Rd) looking for a picnic spot where the kids could cool off in the spray pad. It was full of people playing, eating, hanging out and splashing in the spray area.
There were ample picnic tables but we chose a shady spot under a tree near the playground and splash area. We had a bite to eat and the kids ran off to play. The playground had two structures. One smaller for younger children and one slightly larger. They had several swings and baby swings, although one of the baby swings was broken. The playground is very close to the bathrooms and spray area. Aside from those features, there are basketball courts, a baseball field and green space for other activities.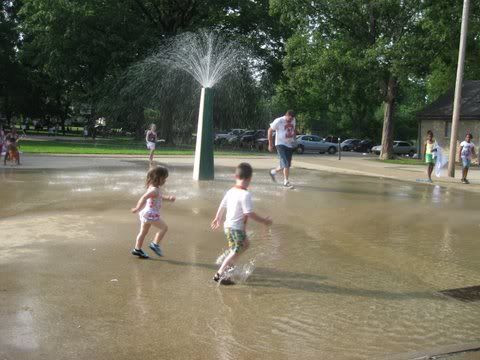 After playing for about 15 minutes, my kids wanted to go and splash! So, my husband took my son to the bathroom with his swim clothes and I changed my younger daughter on out blanket. My husband quickly returned and got the keys to the car because he said the bathroom was filthy and he didn't want to stay in there. My son was even coughing/hacking and said it was "yucky." Regardless, we got them changed and they went to play in the spray area. It was a simple fountain with a concrete base like you will find in many of the metro parks. However, one of the drains seemed to be clogged so there was some water pooling on one side of the spray pad. The drain must have been clogged deep below because the water that was pooling was not dirty, but it considering it was meant to drain, that is definitely a problem. I let me kids splash for a while before heading out to the Cherokee Triangle summer concert. We didn't want to stay long because we knew we didn't want to bring our son back to that bathroom and the park was pretty much a mess with trash overflowing and out on the grass etc. I don't think the park would be in this condition on an average day. I think it was just because of how busy it was over the holiday weekend and I am hopeful that they came by to do a thorough cleaning this week.
Looking for the perfect sitter? Sittercity sitters have background checks, references and parent reviews. Try it now!