Review of Impellizzeri's Pizza By: Stephanie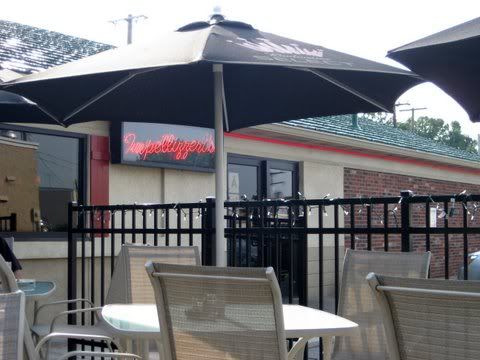 As a family, pizza restaurants are our "go-to" option for dinner out with the kids. Generally, they are quick, reasonably priced, family-friendly and kids love pizza. I have heard wonderful thing about Impellizzeri's, so I decided to give them a shot. We dined out at their Brownsboro Road location and enjoyed the pizza as well as the people.
We chose a seat on their outdoor patio. It is not a large patio, but large enough for 6 families to eat outside. We like eating outside because our rambunctious preschoolers tend to do well outdoors so for families, having an outdoor space for dining is perfect. You can dine outdoors at either their East End or Highlands locations. When we arrived, the staff was friendly in commenting on how cute my daughter looked in her dress and being flexible in where we wanted to sit. The waitress even complemented me on my forethought in bringing coloring books and crayons with me!
We brought a coupon with us for some savings!
They have coupons and specials posted on their website
. We kept it simple and ordered a large original style pizza with homemade Italian sausage on half and some drinks. I generally choose a thin crust, but wanted to try their original style to get the full
Impellizzeri's
experience. As we waited for our food, I saw buttery-dough-deliciousness arrive at a neighboring table in the form of bread sticks and had ordering remorse that I did not get those! Those bread sticks looked heavenly and I will be ordering them next visit so I can enjoy a carbohydrate binge.
The pizza came and was cut into small squares. The original crust is not as thick as deep dish but thicker than thin-crust; simply: it's medium! It looked picture perfect and when we cut into it, we found multiple layers of sauce, cheese and topping. It was hearty and fresh. My daughter dove into the cheese slices with a vengeance and ate an impressive 3 pieces. After you try it for yourself, you will find that this is an impressive feat for a 2 year old; those slices are quite filling. My husband and I agreed that the sauce was interestingly tangy and definitely made the pizza unique. And, I go back to my dough-obsessed comment from earlier. In terms of crust, this was fantastic. It was perfectly crisp on the outside but soft and chewy inside. Very well cooked.
We ordered the large, ate until we were full and still went home with multiple slices for leftovers. With our coupon, we dined for less than $20 (not including tip) as a family of four and didn't have to worry about lunch for the next day. We will definitely go back and I WILL get my bread sticks that I have been dreaming about and maybe make it there on a Tuesday for half-price hoagies; I'm always up for a good hoagie! Or, maybe a Monday so I can get my baked-bread-perfection at half price! (They have daily specials that begin at 4pm).