Review of the Kentucky Derby Museum
I took my daughter and "horsey" lover to The Kentucky Derby Museum. I will start off by saying that I am completey appalled with myself that in all of the hundreds of things I have written about, it has taken me this long to visit the Kentucky Derby Museum. This museum is incredible! It should be on your short list, if not on the top, for things to do with your family.
It was $13 for my admission and my daughter, like all kids under 5, was free. The admission prices are on their website and for the quality of the museum, I think they are fair. You don't just get the museum, you get a movie and a tour as well! The museum is part of Churchill Downs and easy to access from I-65. No issue with parking at all, but I did not go on a race day. I imagine when Churchill Downs is active, you may not want to go for a casual trip to the museum.

You get wristbands and proceed into the museum through starting gates facing a large wall of tvs that have thoroughbreds charging out of the gates. You can hear them stomping through the speakers, it's really cool.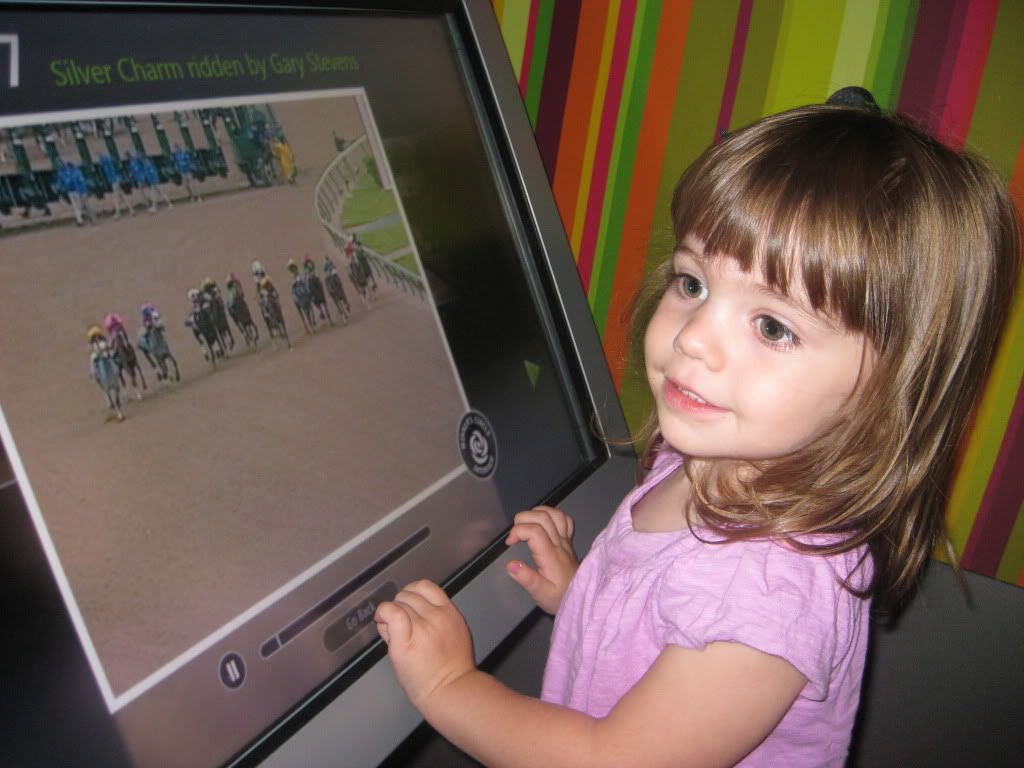 We wandered slowly through the displays. There are interactive displays where you can pull up just about any Kentucky Derby coverage you like on a tv and watch it or ones that have hand-held speakers so you can get some educational information as you watch. Then, there are also treasured items like cups, trophies, silks etc. that are interesting and special to be able to see. The place is pristine and immaculately kept. But, at the same time, it was entirely child-friendly and although I felt I was in a high-class museum, I didn't feel afraid that my child would get into trouble!
Then, we saw the horse riding game! My daughter leaped onto that horse with such zeal. Three horses face tv screens and they have buttons for controlling the horse on the screen or choosing options for the game. The three players compete with each other, racing around the track. My daughter, and all of the museum goers really enjoyed this game! She beat out two teenage boys, no joke!!! We also dabbled in calling a race and hearing it played back to us, that was hysterical.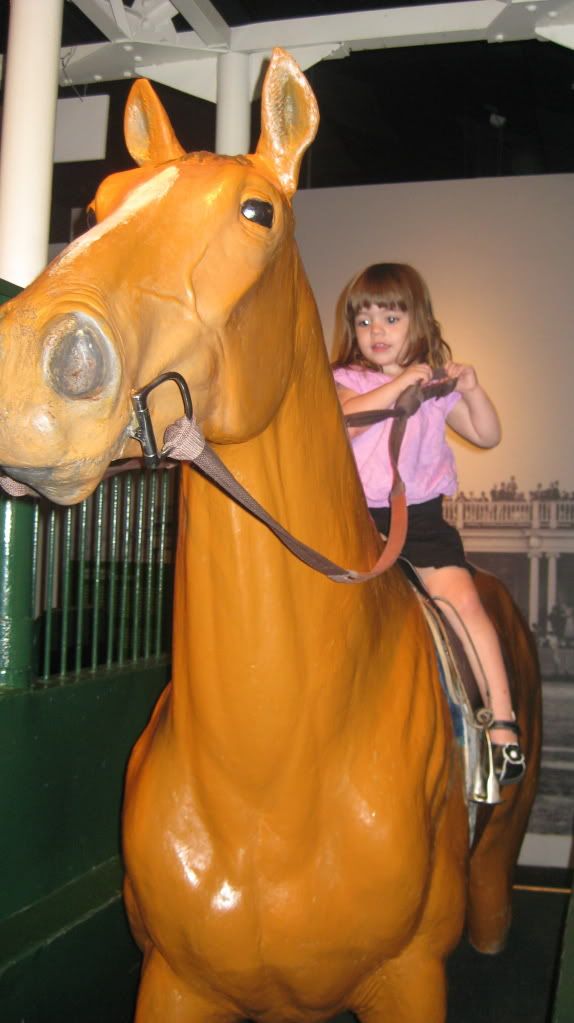 We ventured up to the 2nd floor and I liked the Shoemaker exhibit (temporary exhibit) that is on display until the end of the year. It has a big velcro puzzle for my daughter to do while I browsed to look at and learn about all of his awards. Also upstairs, there are a few touch and feel type displays as well as a mini version of a stable that my daughter found interesting to look at. We spent the most time at the dress-up-like-a-jockey part of the museum and another starting gate that had a horse that kids can climb on. Quite the photo-opp!
While we were upstairs, the movie in the central room downstairs started. We were able to watch over the balcony and it was very well done. The movie is shown on a 360 degree screen and you sit in the middle. It was so vivid and engaging. It was a wonderful documentary and made me get chills thinking about the greatness that is the Kentucky Derby and how fabuLOUs it is to live in Louisville!


Finally, we went on the tour. They have tours every 30 minutes that come with admission. They also have other tours that are for an additional fee, like a behind the scenes tour. The tour was just long enough to keep my daughter's attention, about 20 minutes. They stop periodically to give you some anecdotal history that was quite interesting, take you by the track, by the paddock and back to the small stable area by the cafe to see the resident horses. We did not eat there, but they do have a cafe, the Derby Cafe, and a cute gift shop (where we found an adorable book for just $3 that's my daughter's new favorite, we've read is 632 times already and counting).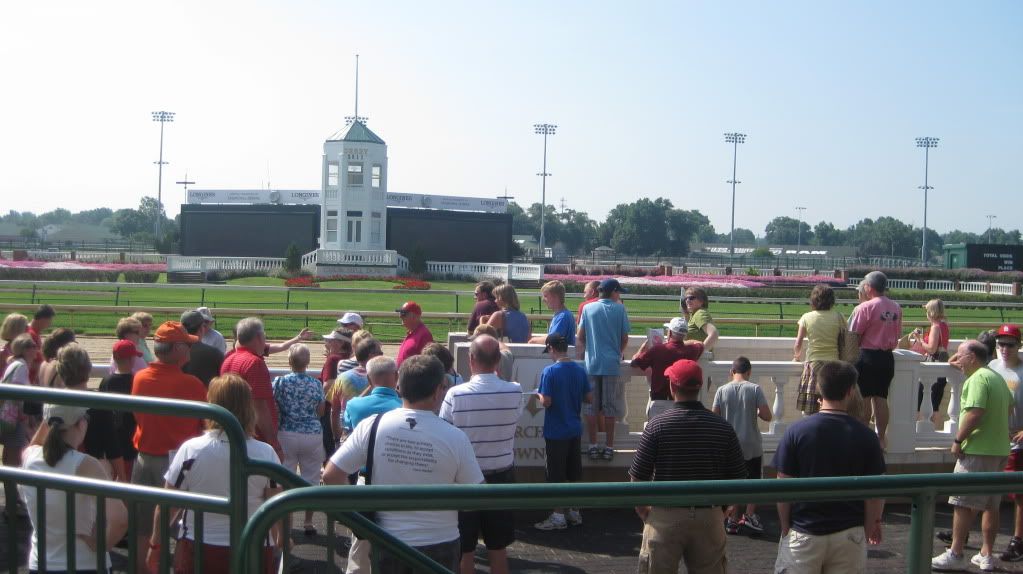 I will go back to this museum. After all, I have to take my son and my husband! It is not just an attraction for out of town visitors, but for Kentuckiana residents as well. Especially if you have children under 5, take them while they are young enough to get in for free, they will have a lovely day and you did just save a few bucks on their admission.
Here are some videos from the Louisville Family Fun YouTube channel: