Things to do in October in and around Louisville
This post is sponsored by:
Larissa Brown
Vintage Couture
October! Falling leaves, pumpkin patches, hay rides and fall break from school! That's what I am looking forward to.
And, my family and I will be officially moved into our new home, thrilled!!!
Here's my picks for things to do during the month of October to get some great, diverse experiences throughout the month. Get your calendars ready, I am about to explode with ideas.
Start the month off right with a Sunday visit to the St. James Art Fair. It's in Old Louisville and on October 1st, it's open from 10am-5pm. It is down in a beautiful historic part of town so not only is the art unique, the location makes the fair really enjoyable.
The Southwest Community Festival is October 8th from 9am to 5pm at Sun Valley Park. There will be a kids area with games and inflatables, arts & crafts booths, food, a car and motorcycle show, live music, toddler town and a balloon glow (Oct 3rd, 6pm, Meijer)! Phew….that took my breath away.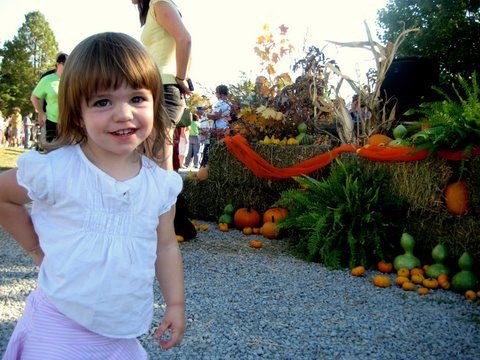 Also on October 8th is the Foxhollow Farm Fall Festival in Crestwood. This will be our 3rd year going, we love this family festival! Kids activities, hay maze, tractor rides, food, music and pumpkin picking. This event screams OCTOBER. Did you hear it?
Visit Downtown LaGrange on a Saturday morning for a nice little family excursion to the Farmer's & Artisans Market. There's live music, the train might roll through, lots of local goods. Give it a shot before they close it up for the winter.
Try a Library event. The LFPL has great programs for kids of all ages and we have them on our calendar. Pre-walker, toddler, after school, teens….there's something at each location on different days. Browse our calendar and find one to try. Neighboring counties also have great programming, so check your local branches!
One of my kids favorite things to do! The Baxter Halloween Parade! This year, it's October 14th at 7pm. Take your ghouls and boys out the this parade, bring a trick or treating basket/bucket because they will get lots of goodies! I wrote about it last year.
On October 22nd, you can go to the American Printing House for the Blind and make a Halloween Mask! It's free, but registration is required. It is open to all ages and the staff will help the kids make the masks, scary or friendly!
On October 23rd you can head out to the Woodhaven Country Club parking lot from 3-6pm and Trunk or Treat with LouisvilleMommies.com. This non-profit hosts a wonderful event that's open to the public with activities, candy and prizes for great costumes!
Sneak a little education and history into your family fun and take the entire family to Historic Locust Grove on October 29th & 30th from 10am-5pm for their 18th Century Market Fair. It's $6 for adults and $3 for children and enjoy 18th century entertainment and goods. There will be mock battles and people in dress. What a wonderful way to experience and learn about local history.
There's also this little holiday at the end of the month called Halloween. In case you didn't know, it's on the 31st and it's a really fun family holiday where you dress up and kids get all hyped up on a ton of sugary candy. They like it – it's just a tad bit of fun. The Louisville Zoo hosts the Worlds Largest Halloween party in the evenings throughout October, the first 2 weeks featuring free admission for members. It's a blast!
Our calendar is packed with other options as well (if you believe that is possible)! Check it out and start making plans!