The Best Birthday Party Options in and around Louisville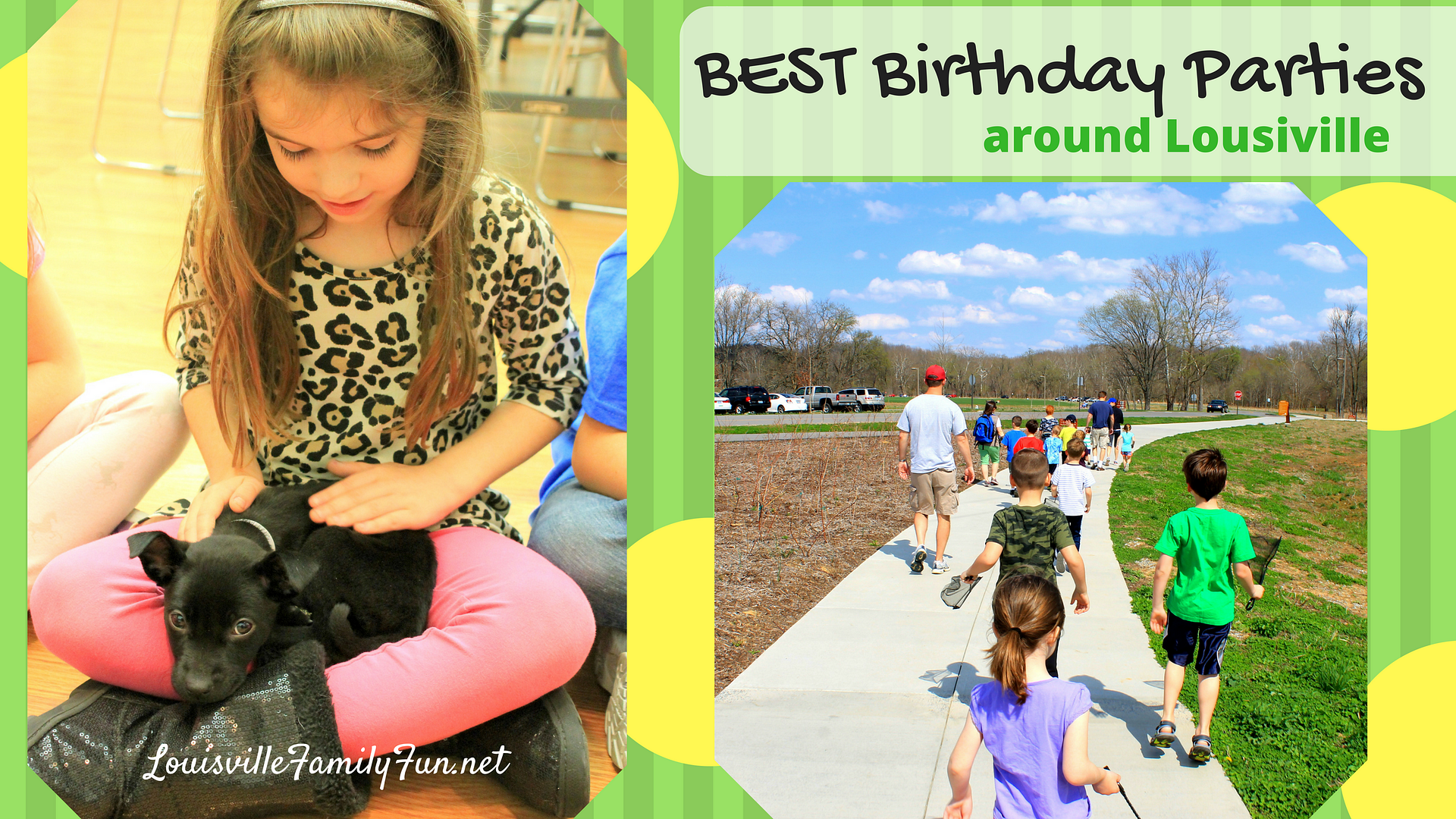 Are you planning a birthday party? Birthday parties are so important to our little ones. Here are some options to make your child's birthday memorable while making it easy for you!
We have tons of other useful resource posts – click here to find more family fun
Follow Louisville Family Fun on Facebook!
Sponsored by:
Party Options: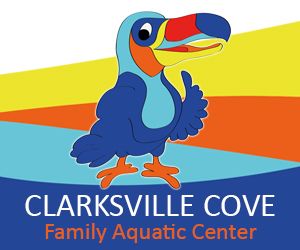 The BRAND NEW Clarksville Cove is your home for cool summer fun in Southern Indiana. With several birthday packages to choose from, we have something to fit everyone's birthday budget. Clarksville Cove features 3 splash pad areas with spray features and slides, a tube slide, body slide, and a lap pool. We also offer free parking, sunscreen, and tube rental! Visit ClarksvilleCove.com to tour our semi-private birthday zone, and view our birthday packages!
Are you looking for some fabuLOUs options for birthday parties in Louisville and Kentuckiana! Whether it's for toddlers or children in elementary or middle school, these are some great ones to choose from.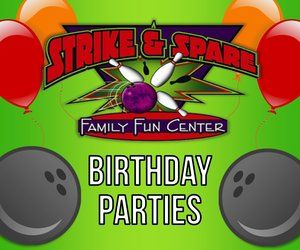 Birthday Parties at Ten Pin Strike & Spare
– It says it on the front of the building: "FUN IS BOWLING." So why would you want to have your birthday party anywhere else?
All of our birthday party packages include two hours of bowling, shoe rentals, unlimited soda, party favors, and a personal bowling pin for the birthday child! Our tiered package pricing ranges from $12.95 – $24.95 per child allowing you to fit any need or budget! You can also take advantage of our early bird Cosmic bowling and schedule between 12pm & 3pm! Private meeting rooms and additional lanes for adult bowlers are available for additional fees. Birthday parties require a minimum of 5 children attending and a $25 deposit at time of booking. Birthday party bookings available Saturdays and Sundays 12pm – 4pm. For booking visit our website and for questions or concerns contact us at (502) 896-1727.
For an entire generation Lazer Blaze has been providing a one of a kind birthday experience you won't find anywhere else. This kind of adrenaline fueled event is perfect to celebrate your child's special day: don't let them miss out!
Our parties run an hour and 40 minutes in length, or longer, depending on your package and setup. All packages include at least 2 exciting games of laser tag, party area, party setup and clean up as well as plates, napkins, cups and utensils. All laser tag participants must be at least 42" old and we strongly suggest a minimum of 7 years old.
We require a minimum of 8 participants for any party package, a five day advance notice (though we recommend 10 days) for an online booking, and a $75 non-refundable deposit at the time of booking.
Birthday Parties are a blast at Whet Your Palette! You provide the cake and we provide the fun!
All parents have to do is pick out what painting they want to do, invite the friends, bring the cake and we do the rest…even the clean up!!!
Call today to reserve the space!
(Ages 4-15, 8 person party minimum. Deposit due for reservation.)
Check out our web page for more details!!  Call us with any questions: 502.438.8865
Renaissance Fun Park is Louisville's FAVORITE Party Center! From Go Karts and Mini Golf, to the fog and black lights of our multi-level Laser Tag arena, we have it all! We also have the newest arcade games in Louisville and five private party rooms. Each party package comes with your own party host, drinks, attractions, game cards, plates, napkins and much more! We are so confident you will have a good time that if you are not 100% satisfied, we will give you a FULL refund! Be sure to check out our ULTIMATE Party Package which gives you access to all attractions all day long! For more info and to book online, visit, www.funatthepark.com, or call 502-253-9700.
Each House of Boom Birthday Package Includes:
1.0 Hour Flight Pass for the party guests
Exclusive Use of a House of Boom Party Room for 45 minutes after flight time
Party Attendant; Set-Up and Clean-Up
Party Plates, Utensils, Cups, Napkins & Table Covering (Guests are welcome to bring in any themed paper goods or decorations!)
Flight Shirt for the Birthday Jumper and wrist-bands for all of the fliers
Please bring any food, drink*, or party food you'd like!
Have the best birthday party EVER at All About Kids! You provide the kids and cake…we provide the fun! All About Kids makes birthday parties FUN for children and stress-free for parents! We have gymnastics, cheerleading, dance, swimming, martial arts, basketball and soccer parties available Friday – Sunday. Visit us online at www.AllAboutKids.cc for more information!
The Arctic Scoop
admin@thearcticscoop.com   502-409-6602
Combine Ice Cream and a blast of Science to make amazing parties. Our party packages include a Liquid Nitrogen Demonstration. Have fun with nitrogen and see the effects of freezing on ordinary objects. You will also learn a few things in the process and see how useful and safe nitrogen is.
Parents can sit back and relax while a party leader will take care of everything and entertain the kids with games. Our packages start at $10 a person and include an Ice Cream Birthday Cake, Demonstration, Party Leader and Ice Cream. The Deluxe package also includes drinks and games. Add-ons are also available; Pizza, Balloons, and a visit from Nitro the Polar Bear. The party can also be brought to your house or event site.
Even if you do not need a full Birthday Package, call to reserve a space for your group to come and enjoy ice cream together. We also make custom cakes and pies for any occasion.
Bricks 4 Kidz
Celebrate your child's next birthday with a fun and novel LEGO® party experience! The timeless fun of LEGO® bricks is brought to your location of choice.  Smiling faces, happy voices, and busy hands are the sights and sounds of a Bricks 4 Kidz® party.  Our parties include games and activities, plus bricks galore to keep your builders busy creating while having fun. Take the hassle out of planning and let our Bricks 4 Kidz® staff handle all your party needs including invitations, thank you notes, mini-figures and much more.  Schedule a party now for a fun-filled event your child will always remember.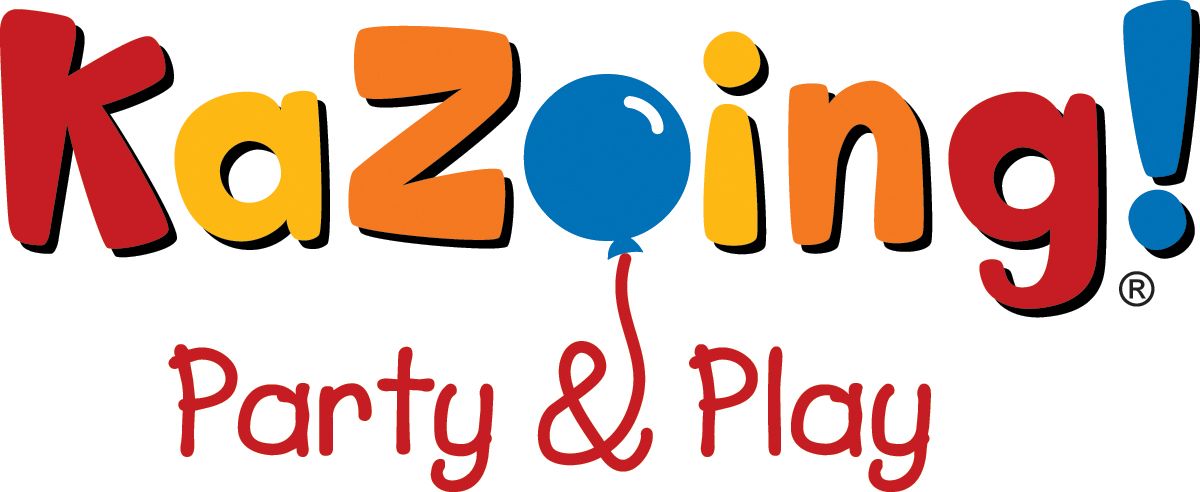 KaZoing! Party & Play 
At KaZoing! Our mission is to help you create an unforgettable party or event for the special child in your life. From high-energy bouncing fun to a glamorous supermodel party to an interactive Harry Potter art party, KaZoing! has the parties and characters to engage, entertain and excite everyone at your party. With more than 40 choices of parties, characters and entertainers, we are sure to have something for you. Plus, many of our parties, inflatables, characters and entertainers can be delivered to your home for a one-of-a-kind at home party, too! Book online 24 hours a day at http://www.kazoing.com/.
When planning your child's next party let Premier Face Painting help you create priceless memories one face at a time by transforming your party guests into amazing works of art. Watch as the magic begins with the stroke of the brush and your child and party guests are transformed into breathtaking butterflies, enchanted fairies, dragons, playful kittens, the possibilities are endless. We also provide airbrush temporary tattoos for the teens, clowns, children magic shows, fun balloon twisting and so much more. Visit our website to see how we can help you create amazing memories of your child's next party.

A Birthday Party at 4 Kicks for Kidz is the best way to celebrate your child's big day!
Party=1.5 hours:
45 Minutes: games with qualified instructor.
30 Minutes: cake and presents in party area.
15 Minutes: free play on field!
Provided: facility, tables, chairs, coaches.
You provide: food, drink, utensils, table coverings, decorations.
Arrive 15 minutes prior to set up; coach will be there to help!
After the party, leave the cleaning to us!
1-16 kids    $175.00      17-24 kids  $200.00    25-30 kids  $225.00     31+kids $300.00
$50 non refundable deposit is due upon reservation
Please call us with any questions! 502-254-6040
The JCC
Birthday parties at the JCC are a blast!  Choose a pool, sports, dance or craft party.  All parties are customizable and open to children of all ages and a bounce house is available for sports parties.  Parties are 90 minutes with 60 minutes of play and activities and 30 minutes in a party room.  We provide the personal party hosts to lead activities and set up and clean up as well as paper goods, and balloons.  Located at the JCC, 3600 Dutchmans Lane, Louisville, KY 40205.  Contact 238-2708 or email birthdayparties@jewishlouisville.org for more information or to check availability.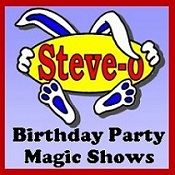 Steve-o Magic
Make your child's birthday party extra special and one they won't soon forget with a magic show from Steve-o! Hilarious and amazing entertainment that will have your guests laughing and engaged and thanking you for the super party. The birthday child becomes the star of the show, creates the magic, and receives a birthday present from Steve-o. Ask about Trixie, the magically appearing live bunny and the birthday child levitation option. Steve-o is a full-time professional magician with many years of experience with entertaining kids at birthday parties, preschools, schools and other family events. Visit
steveomagic.com
or call (502) 419-4272 for more information.
The Fun Farm
Your BEST BIRTHDAY PARTY—EVER !!! For ages 6 and up. Laser Tag, Paintball, Rock Wall, Go-Karts, Disc (Frisbee) Golf, Corn Maze. Only 13 miles / 15 minutes from Louisville, KY in Lanesville, IN. 1-800-952-3580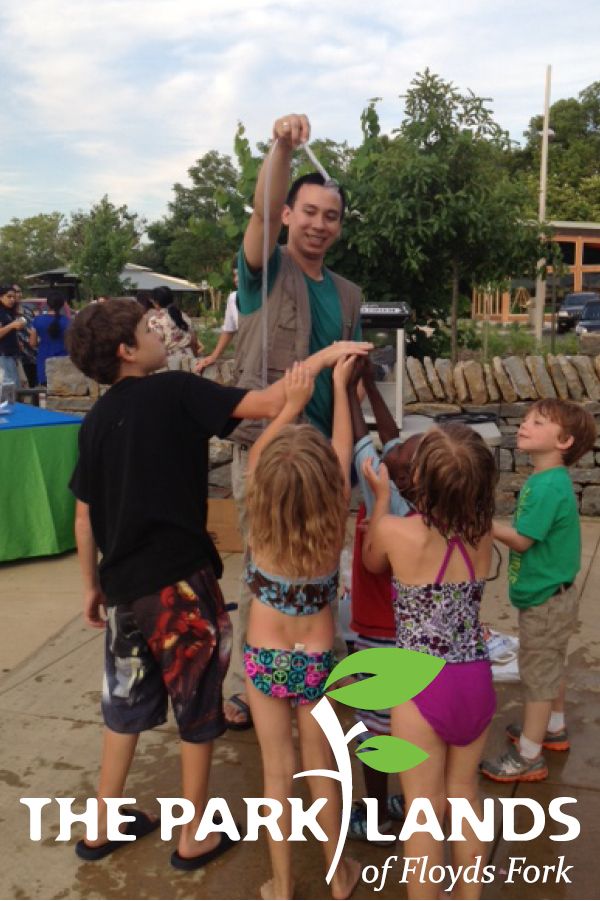 Turn birthday parties into unforgettable adventures at The Parklands!
Beat the summer heat and enjoy the cool breeze of AC in one of our brand new classrooms where you're only steps away from getting wet in our popular Playground and Sprayground. And, if you're up for an adventure, we make your child's party truly unique by including a hike or creek play experience outside in Beckley Creek Park! Booking is easy: call us at 502-584-0350.
Out-of-This World Birthday Parties at Rauch Planetarium! Blast off into birthday party fun at the planetarium! Our basic party package includes admission for up to 10 kids to a public show (which begins with the birthday child's name written in laser on the dome) AND our party room for one hour.
Details: planetarium.louisville.edu
planet@louisville.edu
502-852-6665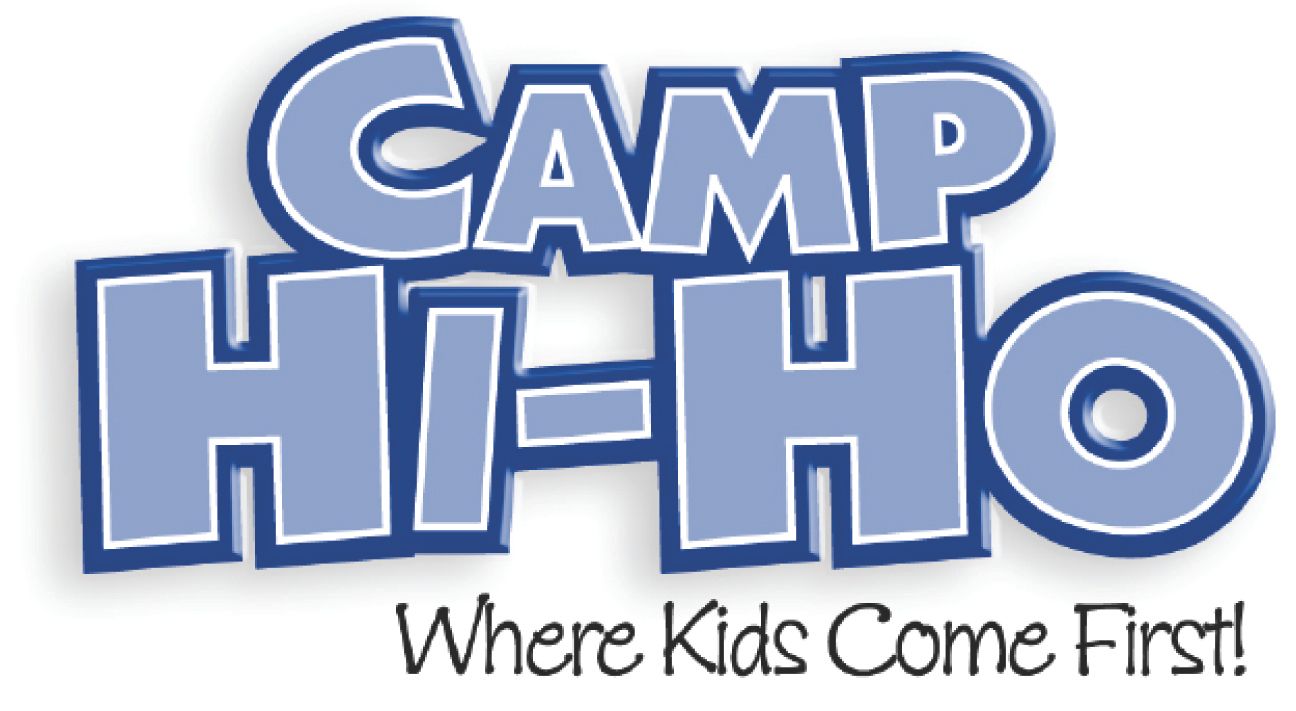 Children can have the birthday party of a lifetime at Camp Hi-Ho,
whether they're catching a fish, swimming, riding horses, riding paddle boats & canoes, playing sports, shooting water guns in the tree fort, speeding down a zip-line, bouncing off the BLOB into the lake, or participating in some of the other fun-filled activities that Camp Hi-Ho has to offer! Camp Hi-Ho is the perfect spot for birthday parties of any size. Each party has a theme, lasts 2.5 hours, and includes two trained, on-site counselors. A birthday party of 15 children or less costs $250 and a party of 16 to 25 children costs $300. Camp Hi-Ho also provides a pavilion for eating lunch or having birthday cake, as well as a grill for cooking out. For more information visit our website.
Let your child celebrate their creative side with a birthday party at Pinot's Palette St. Matthews! Our Little Brushes classes are made for kid-friendly fun. An energetic artist will teach your child and their friends a fun, colorful painting in an upbeat environment. There are over 700 paintings for them to choose from! Your party fee includes all the painting supplies needed; and we provide plates, napkins, and other serving needs. Children 12 and under are just $25 per person (minimum 10 painters). Call studio manager to book at (502) 409-4572.

Take your birthday party to the SKY! Tired of the same old birthday party? Looking for an experience that is out of this world? Then take your party to the SKY at Sky Zone and let it soar above the rest! Sky Zone offers various birthday party packages to meet your needs, all of which are designed to minimize you hassle and maximize your FUN! All party packages include:
· 60 minutes of jump time and shoe rental
· 40 minutes in a private party room following your jump time
assisted by a Sky Zone party host
· Invitations and Sky Zone t-shirt for the birthday kiddo
· Food and drinks
· Two FREE 60 minute passes for future use
· Party room set-up & clean-up, party plates, napkins, cups & utensils
Frozen De'Lites rents industrial size frozen drink machines for all occasions. With a Frozen De'Lites frozen drink machine you can enjoy the party instead of making drinks with a blender.
20-30 guest Single bowl $100/day; 50-100 guest Double bowl machine $150/day
Rentals include the mix, cups/straws, delivery, setup, pickup and cleanup. Some popular flavors for kids parties are cherry, blue raspberry, grape and orange and, since alcohol is optional, adults like our margarita and daiquiri flavors.
Rates do not include alcohol, delivery/pickup charge or tax.
Each mix will yield approximately 50 8oz drinks and additional mix can be purchased to keep the party going.
Frozen De'Lites – www.frozendelites.com – 502-664-3085
Turn your backyard, basement, or any other spot into the perfect party destination with a DJ from More Than Entertainment! Planning a party can be hard work and keeping the kids busy is always a nightmare, but not anymore! Let us entertain your kids for hours while you sit back, relax, and enjoy the show. Our DJs rock with current music (radio edits of course), fun games, and other great activities focused on fun and your child. Want to capture all the fun? How about a fully loaded photobooth complete with props, an attendant, unlimited prints, and a digital copy of all your pictures? Trained by the best at Disney World and Radio Disney we specialize in high energy children's entertainment. Book us for your next event! Call: 502-413-5609 Email: Jay@morethanentertainment.com or check is out on the web at www.morethanentertainment.com
Birthday Parties at Bricks & Minifigs
12001 Shelbyville Rd. Louisville, KY 40243 (502) 709-4202
$100 Monday – Friday and $125 Saturday – Sunday
2-hour party package for up to 12 children*
Begins with 1 hour of free play & use of X-box w/ Lego games.
15 to 30 minutes minifigure building activity (each child in party leaves with 2 figures).
Remaining time for food & presents. Plates, napkins, & utensils are provided. You may bring in drinks that are boxed, pouched, or bottled.
*Details – Up to 12 participants (this includes anyone who will be building minifigures)
Monday – Friday before 4:30, Saturday 11:00, 1:30, or 4:00, Sunday 12:00 or 2:30pm
*$50 non-refundable deposit required at the time of reserving party time & date.


Details below were obtained from the website of each venue. It is the responsibility of the reader to confirm availability and pricing as offerings may be change at any time. Thank you.
Animals
Deb's Pony Parties: Birthday party pony rides at your location.
Kentucky Humane Society: Birthday parties for little animal lovers! Intended for children ages 6 to 12 years old.
Louisville Equestrian Center: Custom party including activities such as pony rides, painting a live pony, hay jumps and more.
Louisville Zoo: Party includes the Glacier Run Classroom, a private small animal encounter, access to the daily bear presentation, all-day admission to the Zoo, free parking and more.
Martha's Pony Rides: Birthday party pony rides at your location.
Silly Safaris: Live animal show including featuring a variety of unique mammas, reptiles, birds, amphibians and giant bugs! Travels from Indianapolis to your location. **NOTE: current permitting is for Indiana only, so the party will need to be on that side of the river.
Wanaja Farm Pony Parties: Enjoy pony rides, crafts, painting a live horse, hay jumps and more.
Aerial Gym/Circus
Louisville Turners: Gymnastics and circus apparatus.
Art/Painting
Jo-Ann: Craft and treat decorating party.
Little Brushes at Pinots Palette: Choose from over 700 kid-friendly paintings.
Masterpiece Mixers: Choose a special painting for the party.
Michaels: Craft parties available in several themes. Face painting add-on available.
Oldham County Arts Center: Painting, paper craft, maker party or open art.
Paintn' Party: Choose a fun canvas painting for the party.
Paint Spot: Paint your own pottery- trinkets, figures, dishes, tiles and more.
Pixie Dust: Paint custom wood signs.
Side by Side Studio: Custom Art or Craft Party with a staff member to assist.
The Artist In You: Three party options available, including Pottery Painting, Glass Party or Clay (wheel or hand-building). Minimum age varies with party type.
Uptown Art Louisville: Parties for kids and also adults. Includes canvas, supplies and instruction.
Uptown Art New Albany: Parties for kids and also adults. Includes canvas, supplies and instruction.
Whet Your Palette: Painting party at their studio or at your place.
Baking/Cooking
Bake My Day: Several options for children's parties, from pre-set packages to custom designs. Examples include decorating cupcakes or cakes, making pizzas and more. Extras crafts and games available for add-on.
Turnip the Beet: All parties include food and drinks, chef's hat for all guests, apron to take home for the birthday chef, birthday cupcakes, paper supplies, and recipes to take home.
Beauty/Spa

Drybar Louisville: Blowout hair styling party for ages 6 and up.
Pretty Little Diva: Mobile party comes to your venue. Choose from spa, princess, painting and more.
Bowling
Executive Strike and Spare: Cosmic light show bowling, food and more.
Fern Valley Strike and Spare: Bowling, food and more.
Ken Bowl or Dixie Bowl: Parties include bowling, shoe rental and more.
Kingpin Lanes: Choose traditional bowling or Route 66 mini-bowling.
Ten Pin Strike and Spare: Party includes bowling, shoe rental and soft drinks. A pizza upgrade is also available.
Dance/DJ/Music
DJ Jaybird: Entertain the kids with current hits, games and activities. Photo booth also available.
Dreamz Dance Company: Instructor leads party in dance class related to chosen theme: ballerina, hip hop, musical theater or Disney. Deluxe party also available.

Louisville Ballet School: Creative dance and craft party based on the theme selected by the child.
Safiyyah Dance Co.: Hip hop dance party, includes custom dances choreographed by Safiyyah Dance Company and fun dance games like freeze dance, limbo and musical chairs.
Shine: Age appropriate music/movement programming from age 1 – adult. For older kids this may include drumming, yoga, dance, Nia and more.

Entertainers/Face Painting
Balloons by Bonkers: Bubble Parties, clown, face painting and balloon twisting.
Kelly Toon: Caricature, illustration, face painting and more.

Kid Canvas: Face painting.
Mr. Magic: Interactive magic routines, balloon animals and PUFF the funniest rabbit in the hat puppet on the planet.
Premier Face Painting: Enjoy face painting, temporary tattoos and/or balloon twisting at the party venue of your choice.
Princesses of Louisville: Interactive princess character appearance, healthy snack, photo opps and more.

Party Princess Productions: Interactive princess parties, super hero parties and many other character themed parties.
The Balloon Man of Kentucky: Family friendly entertainer, magician, juggler, balloon artist, yo-yo, puppets, and comedy.
Steve-o Magic: Interactive magic show at the venue of your choice. Special add-ons available.
Equipment Rentals
All Abounce Fun: A variety of basic bouncers, bounce houses, combos, jumpers, moonwalks, and water slides to fit your needs.
Astro Jump Party Entertainers and Astro Jump Rentals: Entertainers include face painters, balloon artists and henna tattoo artists. Rentals include bounce houses, moonwalks, inflatable games and more.
Bluegrass Bouncers: Bounce houses, dry slides, and water slides.
Clownin' Around Rentals: Bouncy castles, dry slides, water slides, bungee runs, obstacle courses and more.
Frozen De'Lites: Enhance your child's party with slushy treats with a industrial size frozen drink machine.
Fun Masters: Bounce houses, dry slides, water slides, interactive inflatables and carnival games.
Games 2 U Mobile Entertainment: Unique, interactive mobile entertainment including video game theaters, 4D ride experiences, laser tag, giant-sized kid-driven U-Bots, life-size hamster balls and more.
Louisville Inflatables: Bounce houses, combo bouncers, interactives, obstacle courses, movie screens, inflatable slides, climbing walls, mechanical bulls, concessions, dunk tanks, carnival games, mechanical rides, tents, tables and chairs.
Tons of Fun Rentals: Bounce houses, moonwalks, sports inflatables, carnival games and more.
Uncle Red Magic: Family friendly magic shows and balloon animals.
Go-Karting
Bluegrass Indoor Karting: Two go-kart party options. Each package includes go-carting, pizzas, drinks and a performance details sheet.
Kart Kountry: Several packages available. Go-karts, arcade and more.
Gyms 
All About Kids Sports Center: Various packages to choose from including gymnastics, swimming, and cheer!
Kentucky Gymnastics Academy: Party package includes gymnastic activities with a certified coach, a party area and more.
Louisville Gymnastics: Two locations- East end and South end. Party features instructor-led gym activities and inclusive games, plus a party area.
My Gym: Birthday party specialists will help make your child's birthday party unique and special with nonstop action-packed activities, games, puppets, songs, and more!
Power and Grace Gymnastics: Includes gym time (free play or organized stations), a party room and a small gift for the guest of honor. Optional add-ons include snacks, decorations and a cake.
Ice Cream
The Arctic Scoop: Create and taste your own ice cream masterpieces made with liquid nitrogen. Party includes a party leader, games and fun nitrogen science facts.
The Comfy Cow: Parties available at the Frankfort Avenue location. Includes rental space, balloons, treats and more. Add-ons include specialty cakes, a special appearance by The Comfy Cow mascot and face painting are available at an additional cost.
Valley Dairy Freeze: They will cater and set up a themed ice cream bar at your party.
Laser Tag
Lazer Blaze: Laser Tag parties for a minimum of 8 participants. Must be 42 inches or taller and at least 7 years old. Packages include pizza, soft drinks and game tokens. No outside food is allowed.
LEGO
Bricks and Minifigs: Parties begin with free play/use of X-box with Lego games, a mini-figure building activity (each child in party leaves with 2 figures), plus time for food & presents.
Bricks 4 Kidz: Bring a Lego party to the venue of your choosing- home, church, community center and more!
Snapology of Louisville: Party with the Lego theme of your choice. Add-ons such as mini-figures, gift bags, pizza, party supplies and cake also available.
Mini Golf

Putt-Putt Louisville: Mini golf plus game room and party room rental.
Movie Theaters
Cinemark Theatres (Tinseltown and Mall St. Matthews): Two options. Birthday Party Room Package and Private Screening Package.
Blankenbaker 14 Xscape Theatres: Birthday parties available by request on website form.
Multi-Option Facilities
Abigail Academy: Parties for girls. Kitchen or craft related theme. Multiple packages available.
Clark County Family YMCA:  Party includes Kids Adventure Room, Teen Room or Gym, plus a party room. 2 balloon bouquets and a gift for the birthday child.
Classic Melodies Performance Institute: Options include interactive princess character, ballet, tap, jazz, hip hop, drama class, Princess Glam or Diva Runway Makeovers.
The Jewish Community Center:  Several options to choose from, including, Swim, Gym Jam Sports Party, Dance & Movement, Crafty Kids or a Custom Party.
KaZoing Party and Play
: Many party options to choose from, including Bounce Party, Crafty Art Party, Glamour Studio, Tot Lot, or a combo party.
Main Event Entertainment
: Pick your own package, customize your party and pick your menu. Choose from bowling, video games, laser tag, billiards, gravity ropes or a combo.
Puzzles Fun Dome: Party includes general admission for Inflatable Fun Zone, Adventure Playground, and Art Studio, party room, soda, and ice cream cups.Renaissance Fun Park: Choose from multi-level laser tag laser matrix arena, fast speed go-kart track, game arcade and miniature golf courses.
SIGS Sportsplex: Choose from a bounce party, gym party, ninja party, swim party or combination party!
The Fun Farm: Rent the party lodge with pool table, ping pong, foosball and music. Add-ons include paintball, laser tag and rock wall.
Nature/Outdoor

Camp Hi-Ho: Party includes complete rental of the property during your time and staff members to assist with activities. Several themes available, including Swim, Fort, Arts & Crafts, Pet Barn, Sports, Horse, Archery or a combination of themes.

Huber's Family Farm Park: Enjoy the Farm Park, mini tractor and gem mining. Available seasonally, May 1 – Sept. 31.
Louisville Metro Parks Picnic Shelters: Check specific parks for amenities such as playgrounds, spraygrounds, hiking trials and more.

The Parklands: Use of a classroom in the PNC Achievement Center for Education & Interpretation. Optional guided hike, creek exploration, fishing party, nature detectives session, or inside activity with one of our staff Interpretive Rangers. Convenient to the Marshall Playground and Sprayground.

Performing Arts/Theater

Derby Dinner Playhouse: Enjoy a show, meal, treats, balloon and more.StageOne: Enjoy a show and more.The Sutton Studio for Performing Arts: Princess or Make-Your-Own Theme. Learn a special choreographed number.
Rental Spaces
Party Paradise: Includes kitchen, tables and chairs, free music, accessible restrooms, stage area with spotlight, blacklights and lighting effects, custom balloon bouquets, time for set up and clean up. Extended hours available for purchase (some limitations apply).
Restaurants 
Chuck E Cheese: Several packages available, which can include pizza, game tokens, party favors, drinks, theming and Ticket Blaster opportunity for the birthday child.
Gatti's Pizza (Outer Loop and Dixie Hwy.): A private party room, a party host, fun, games and more.
Rock Climbing/Ropes Course
Climb Nulu: Party includes private room, a designated staff member for help and training, and refrigerator, chairs and tables.
Louisville Mega Cavern: Party includes Mega Quest Aerial Course, pizza, drinks, party area and more.
Science/Technology/History

Frazier History Museum: Hands-on activities related to the theme of your child's choice- medieval knights, real-life princesses or cowboys/cowgirls.
Kentucky Science Center: Fun themes including space exploration, messy science, dinosaurs, secret agent science and more. Enjoy liquid nitrogen ice cream and more! Includes party room, museum admission after the party, treats and more.

STEAMPunk: Party at the location of your choice. Several options to choose from, including Lego Drones, STEAMCraft, Video Game Design and Dash and Dot Birthday Bots.
UofL Gheens Science Hall and Rauch Planetarium: Private party room, admission to planetarium show and birthday child's name written in laser on the dome. Goodies and science activities available as add-ons.
Skating
Alpine Ice Center: Ice skating and food.
Champs Rollerdrome: A variety of roller skating party options and times.
Iceland Sports Complex: Ice skating and food.
Sports
4 Kicks for Kidz: Soccer based games and activities in an indoor facility.
King Louie Sports
: Fields (lacrosse, football, soccer and field hockey) and mezzanine area
available for party rental.
Stuffed Animals
Build-A-Bear: Make and take home a furry friend, enjoy party games, activities and more.
To add your business prominently to this post, email info@louisvillefamilyfun.net. 
 "Birthday party bookings at the planetarium increased significantly after we placed a listing with Louisville Family Fun.
" ~Paula McGuffey, Rauch Planetarium
Louisville Family Fun is not responsible for the actions of these businesses or the quality of their service.