A Country Christmas at Gaylord Opryland Resort Nashville, TN – Day 2 Review
We awoke well-rested and ready to see Shrek and his gang for breakfast at the ShrekFeast. This reminds me that I didn't mention in the review I wrote for Day 1 that this luxury hotel has turn-down service! It's a nice touch as you return to your room in the evening and the first night, we had some chocolates on our bed and some soft music playing!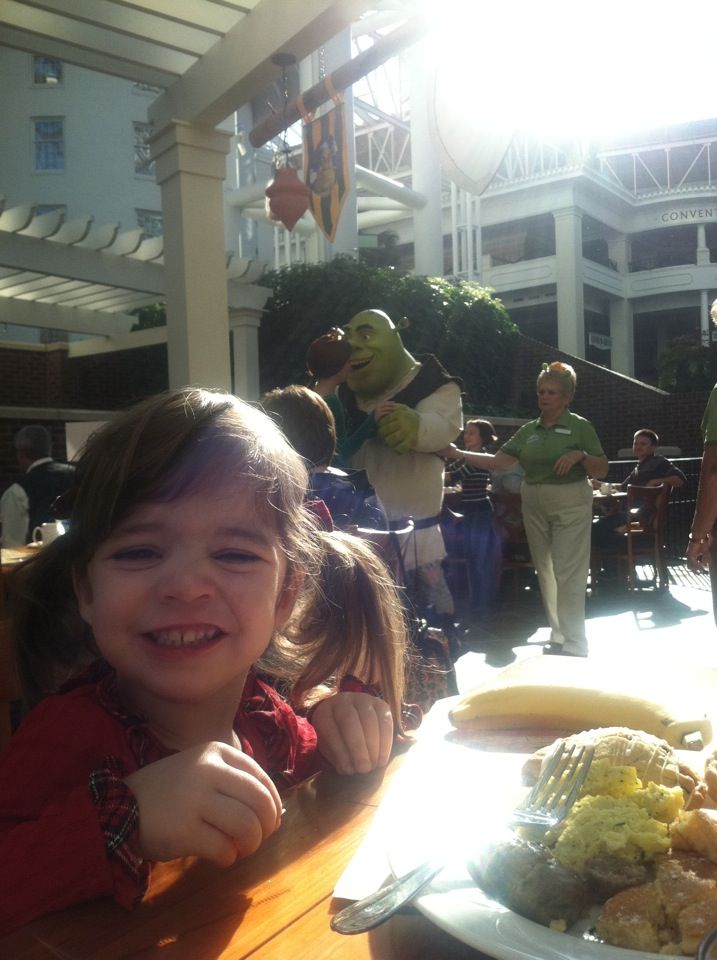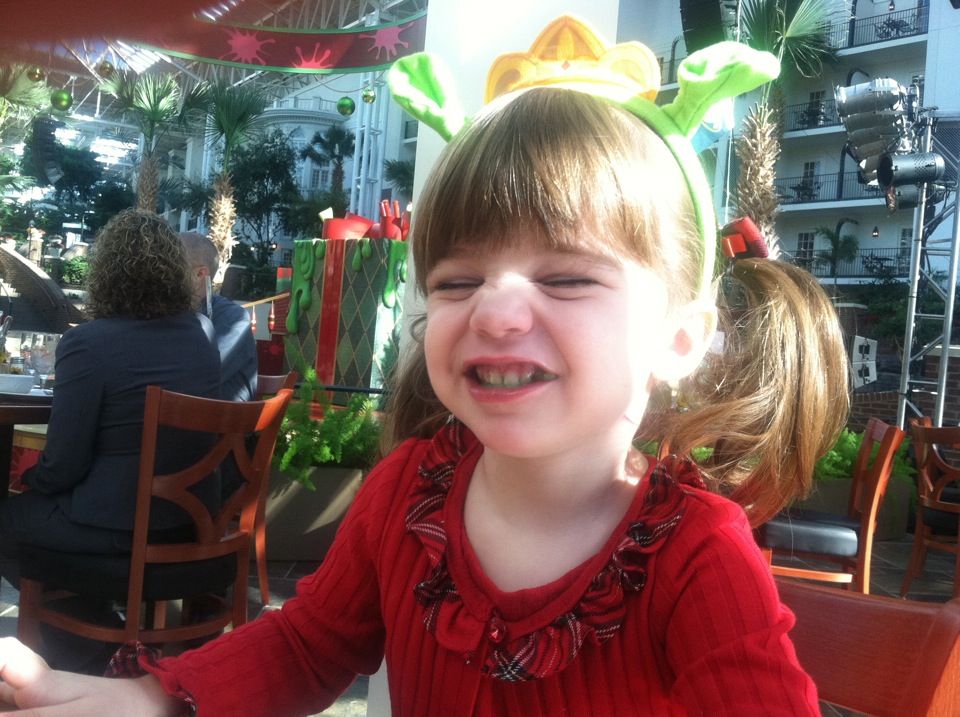 We had tickets to the ShrekFeast and were greeted by the town crier. We got a photo taken and the town crier gave the kids crayons and an activity sheet. We then made an ogre oath to promise to be stinky! The hostess escorted us to our seats where a member of the wait staff took our drink orders and then we headed to the buffet. There are so many option, it is a very extensive menu for a breakfast buffet. To add to the atmosphere, all of the items has quirky "Shrek-themed" names. We drank swamp juice and ate mud bacon! They had an omelet station, assorted pastries, Shrek waffles, pancakes, sausage, fruit, breads for toasting, a wonderful oatmeal bar and to top it all off, a fountain of green chocolate for dripping all over many goodies. While we ate, the staff was very attentive and Shrek, Princess Fiona and Puss in Boots came by many times to greet the kids, take photos and ask for some food! My son thought it was all really funny. I thought it was a really well done breakfast, the food was tasty, the entertainment was adorable and it was much more fun than grabbing a bowl of cereal or a bagel on the go! And, the Shrek ears are loved by all and the kids get them after they eat!
Next, we went to the DreamWorks concierge in the Cascades lobby to pick up scavenger hunt cards. We followed the clues all throughout the hotel to write down the numeric answers. Then, you decode the numbers with a chart on the back to unlock the final clue and turn it in for a prize. The hunt took us through the cascades, the gardens and back to the delta atrium where Shrek lives. Unfortunately, not all of the items were where they were supposed to be. We looked and looked for the coins by the lions head in the gardens, but found nothing. It was the first day of these events and apparently, they didn't have it all set up. Also, I had a stroller because my daughter was tired and the scavenger hunt is not completely stroller friendly; there are stairs and escalators to take so it's easier if you carry a younger child or they walk. We headed back to the DreamWorks concierge in the hope that even though we could not complete the scavenger hunt because it wasn't all set up, they would honor our effort since we took over an hour to find the items. I was disappointed that the woman at the desk told me to just go back and do it again! My 4.5 year old son was excited to get his prize and he did all of the clues that were indeed set up and I just told him they didn't have the prizes yet. I called the concierge for our media trip and let them know that the scavenger hunt was not fully ready and what had happened. They graciously offered us a complementary lunch for the next day and said they would talk to the events staff and alert them to the problem. I was pleased with this response.
We rested for a bit and headed to the Paisano's Italian restaurant to eat, it's one of their many eateries. We had pizza, salad and drinks. It was really good thin-crust pizza and we sat overlooking the little river and waterfalls. It was a simple and quick lunch, great for families. Then, we headed to fill out our character passport. At 2pm, some of the characters were in their spots on the map but some were not. If you choose to get wristbands for this activity, you can check with the information booths as they have the specific times when each character is available. We did meet up with and get a stamp from Gingy (from the Shrek movie) and Shrek and Fiona at their swamp house. (Kids can also decorate a "Gingy" for a fee). It was fun for picture taking and it's always cute to see how the kids react to the characters. My son loves them, my daughter prefers that they "go back into the TV." Hysterical! While we were walking around to find characters, we also stopped in the shopping area, Treasures for the Holidays, in the exhibit halls where there are crafts as well as vendors selling various items and gifts. My son picked up a little horse crystal necklace for his sister for her birthday! (Treasures for the holidays has free admission and is open during standard business hours)
We headed back to our room for a little nap and after resting, we went to hop on a horse-drawn carriage ride to see the lights. We purchased tickets inside of the main hotel entrance and the horses were waiting outside. Kids under 4 are free and it was $10 for me and $5 for my son. For the unique experience and since my daughter loves horses, I thought it was worth it! The ride was about 20 minutes and we completed a circle around the main entrance where all of the lights decorate the trees and the hotel. It also took us by the Outdoor Nativity that has an audio rendition of the biblical story of the birth of Christ. It runs nightly from 5-10pm. The kids loved the carriage ride and the driver was so friendly and let the kids pet the horse. He told them details about the horse like it's name (Soco) and my children just ate it up. (Carriage rides take place Sunday-Thursday from 5-10pm, Friday and Saturday from 5-11pm).
Next, yes….we just keep going, we caught a shuttle to take us to the General Jackson Showboat for dinner and a show along the Cumberland River. This attraction is pricey but includes the ride, dinner with salad and dessert and an hour long show. You also get a great view of downtown Nashville from the boat. They served water, tea or coffee with the meal and it is a set menu. We had salad, rolls, short ribs, twice baked potatoes, asparagus, shrimp, cabbage and a wonderful apple/cranberry strudel. The food was very good. They did offer a kids meal of chicken and french fries and I opted to get that for the kids. All portions were quite generous. The ride started at about 7, we started eating at 7:15, turned around in downtown Nashville at 8:15, the show started at 8:30 and we were on the bus headed back to the hotel at 9:45. The kids were tired, but they enjoyed it. The holiday musical show was wonderful, the singing talent was impressive! Mostly, my kids liked being on the boat and when we walked to the back to see the huge spinning paddle which totally fascinated them. (You can also choose the Louise Mandrell Christmas Dinner Party in the Tennessee Ballroom at the hotel which is $66 for adults and $36 for children 4-11, kids under 4 are free).
Video from The General Jackson Showboat

We returned to our room to a surprise from our turn down service. There were chocolates on the beds again but also a great little edible candy and cookie display. It is a candy frame with a Madagascar print, adorned with holiday treats, cookies and peppermint bark. You should have seen my kids' faces light up! Of course, they got to stay up even later because they just had to have a treat!
Again, a successful day of family fun here at Opryland Resort for A Country Christmas. If you are considering going to this resort, I have noticed that most things are a la carte in terms of activities and it can get pricey. I would recommend researching their packages online and picking one instead of just coming here and paying as you go, I am sure it would save you money. For example: The Christmassy DreamWorks package which includes a 2 night stay, tickets to ICE! featuring Merry Madagascar with early admission, a souvenir family photo, and the ShrekFeast.
Collage of photos!
Stephanie