Review of Big Splash Adventure Day 1
Note, this post is from 2011
Day 1: We left Louisville at around 11am and arrived in French Lick at around 12:30. It took slightly longer than our last trip when we visited French Lick Resort because we had to take a different route due to the closed bridge. But, it was a nice drive. The drive from Louisville to French Lick is really scenic.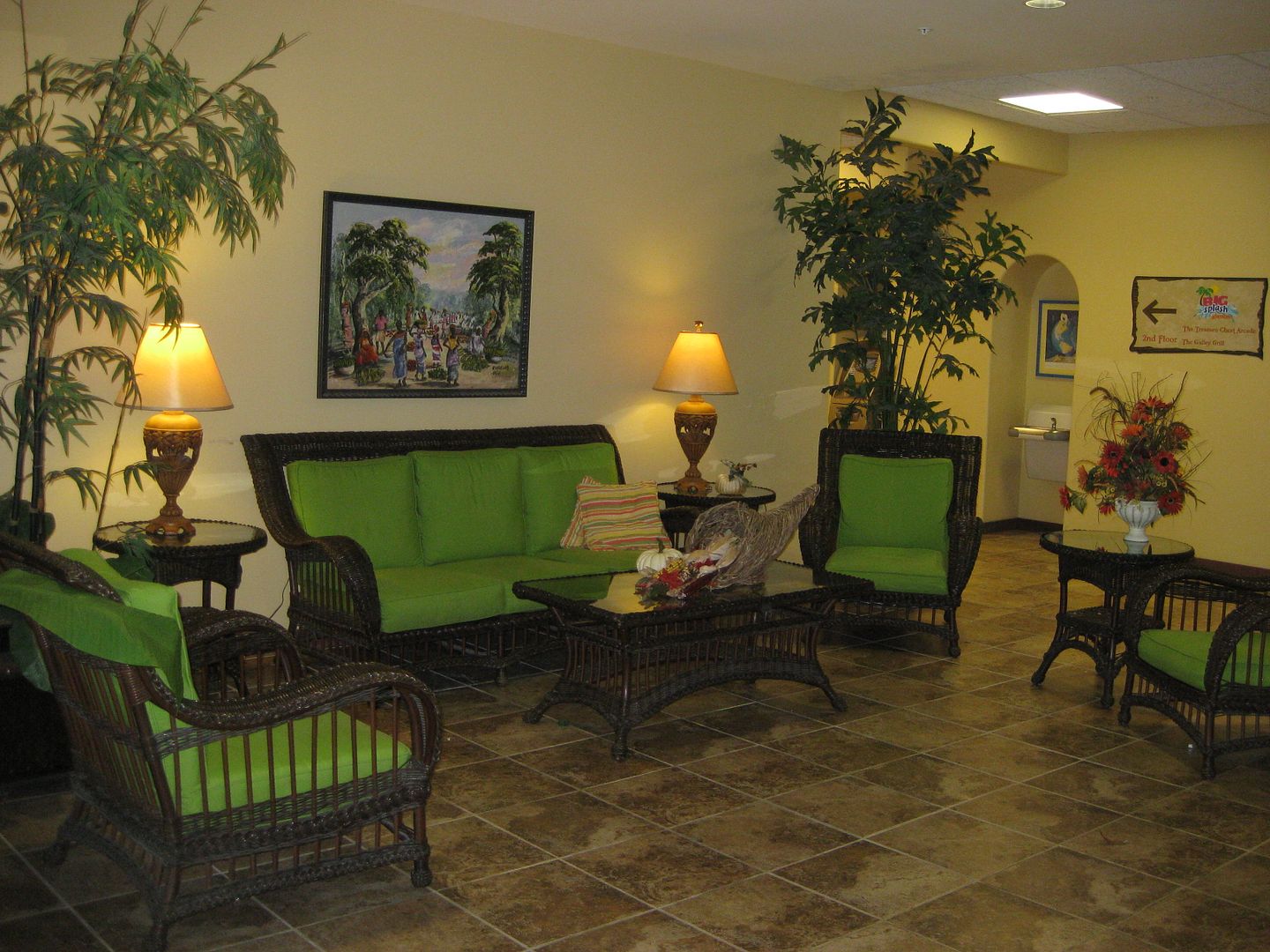 When you stay at Big Splash Adventure, you cannot check in until around 4pm. However, with your reservation, you can get your water park passes at noon that day. So, I checked in, we all got our coded wristbands and we headed to the second floor for the water park. I recommend packing a separate day bag for the first day since you won't be able to get into your room until close to 4pm. They have changing rooms right by the water park so you can bring that day bag with your suits and change right there.
We grabbed clean towels when we entered the indoor water park and found a chair. There are chairs all along the sides, tables near one end and a deck area above with more tables. They also have an outdoor area with a pool for when the weather is warmer. There are restrooms in the water park area and also outside near the changing area. Both were quite clean.
We claimed our spots and hit the water. First, my daughter wanted to grab a tube for the lazy river. But, she is in the height range that requires a life vest, so we got one before going in the water. They have life vests to use for all ages and weights. We got one for my son also. We chose the double tubes. I liked that they had tube that had holes through both or ones that were more little seat style tubes that smaller kids can sit in and still float. These were perfect for my kids that are 4.5 and 3. We floated about the lazy river for a while. There are squirts and splashes all along.
My son went off with my husband to explore the water play structure. He is more ambitious and wanted to try the slides. He did some of the smaller tube slide with my husband at first and then he tried them by himself. He is 4.5 and handled them well. The kids go down these without a tube.
After the lazy river and the water play structure, we all went into the pool to swim. The pool was not that deep, about 4 feet which is great since I want to watch my kids and not have to paddle around the entire time and get so tired. They have basketball hoops with plastic balls and a whirlpool. They also have a cool net that older kids can swing from and leap from floating pads. All of the kids using that area were really enjoying it.
The last thing they tried was the little splash area for small children. The water was less than a foot deep, had a cute little slide, swings that bounce and twirl and a few small spouts shooting out water gently. There are chairs for adults all around this area for parents.
As a parent, I was really pleased with how many life guards there were. I did not count but they were everywhere. There was one at each section, slide and others wandering about. I felt very safe that they had so many to monitor the pools and slides. They also had ample life vests and tubes. And, within the water park, there was a first aid station that fortunately we did not have to use but I did see some families using for minor scrapes and bumps that naturally will occur.
We took a little break at about 3 and luckily, our room was ready early. They activated our wristbands which act as keys to the room. We explored the lobby and shop a little bit and headed to our room for some rest. We had the room option with 2 double beds. The room was simple and clean. It has all of the basics, tv, phone, coffee maker, desk, chairs and other necessities. They have rooms with bunk beds and rooms to accomodate large families. After resting, we took a very short car ride across the street to the French Lick Railway Museum and station. We just like to take the kids there to check out the trains. French Lick offers a few venues that you can go explore when you visit Big Splash Adventure Resort, like the train station.
We headed to the grill area and arcade (Galley Grill) for dinner. We had the Pirate's Loot dinner package of a large pizza with 2 toppings, 4 drinks, bread sticks and $10 in arcade tokens. We ordered the food and it took 15 minutes to make and the kids played some games. They often have a meal package deal that is less expensive than buying things separately. It's the typical arcade with tokens, tickets, prizes etc. The pizza was thin crust and pretty good. Not the best pizza you will ever have, but really not bad considering the little grill they have there and it was not a frozen pizza, they made it there. This kids ate well and that's what mattered.
We returned to our rooms to change and then headed back to the water park. It was a little colder in there since the sun had set, but not uncomfortable. My son even got adventurous and we went up the big stairs and went down the really huge slides with tubes. He squealed and smiled and screamed (happy screams) the whole ride down. We did it three times and it was the highlight of the visit so far!
We retired to our room at around 8:30. The place had quieted down but still had kids out and about, you could hear them on the level above us but this is going to happen in a hotel of this nature. But, they have signs posted for mandatory quiet time from 10pm to 8am. We watched a movie. I am pleased that they have a few more family and kid channels than most hotels. Last time we went to French Lick Resort, they only have The Cartoon Network and some of those shows are too mature for my kids, but Big Splash Adventure has a few to choose from and we found Beauty and the Beast on ABC Family.
YouTube Video