Review of Mad Science of Kentucky Saturday Workshops
I recently took my 5 year old son and his 6 year old friend went to one of the Saturday sessions at Mad Science of Kentucky. According to their website, Mad Science provides a unique assortment of hands-on after-school programs, workshops, birthday parties, camps, special events, theatrical productions and innovative products. They operate a franchise system not only in the United States, but in 29 countries worldwide. They can customize their program to fit kids from preschool age up through high school. Their goal is to offer unique, hands-on science experiences for children that are as entertaining as they are educational, introducing millions of children to a world of discovery while sparking their imagination. Mad Science encourages scientific literacy in children in an age when science is as vital as reading, writing and arithmetic.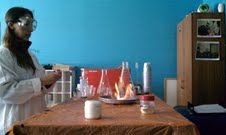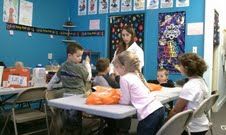 As the boys arrived at the Kentucky Mad Science location (7212 Dixie Highway), they were greeted by a cheerful scientist. The session took place in a room with 2 long tables and tons of science stuff. Parents were welcome to stay and observe the class, or drop the kids off and come back 2 hours later. The class size was nice and small, and the instructor did a great job of talking to the kids on their level, teaching in an interesting way, and allowing the kids to actively participate in every science experiment and lesson. The kids learned all sorts of science information, and got to see all kinds of neat experiments including watching a color changing fire, a confetti cannon, learning about dry ice, and making slime. The boys had a great time in the session, and the other kids looked like they enjoyed it too. All of the kids were actively participating in each experiment, and were all involved in asking and answering questions. The instructor made sure to emphasis safety in all her experiments, especially those using common household ingredients. At the end of the session, each child was given a goody bag which included a Mad Science cup, candy, game, glasses, and of course, the slime they had made that day.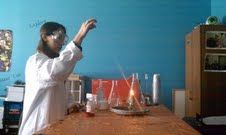 As a parent, it was nice to send my child to something entertaining that was also educational. I think it truly does spark imaginative learning, and will hopefully lead my son to view science as fun, rather than boring when he gets older. I think the kids that get to participate in Mad Science can view science as exciting things that happen all the time, all around us – not just a boring subject in school. For more information on their services, click here.
By guest contributor: Caryn