Review of the Galt House Christmas and Kalightoscope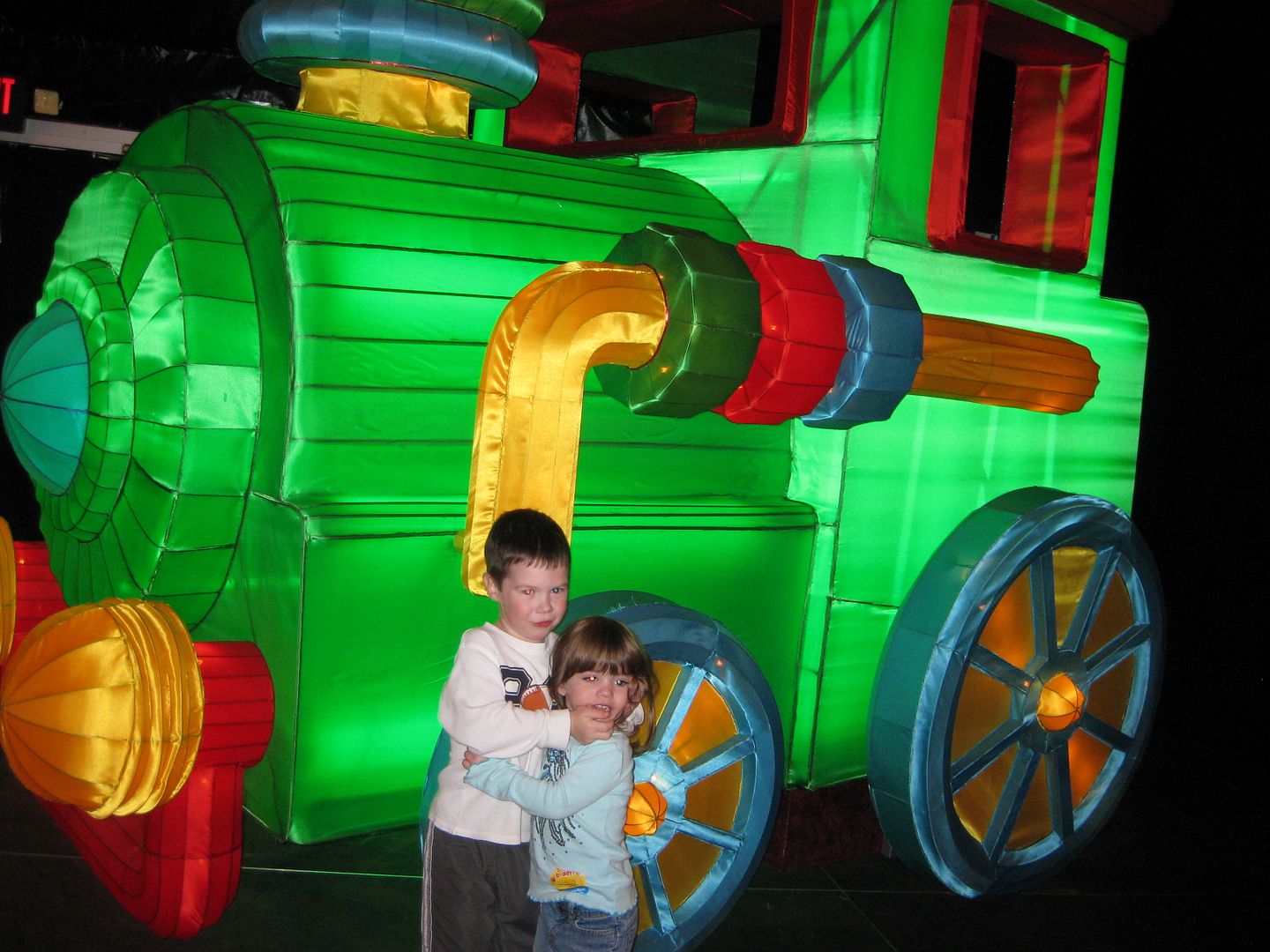 My parents were in town for the Thanksgiving holiday so we decided to take them dowtown to the Galt House for something special to see in Louisville. Christmas at the Galt House and Kalightoscope looked so interesting and since I didn't go last year, I was excited to check it out this year. We parked on the streetnear a meter, it's free after 6pm (and all day on Sunday).
We entered through the eastern Galt House lobby and looked around at the trees (and birds!) and went up the elevators to get to the skywalk where they have decorations. In the skywalk area, they have a large gingerbread house and fireplace area that is decorated with candy and lots of little characters in lights. My kids and I really liked the colorfully glowing thoroughbreds with Santa. Anyone can go see this area, it doesn't require tickets.
From there, we walked to the other side and upstairs to find the Kalightoscope exhibit. We went on a weekday evening and it was not crowded at all. My kids were free because they are 4 and under. As far as tickets go, it is cheaper to go during the week. Click here for ticket info. Each child got a nice map/scavenger hunt with a little pencil that they can complete through Kalightoscope and turn in for a prize! Or, you can pay extra for a special "find Santa's key" activity. We did not do that.
The first thing you see upon turning in your tickets is the new Christmas Village. It is a cute holiday village with windows to peak into and doors to open. Since it was their size, my kids absolutely loved this. We had to pull them away from exploring it over and over so that we could go see other parts of the exhibit.
Then, we posed for some pictures in the holiday cut outs and went into the Snow Fairy's castle to say hi to the Snow Fairy. The Snow Fairy poses for photos and let's the kids make a wish. She shows them all how she makes snow and all of her different beautiful clothes.
After that, we browses all of the gingerbread houses that were entered into the competition and the other really large gingerbread house. At the end of the room, we entered the area for the Kalightoscope where an artisan was making some of the glowing objects and you can browse and learn about the process of making the gorgeous pieces.
You walk outside from there (it's covered) and enter Kalightoscope through the glowing tunnel. It's a circular exhibit where you enter to the right and walk all around and come back out the entrance. Each section was themed and stunning. The kids can go through the glowing gingerbread house, climb up the stairs on top of a huge drum and get behind the train and pretend to be the engineer. There's an area where the kids can write their names on Santa's naughty or nice list and also a bridge to get up high and see some skating figures. It's so picturesque and wonderfully festive. The nativity at the end was spectacular. I cannot describe how beautiful it was.

I think the Kalightoscope exhibit is really special. It appeals to children of all ages because of the colors and characters and to adults because we can appreciate the beauty of this art. I definitely recommend attending this event. You can save on Tuesdays by taking advantage of their family package deal ($40 for 4). Encourage your children to take their time and complete the scavenger hunt and you will get your money's worth. (There's also story time at 10am and 6pm!)
Before we left, we visited the Christmas village again and spent some time talking with one of Santa's elves. My kids and I, and their Grandma, wrote all over the dry erase wall and then my kids went to the area with paper and pencils to write a note to Santa. The elf told me that if you leave your return address, Santa will write back (we shall see!). The kids did one last tour of the village buildings and we headed home.
It was a great evening; really got me in the Christmas spirit. Bring your camera, there's unlimited photo opportunities!