Review of The Old Spaghetti Factory
When my family was in town for Thanksgiving we wanted something a little different than the general turkey and fixings for night before the big day. We headed to downtown Louisville to the Old Spaghetti Factory. It is conveniently located on Market St. pretty much between the Galt House and 4th Street Live, just one block east. We parked on the street and paid for the hour of parking until 6pm, when you no longer have to feed the meters downtown. The Old Spaghetti Factory opens at 5pm on weekdays and we were there when it opened. (noon on weekends)
We were seated promptly near the trolley car. My kids were excited to see the trolley car! We didn't sit in there since we had an odd number for seating and they really only have smaller tables in there (4 or less). The decor of the Old Spaghetti Factory was really interesting. Our waiter said it used to be a men's clothing store. I really enjoyed looking around at the ornate furniture, the old ceilings and huge mirrors. A really nice place to dine without the high menu prices. There were many families there with kids of all ages.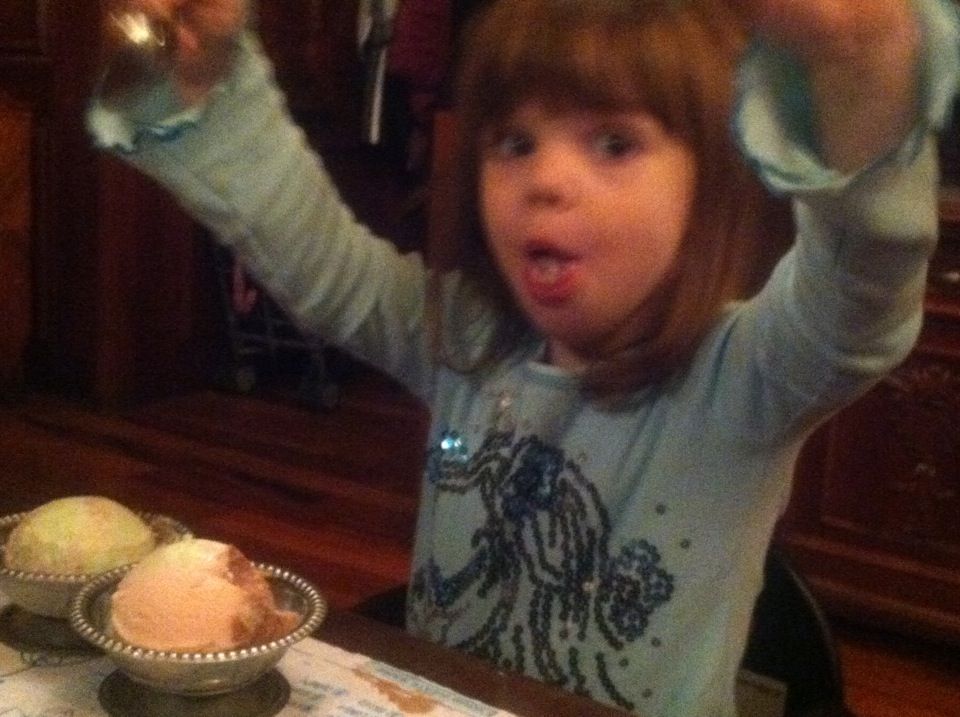 It's the Old "SPAGHETTI" Factory so that is the main part of the menu. Some dishes have an option of penne, but spaghetti is the way to go. You can even order whole wheat pasta. I ordered some chicken Parmesan with spaghetti, my son had the kids meal of tortellini and my parents got entrees. Their menu is all-inclusive in that all meals come with ice tea or coffee, salad, bread, entree and spumoni ice cream! So, it's a great value. The also serves warm bread with garlic butter that was delicious. I love bread! (I also noticed that they have a gluten free menu).
Our waiter was attentive and friendly, very accommodating to my kids since I was sharing my meal with Maggie. He even brought her a drink and an applesauce since James got one with his kids meal. And, I asked for a slight change in James' order and it was no problem. They colored their little menus and like I mentioned, liked checking out the trolley car. Our food was very good; the marinara sauce was tasty. We all finished off with the spumoni ice cream and it was different, in a good way. It's really creamy and has multiple flavors that I think were chocolate, strawberry and pistachio. My daughter ate two; I'd say that's approval.
If you are looking to go downtown, have a full meal in an interesting restaurant that kid-friendly and won't break the bank, the Old Spaghetti Factory is a nice option!