Review of Mary T. Meagher Recreational Swim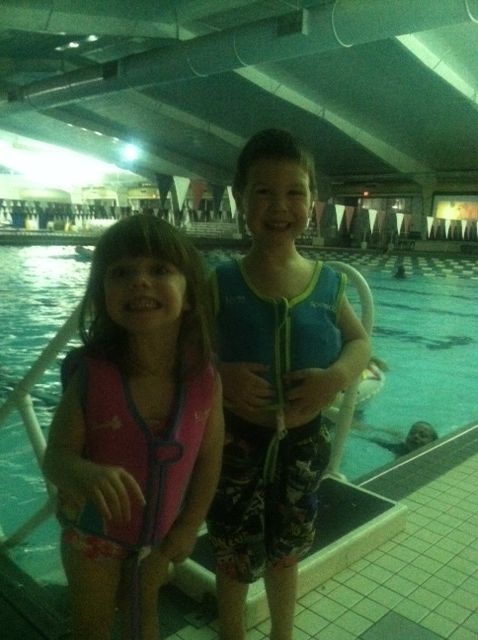 During the winter break from school, the Mary T. Meagher Aquatics Center hosted 2 "Dive in Movies" that were open and free to the public! I took my children to one of these events. The aquatic center opened at 6:00 and the movie started at 6:30pm.
I dressed the kids in their suits and put sweat pants over their swim gear; this saved us time when we got there. I did the same for myself so we were able to get swimming really quick and not deal with changing upon arrival! I brought my own towels and swim vests for the kids and some other families brought floats and pool toys. The aquatic center does have kick boards that you can use.
There were life guards at several spots around the pool. They had a large area of the shallow section available for open swimming. There is a little slide that the kids really enjoyed. My son even got adventurous and went down the slide without me in the water! This was a first! There are stairs at one end for easy entrance and ladders throughout.
There were chairs around the pool for parents to sit and watch the kids but many parents opted to swim as well. I swam with my kids and we had so much fun, swimming for about1.5 hours! The water was warm enough but I did start to get a little cold after about an hour. However, my kids never noticed that and had so much fun the entire time we were there. My kids met some other little kids and played with them and got some great exercise!
Some families were toward the side of the pool wading in their floats watching the movie and others just swam and played. It was so casual and a great activity for something different to do this winter. We left at around 7:45pm and before leaving, I wrapped my kids in their towels that I brought and we went to the women's locker room for changing into pajamas. They have showers, bathrooms, private changing area, benches and lockers (bring a lock). We had ample room to change and we headed home.
We will definitely head back to Mary T. Meagher for open recreational swim! Families can enjoy open recreational swim on Mon-Fri Noon-3:30 p.m. , Friday 7-9 p.m. and Saturday Noon-5:45 p.m. Admission for Children is $3 and adults (13 or older) is $5.50. If you think you will go often, you can get a monthly or annual family membership! You can even have a birthday party there.
Stephanie