Review of Monster Jam at Freedom Hall in Louisville
My husband and I had the pleasure of taking our 5 year old son to
Monster Jam
tonight, Friday January 27th at Louisville, Ky's
Freedom Hall
. I have not been to a monster truck show since I was a young teen and this was my husband and son's first in-person show. We arrived and paid the Ky Expo Center $8 parking fee and got to the front a few minutes before the gates opened at 6:30pm. Once inside, we easily found our seats, which were a little off from center and had a great view. Most seats seem to have good views because of the shape of the arena. We had some time before the show started so we were glad they had some pre-show entertainment, including "old school" style trucks from skyhighriders, some small remote controlled trucks trying to go up the mounds of dirt monster truck style, a man throwing a neat boomerang style which sometimes members of the crowd might catch and be able to keep during breaks, and some 4 wheelers that came out and drove the track to show us the paths. The well-spoken announcer told us what to expect and explained the judging process. There was a thoughtful salute to service men and women and the National Anthem. We were already entertained and it was just now time for the real fun- and noise- to begin!
The truck my son most easily recognizes because we used to live not terribly far from his "Dungeon" and sometimes would stop by to see other trucks and his shop, Grave Digger, was in another Monster Truck Jam on the East Coast this weekend so we did not get to see him. The other trucks were so fantastic that we had no trouble getting excited about them instead though. We cheered as we found out one of the drivers, Derick Anson in Heavy Hitter, is from right here in Louisville!
Talk about action-packed! The loud noises alone thrill most kids (and many dads!), but you can also buy special headsets to help muffle the sound or go with good old-fashioned ear plugs. The headsets they sell at the show were super cute and shaped like big monster truck tires. My son was a little fearful of the thought of noise, even with ear plugs, and we were just about to go see about buying a headset when a really nice fan next to use offered to let him wear her unused plain one. After that, my son uncovered his ears and had an absolute ball!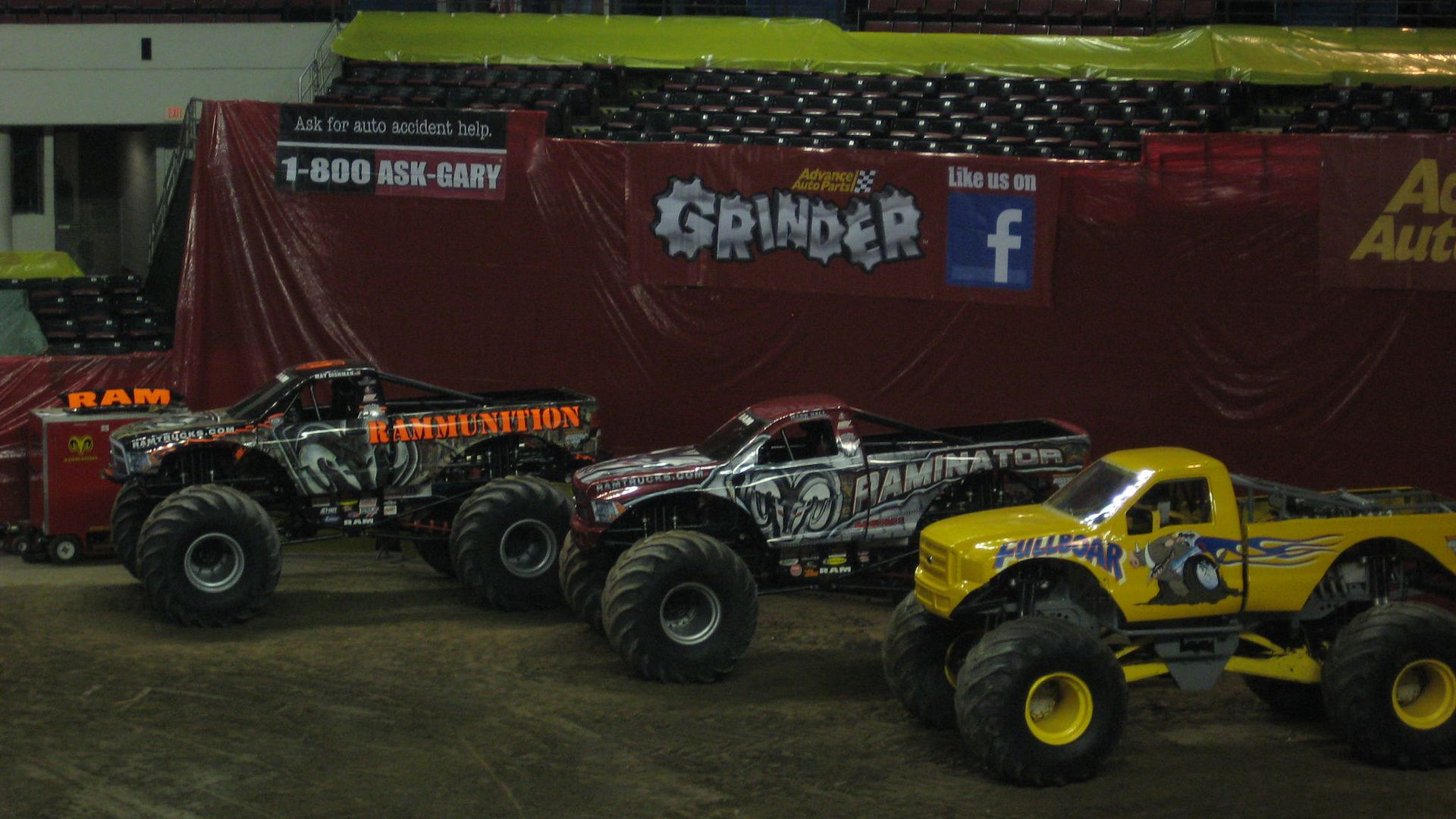 The show kept all of us really involved almost the entire time. The only "down time" is in between types of events, but they have other entertainment during the first two and suggest using the longer third one as an intermission to stretch, use the restroom, or grab food, drink, or souvenirs. We enjoyed the 4 wheelers and Motorcross in between monster truck events almost as much as the monster trucks! They even had fun giveaways in between and encouraged the crowd to get loud and dance to win prizes. The main events included some opening stunts, racing, and the very popular freestyle event. We enjoyed each of those and my son was mesmerized watching how high in the air some of the trucks go as they make their way over giant dirt mounds and old junked cars.
You can tell how professional and how much practice these drivers have to do to perform these awesome tricks and stunts. My son already plays Monster trucks with his official toys and other trucks and cars and I am sure that play will increase significantly this week. He is already talking about when he'll be old enough to do bike stunts or drive a big truck, so just remember to remind your little ones that they are all done by pros and not anything to try at home just yet!
They had numerous souvenirs for sale, like monster truck hat cotton candy and souvenir cup snow cones for $15 each, the boomerang style toy for $20, several t-shirts, and my son's choice, a nice quality $5 checkered flag. There were lots of concession choices if you needed a snack, but we stopped for an inexpensive fast dinner on our way to Freedom Hall and were not hungry enough to try anything, even though the soft pretzels and flavored popcorn sure looked tasty.
Overall, we had a fabulous time and made some fun family memories together with a relaxed family crowd who seemed to move around more often than not, so between that and the loud trucks, you have no fear of your little ones disturbing anyone. I loved all of the stunts, but really enjoyed watching some of the monster trucks preform doughnuts. It is quite a sight! Many people waited in line at some tables near the front entrance where the announcer said all of the drivers would be a few minutes after the show for autographs.
Regular tickets for upper or lower level seating are $22 adults and $5 kids ages 2-12, plus fees, in advance and add on $2 for buying them the day of the show. You can buy them at Freedom Hall for Saturday, January 28th's events and usually through Ticketmaster at
http://www.ticketmaster.com/
or calling (800) 745-3000. Tickets also usually available at the Kentucky Exposition Center, Kentucky International Convention Center, KFC Yum! Center, and participating Kroger locations.
There are some great additional options for Saturday's event. You might still be able to get a free Pit Pass from friends who maybe cannot use ones that they picked up before January 26th at area Advance Auto stores. If you missed getting the free ones and cannot find a friend with any to share, you can buy them for $10 Adults/$5 kids through the Freedom Hall Box Office and ticketmaster.com while supplies last. You'll need your ticket for the main event, plus the Pit Pass to enter early for the 5-6:30pm Pit Party before gates open at 6:30pm for the main event at 7:30pm. The Pit Party is a time to see the trucks closer, meet some drivers, and maybe even score an autograph if you do not mind waiting!
Or if you really are up for a treat, you might get lucky enough to still be able to buy a Total Access Pass so you can avoid the lines, skip the crowds and enjoy VIP access Saturday evening. They sell a VERY limited number of these so if you missed your chance this year, remember to buy in advance next time they come to town. This $65 pass gets you the best seats and exclusive access to drivers with a private meet and greet from 4:00PM – 5:00PM before the more crowded Pit Party begins.
Go get you tickets and ear protection now so you do not have to wait until they come back to town! You might want to dress warmly under your coat since the arena seemed to be cooled off sometimes as the trucks heated up the track. If you simply can't make it to tonight's show, go to http://www.mosterjam.com/ to see if they are coming to another city you might be able to enjoy them in or for when they come back to Louisville next. You can get on their email list and follow them on social networking too so you get advance notice.
My family can hardly wait for the next time they come to town!

By guest contributor: Angela