Review of Steve-O Magic
We coordinated a great family event at Vint Coffee (Northfield) with Steve-O Magic. He is a local entertainer that performs at birthday parties and events and I learned from watching his show, he's a ton of fun for kids!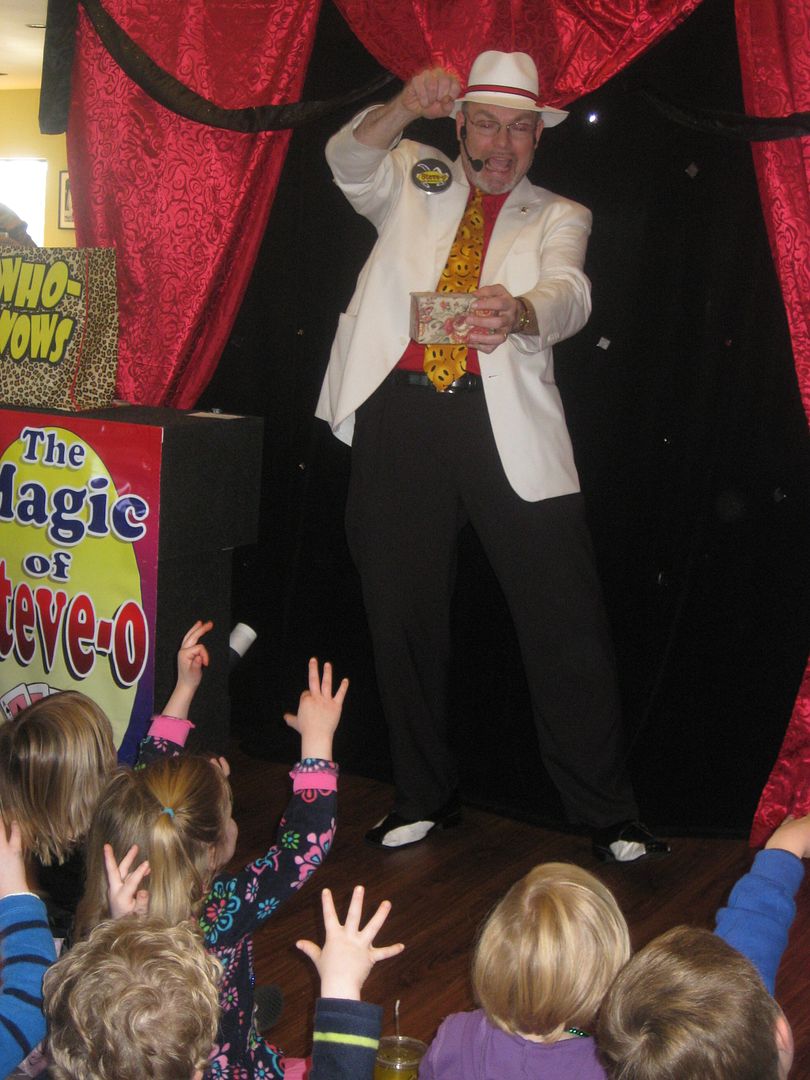 My son and daughter saw a magic show in New York at a family reunion this summer and they absolutely loved it. So, I was so thrilled to be able to take them to see Steve-O Magic and see that's look of wonder in their eyes and hear their silly giggles.
Steve-O started the show promptly and even before the show, he saw the kids waiting and told them a few little jokes to keep them entertained before the actual show started. He set up a backdrop so it felt like he was on stage and had a podium to hold all of his gadgets and tools. From the start of the show forward, he had the kids attention for the full 45 minutes.
His act included a variety of tricks from making things disappear (or pretending to in order to get the kids to catch his mistake and scream with delight in correcting him), interacting with the children and bringing them up to do a trick with him, music and more. You will not just watch Steve-O perform magic, you are part of the show! Yes, the parents were laughing also.
My son told me that his favorite part was when Steve-O introduced his fluffy white dog puppet into the act. He used this puppet to perform some funny tricks with balloons and gave the dog a great personality that the kids really enjoyed. At that time in the show, I looked over at my children and my son was just grabbing my daughter and hugging her so hard because he was having such a blast. He looked back once and gave me a thumbs up and another time he told me it's was awesome.
The show was fast-paced and organized. Steve-O was well-prepared with music cued and props ready to go. He had tons of silly one liners that made the kids laugh and some for the parents! Steve-O is an excellent entertainer, very professional and you can tell he really enjoyed interacting with the kids and providing a quality performance. At the end of the show, he gave all of the kids coloring sheets and some of the older kids got a magic fish. It was a wonderful afternoon and I look forward to seeing Steve-O take the stage again and make my kids hoot and holler with delight!
You can see all that Steve-O Magic has to offer on his website. He can perform at schools, parties, corporate events and just about anywhere people want to have fun. He also has videos on his site, so you can get a sample of what he can do.
Stephanie