Thunder Over Louisville and The Louisville Bats
One of the derby events we most looked forward to last year was attending the Louisville Bats game during the airshow and staying in the stadium to view the fireworks from the field. We purchased our tickets from the Louisville Bats site and marked the date on our calendar with great anticipation.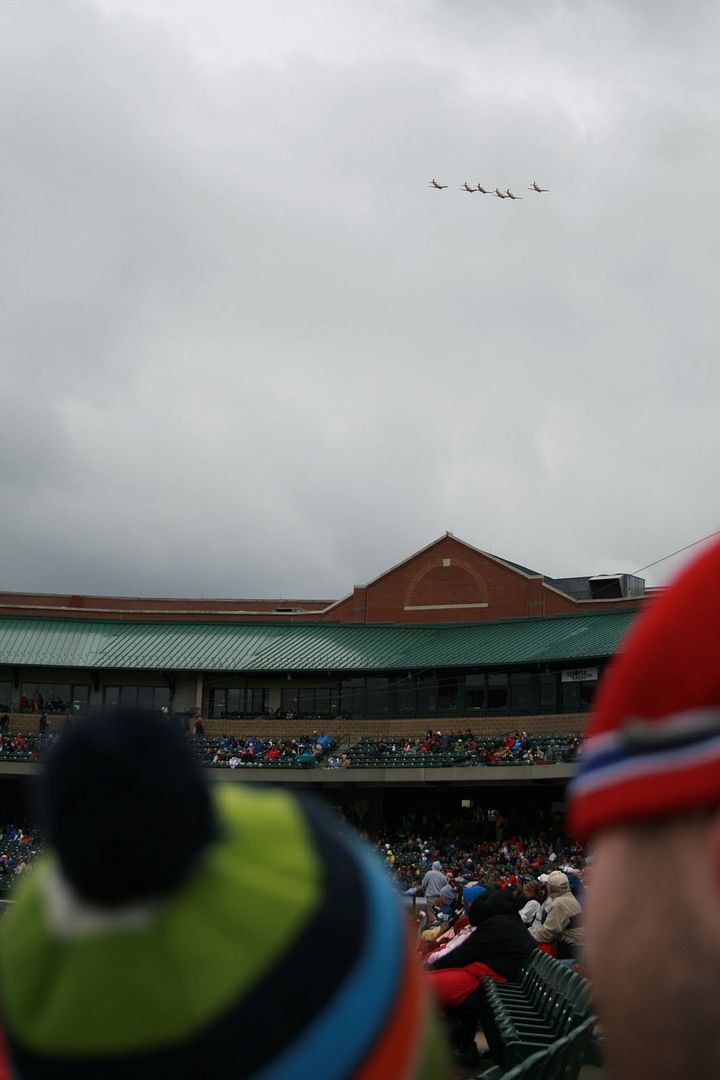 When the day came, the weather was rainy, cold and overall miserable. We decided to go to the game anyway and see if the weather would pass. We found street parking 5 blocks away, the game starts before most people were heading to find their spot on the river for the events so parking wasn't too difficult to find. We sat in section 124 on the third base side. Due to the chilly weather there were empty seats and our 18 month old could wander around the rows. The game was fun for us to watch and the crowd cheerful and family friendly. There was plenty of options for food and drink, but hot chocolate did sell out by the 7th inning. We were able to see some of the airshow overhead during the game, had been a clear day we would have been able to see more planes. After the game was over, the events crew started transforming the field to put up a stage and provide areas for people to watch the concert and the fireworks. There was about 3 hours of time between the end of the game and the anticipated start of fireworks. (You are able to leave the stadium and return if need be.) We tried to wait but it started to rain and get even colder so we left to go home and let our son go to bed. We were disappointed to not stay for the music and fireworks. This year we have already decided to go back and try to make it the whole time, weather permitting.
2012 Schedule of Events (subject to change)
12:00 – Louisville Slugger Field Opens
2:05 – Louisville Bats vs. Indianapolis Indians Game
3:00 – Air Show Schedule to Begin (continuous fly-bys from 3:00 – 9:30)
9:30 – Thunder Over Louisville Fireworks Show
New for 2012! The Family Tent
– Groups now have the ability to purchase tickets for the all new Family Tent located inside of Thunder Town. The Family Tent is a private tent including an all-you-can-eat buffet, VIP restroom trailer, live music, inflatables for kids and more. The Family tent is a shared tent by all groups who purchase tickets. Groups must purchase a minimum of 10 tickets to have access to the Family Tent. Tickets for the Family tent are $60 each
By guest contributor: Tanya