Daddy Date Night! at Salsarita's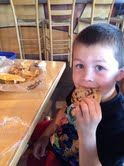 My wife and I have always tried to spend time with each of
our children individually. We call this time "Daddy
Dates" and "Mommy Dates". We feel it's important to give each of our
children our undivided attention every once in a while. So my wife will
take my son while I take my daughter, and we'll do something that specific
child will enjoy. Then the next time, we'll switch kids for the
next "date." The kids have grown to love this time, and so do we.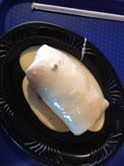 For my most recent Daddy Date, I took my son to
Salsarita'sFresh Cantina
for dinner. We moved
here from North Carolina several years ago, and back in North Carolina
(where Salsarita's was founded), my co-workers and I ordered take
out fromSalsarita's for lunch almost weekly. They have the BEST
chips and queso. Luckily for me, the one Salsarita's in Kentucky is
located right here in St. Matthews (285 North Hubbards Lane).
Salsarita's has a kids eat free night (with the purchase of an adult entree)
on Monday and Thursdays, so we went on a Thursday. I decided to try
one of their new CasaRitos. You can choose either a Quesarito (burrito
covered with creamy queso), Rancharito (burrito covered with a robust
ranchero sauce), or a Tomarito (burrito covered with warm, spicy
tomatillo salsa). Since I love the queso, I of course ordered a
Quesarito.
If you haven't been to Salsarita's before, what you need to
know is that they pride themselves on having fresh food, a big selection,
and they customize your order for you, right in front of your very
eyes. You can choose from beef, chicken, shrimp, steak, or pork. Then
you choose rice, beans, vegetables, sauces, and multiple other toppings
to go inside your burrito, taco, or other item. The Quesarito was
a HUGE burrito. I had them fill it with everything I like, and then
they poured the creamy, warm queso over the top. My son ordered a
pizza kid's meal which comes with chips, a drink, and a cookie. Of
course I had to get a side of chips and queso to go with my
Quesorito, but since my son's meal was free, I didn't feel guilty about
getting the large order of chips. The Quesarito was DELICIOUS! I'd love
to try the other 2 varieties of CasaRito, but I don't know if I'm
willing to go to Salsarita's and not order a Quesarito. I think I'll be
taking my daughter to Salsarita's for our next Daddy date!
By guest contributor: Stefan (Hooray for our first Daddy post!)