Review of Gordon Biersch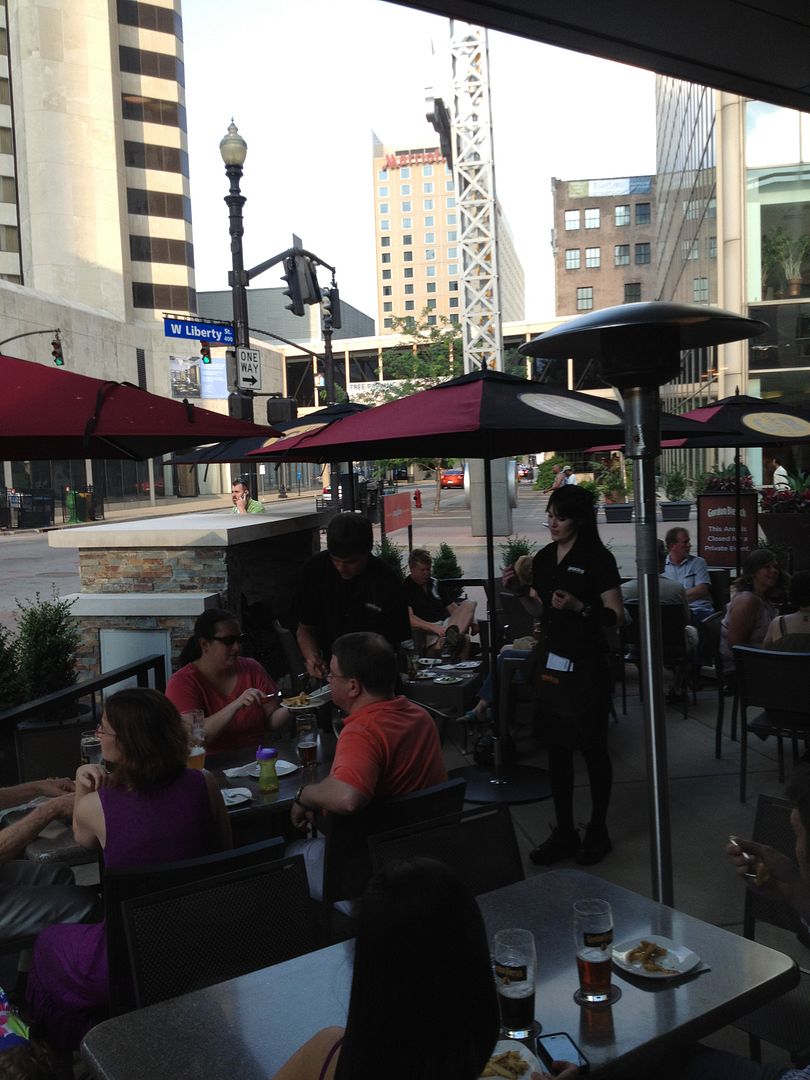 This past weekend my husband and I enjoyed a double date to the VIP Reception for the new Gordon Biersch opening this week at 4th Street Live! in downtown Louisville. Three of us had never visited one, but my husband was already a big fan from frequenting the location where we used to live on the east coast. He was excited to have one here now and that he won an additional invitation to attend on the Gordon Biersch Louisville facebook page so we could invite another couple to join us.
We entered the garage from 5th Street and, since it was just after 6pm on a Saturday, parking was free. From there you can walk right into the heart of the 4th Street Live! area and it was just a quick left past a few other restaurants to get to Gordon Biersch. We were greeted promptly and, because it was a reception rather than regular seating, were told we could sit wherever we'd like. There were plenty of tables to choose from and we noticed the entire interior was nicely decorated and had a clean, modern feel. The bar area is large and offers numerous tvs high on the wall and ample space for gathering. You can see the fermentation tanks through a window to the side and the kitchen through a large glass window opposite the bar area closer to the main dining tables.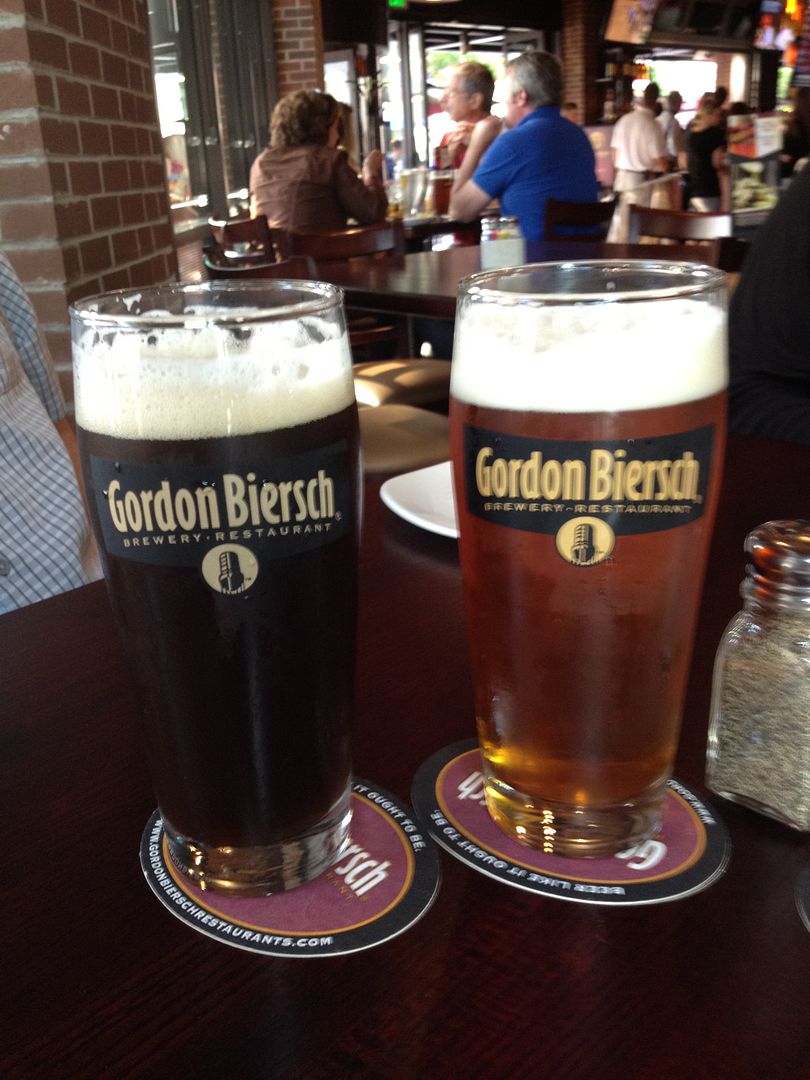 Since it was an opening reception there were no menus. Instead, servers came around with a variety of tasty appetizers so you could sample key menu items. They shared that everything is made from scratch on site and described each item as they offered it. We enjoyed tapas sized tastes of Margherita pizza, Housemade Chips, bruschetta, Southwestern flatbread, a warm crab dip served with crostini, a potsticker which we shared since they ran out a few times before making it to our area, a small salad, and a little bit of bowtie pasta with lobster claw and shrimp. Everything we were able to taste was very good. My favorites were the Housemade chips, which were lightly topped with baked potato toppings, and the seriously delicious garlic fries.
Drinks were highly discounted and benefited Boys & Girls Haven and extra donations were accepted in a clearly marked envelope. The initial server did a great job explaining the beer selections and their unique qualities. My party tried three of the beer choices and were quite pleased with their selections. They also have a wine and handcrafted cocktails menu, including some lighter and non-alcoholic choices. Our assigned server seemed a little overwhelmed considering she was only taking drink orders and other servers were roving with the appetizers. We were quite understanding that this is a brand new place and it will take time for everyone to get their footing, but couldn't help but notice she appeared more attentive to our neighboring tables, which was disappointing. Every other employee we encountered was friendly and helpful and did not let it show if they felt the understandable stress that might accompany opening a large new restaurant in an area hot spot.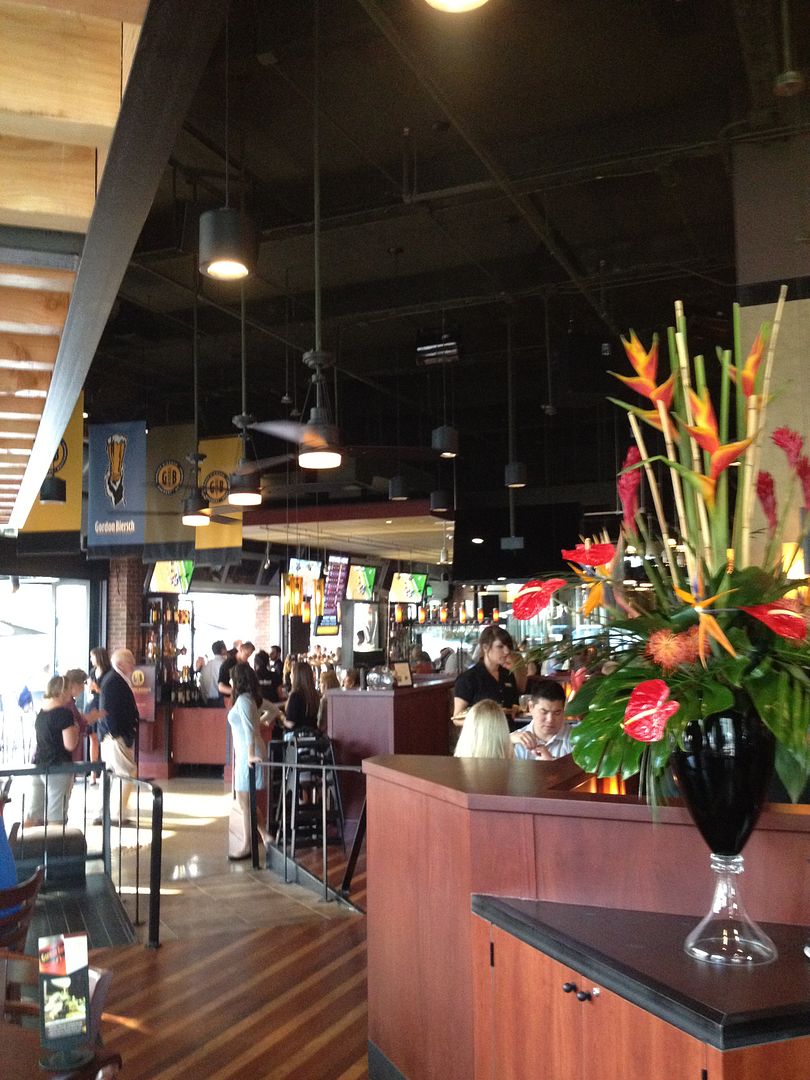 The corner location at 4th and Liberty is highly visible and offers great views of groups as they approach the 4th Street Live! area. From our indoor table, we enjoyed seeing several bachelorette parties making their way to start their celebrations. The patio seating looked like lots of fun too, right next to the action, and the fireplace outside is sure to make for a romantic evening when the air is crisper. There were a few items that always seemed empty by the time they made their way near us, like a great smelling pizza and Kobe and pulled pork sliders, so I look forward to ordering them when we visit again. We noticed just a handful of high chairs and boosters available, which makes sense for their location. I can see popping in there with my family early in the day and they do offer a reasonably priced Kid's Menu, but imagine it will be more of an adult place in the later evening as that part of downtown is meant to be. Overall we had a great time and loved being able to get a sneak peek at what is sure to be a very popular addition to Louisville. We look forward to going back to try more of the great sounding menu items, including indulgences and some lighter options, and are happy to have another great place to grab a tasty bite and unwind!
By guest contributor: Angela