Review of Great Wolf Lodge in Mason, OH
School is almost out and you might be planning some trips big or small. We are going to be writing about a few reviews of places you can visit that aren't too far away and great for an overnight getaway.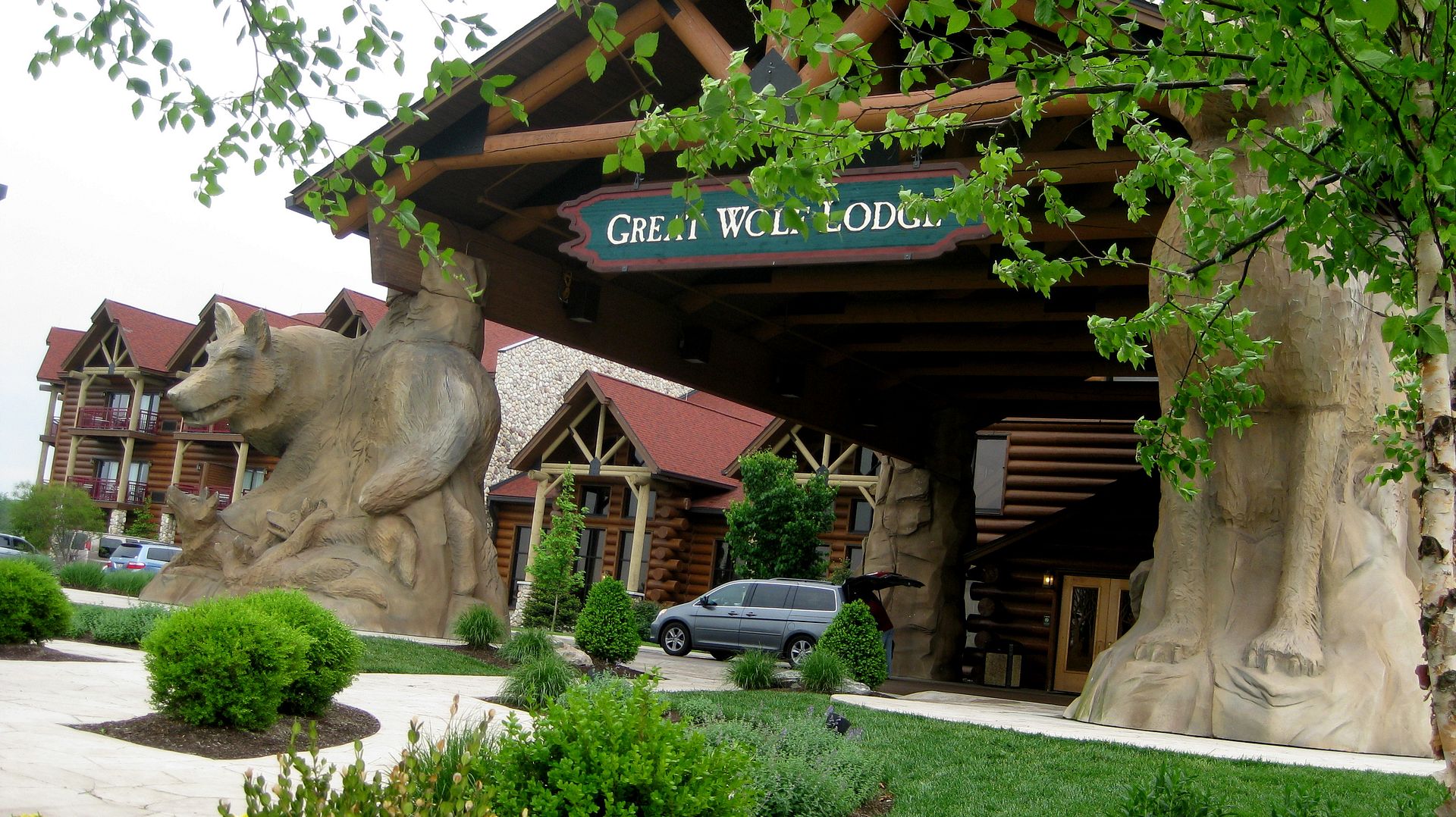 Great Wolfe Lodge is located in Mason,Ohio
just about 20 minutes from downtown Cincinnati. It was a really easy drive from Louisville up I-71, right off of the highway. After stopping for lunch along I-71, we arrived at 1pm on a Saturday and it was busy but check-in was fast. They gave us all wristbands that open our hotel room door and they store your credit card info on the wristband also so you can purchase food without worrying about carrying around your wallet (nice, since we were in bathing suits a lot). We didn't expect to get into our room yet, but it was ready. We parked our car near the entrance closest to our room. We stayed in a
"Wolf Den" room
. It had a cute "Wolf Den" for the kids with a TV and bunk beds and it was decorated like they were in the woods with little cute wolves. In addition to the typical things you find in a hotel room, there was also a mini-fridge, microwave and sitting area with pull-out couch.
We thought we would run to the water park first, but our 3.5 year old and 5 year old were so excited about the bunk beds in their little alcove that they hung out for about 30 minutes while we browsed the hotel materials to decide about dinner, when to hit the arcade, checked the times for the clock show and decided whether or not to do the Paw Pass for all of the activities. We decided not to do that Paw Pass because we were only there for 1 day and we thought that our kids were a little young to really understand the MagiQuest and we were fine with the basic amenities. But for elementary to middle school age kids, the Paw Pass (~$60 for savings on multiple activities/treats) would save you money.
Finally, we got changed and headed to the water park. It was nice to not have to bring a thing! They have towels, life vests and our credit card information was on the wristband. We grabbed a few towels and tried to find a seat. There were plenty of seats, but only a few right near the water that were available. So, claim your spots early! First, we played in the toddler splashing area. It had a few smaller slides, basketball hoops, strings to pull to squirt water and plenty of room for wading. The kids can wear the life vest on all of the slides!
Then, we went to the wave pool. The wolf howls and the waves start. There's also a fountain for splashing in this pool. There are lifeguards everywhere and tubes you can use in the wave pool. It's beach-style entry so that is really great for the young kids. We continued to try the rest of the fun parts of the water park. We climbed all of the structures, squirted or dumped water everywhere, tried more slides, floated in the lazy river and my 5 year old son tried climbing across the wobbling floats while holding onto the netting above. We spent about 2.5 hours with the water activities. Note, there are 2 bathroom areas withing the water park as well as a few food options.
We went back to our room, freshened up and got dressed. We took the kids to the Cub Club to play and do a craft. The kids had a lot of fun with the free craft (foam kite, foam robot frame). We also completed some puzzles, colored and played with puppets and trains. They also have other crafts that you can do for a fee and all that I noticed were under $10 (make-your-own lotion, painting wooden pieces, coloring your own shirt etc.) They also had a Disney movie playing. While we were there, my husband went to the main lobby to the restaurant to order our meal deal since they said it would take about 30 minutes. Then, we went to the arcade. I got the kids $10 in tokens and they played some games with about half of them. It is a good size arcade with many game options and prizes. There's also a mini-bowling area. We headed back to the room after picking up our food.
We ordered the family pizza meal. It was about $25 for a large pizza, several bread sticks, a salad with dressing and a 2-liter soda. They had paper plates, cups and utensils for us to take back to our room. We ate in our room, watched a show and took a break. The pizza was good, better than I expected, with a garlic crust and the salad was fresh and more than enough for my husband and I to share. After dinner, we got the kids into their pajamas and headed downstairs to explore and get ready for the popular 8pm clock tower show and story time.
At 8pm, the clock tower in the lobby comes to life. The characters and animals move and sing. They tell an adorable story about not being afraid and my daughter (3.5) was completely enthralled. Despite some of the kids walking about, getting up and down and being somewhat distracting, we were able to enjoy the little show. After the show, a Great Wolf Lodge staff member came out with the lodge mascot and read a bedtime story. This was a little difficult to follow because kids wanted to go up and say hi to the mascot. But, the staff member did a good job of getting them to sit down and wait so she could start the story. After the story, kids got to line up to say hi to the mascot. We went back to the room for bed and the kids curled up in their little wolf den, watched a show and went to sleep.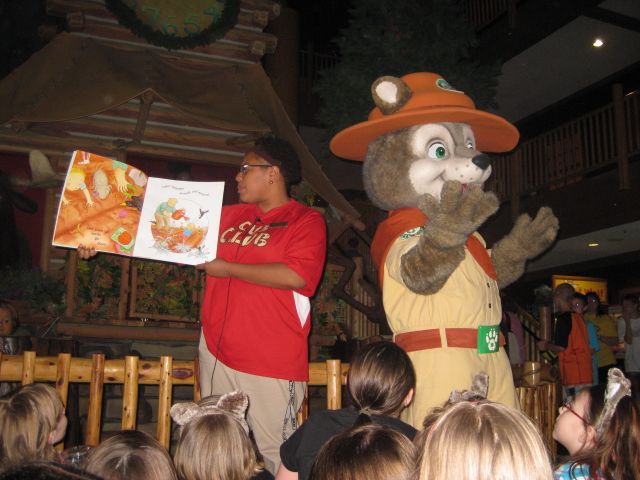 The next morning, we ate breakfast in our room. We had the complementary in-room coffee with some basic breakfast items that I brought with us. We showered and packed up our things. Check-out was at 11pm, so we decided to lock-up our items and leave the room empty to head to the water park and finish our day. You can stay as long as you want on the day of check out. This time, we swam in the pool with the fun bobbing snake and my son decided to be adventurous and try 2 of the bigger slides with me on a double tube. He loved them! We spent a bit of time in the wave pool again and eventually, headed to the locker room to shower (they have soap dispensers in the shower, tumblers to dry clothes & hair dryers), get changed and hit the arcade to use the rest of our tokens, get a prize and head on the road back to Louisville.
Things to highlight:
* It is RIGHT next to King's Island so you can do a trip that combines both
*There is a Starbuck's coffee in the gift shop but it is over priced, so if you are a coffee drinker, enjoy the in-room option to save money!
* You can absolutely save money by bringing breakfast, drinks and snacks to have in your room. The Hungry as a Wolf dinner deal is not bad at all though.
* They have an outdoor swimming area for the warmer months that although empty when I went, looks fun!
* The Loose Moose Cottage buffet for dinner did have a kids-eat-free option for young toddlers (under 4, I believe)
*There are other activities to do that we didn't do. We saw kids doing that MagiQuest and they were VERY into it. There's also a small spa for girls!
Check on their website for discounts. Occasionally, they offer deals if you book by a certain date, for a longer stay or combine with food. They gave me a deal to publish for you that is good for weekday deals, see it HERE (exp. 6/29/12)
Stephanie