Review of Day Out with Thomas at the Kentucky Railway Museum in New Haven, KY
I will start by saying that Thomas the Train has hung the moon in my 3 1/2 year old son's eyes! When he discovered that he was going to ride on the "real" Thomas he was beyond thrilled and could not contain his excitement! And the Day Out with Thomas did not disappoint! We headed out for the 9am Day out with Thomas on Saturday morning June 2nd. We had one detour in our travels due to road work on our way but made it in plenty of time.
Upon arrival at the Kentucky Railroad Museum in New Haven, KY we were greeted by high school volunteers and directed into the parking area. Being that we were there for the first ride with Thomas parking was very easily accessible. In observation when leaving our magnificent Day Out with Thomas I noted that there was plenty of parking and volunteers assisting with obtaining that parking. There was also paid parking from other individuals in the town. All areas were well designated and marked. My family started at the will call tent to obtain our tickets.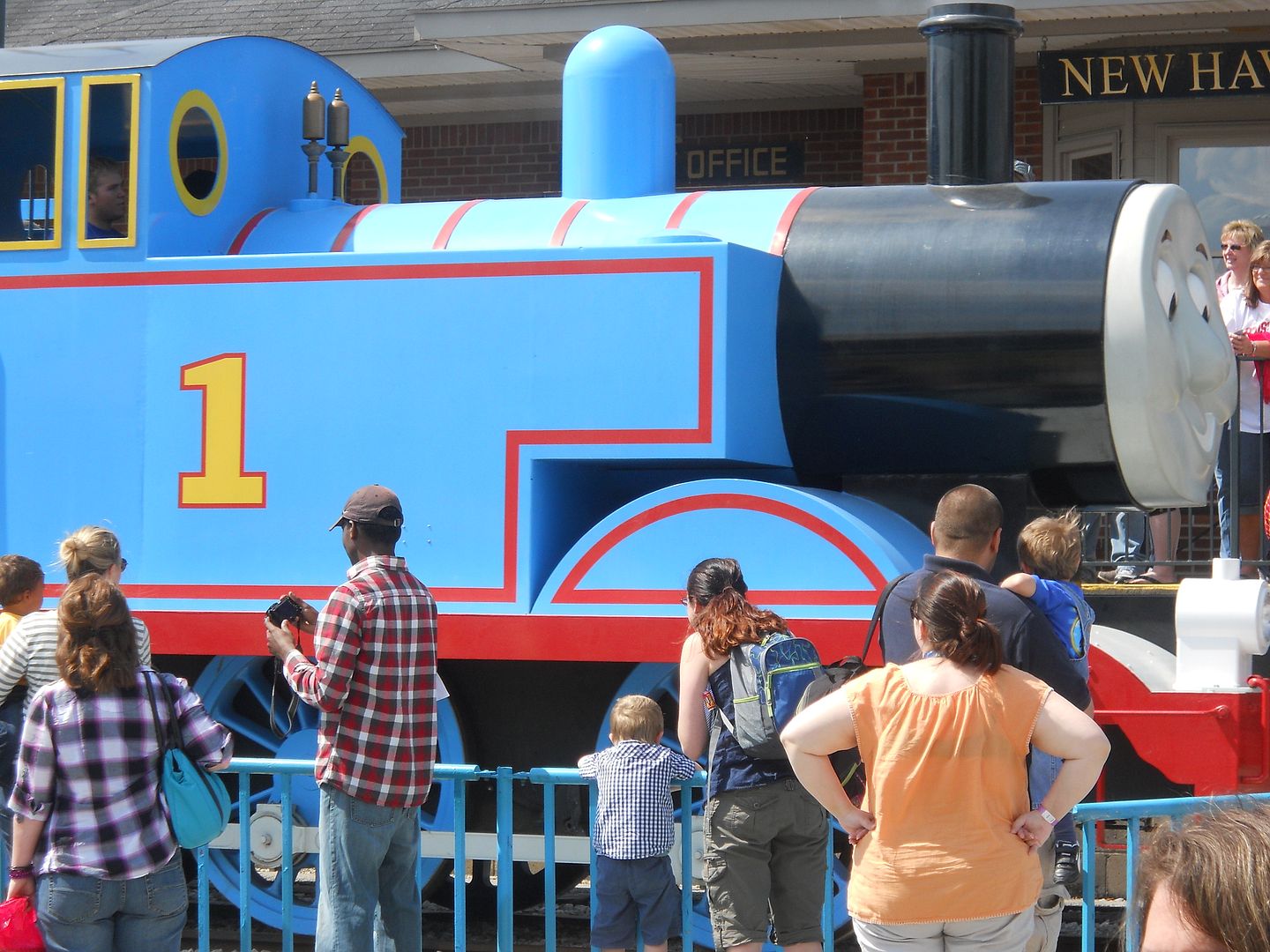 It was then time to see Thomas pull into the station blowing his horn and puffing his smoke! The look on my son's face was pure elation! The 25 minute ride on Thomas was just enough time for the little ones as well as the adults. Upon returning back to the station we were met with a list of activities to begin. These activities included a puppet show, storytelling & videos, my furry friends (ride), Mr. Magic, meet and greet with Sir Topham Hat, miniature golf, face painting, imagination station, temporary tattoos, and arts & crafts: spin art! There was something to make the day special for every child! We were able to participate in many of these activities in the time we were at the museum. My son could not quit talking about Mr. Magic and his Rosie tattoo!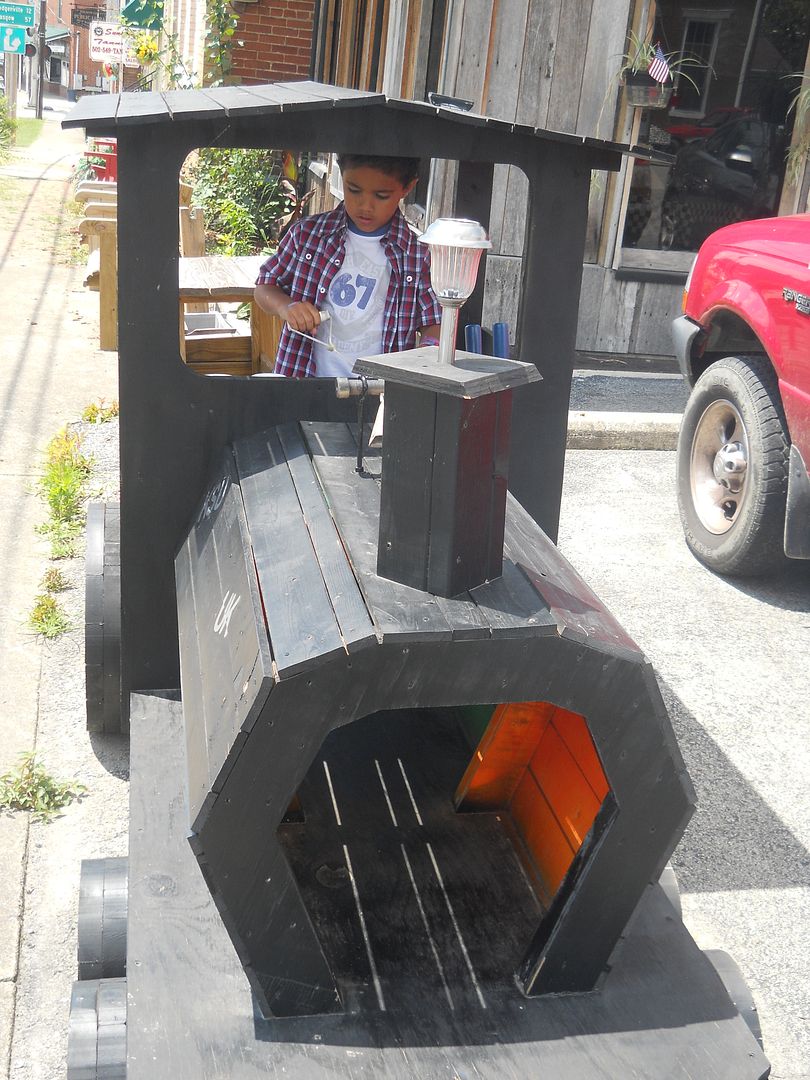 All staff and volunteers were cheerful with smiles on faces throughout the morning hours. The children were given maps at the beginning of their day to obtain stamps on throughout their journey. At the end of their journey they were able to turn in the maps in the gift shop to obtain a gift which consisted of a game and small Mega Bloks kit to build their own Thomas, stickers included. My son has not put his Lego Thomas down since leaving the event! The gift shop offered a plethora of Thomas items that ranged from trains & tracks to shirts & hats with so much more in between. We bought a Thomas T-shirt that was on special for $7, great deal, and a Thomas CD for the ride home. Many of the items in the gift shop were a bit more expensive than Thomas items you might find in a retail store but there were deals to find.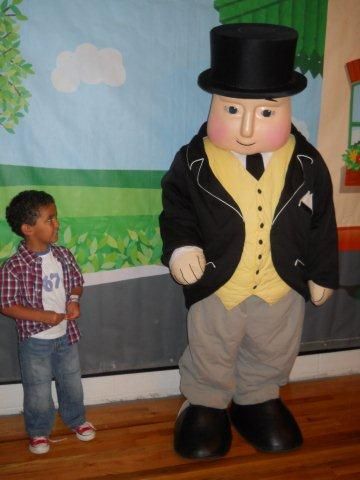 We completed our trip to New Haven with a meal across the street from the museum at a hometown diner that did not disappoint! There was a Chow Wagon set up at part of the event which looked and smelled great as well! We however wanted to sit down and enjoy the small town home cooking! Ribs, pulled pork, and a cheeseburger for the little guy was all delicious! We topped it off with homemade apple pie and soft serve ice cream! My son was asleep before the second song on his Thomas CD finished on the ride home! We did meet some challenges on the way back to Louisville with various road construction! I would suggest that anyone plan ahead and know which roads are being worked on in order to cut down on a bit of frustration. I would highly recommend A Day Out with Thomas to any family that has little Thomas lovers! I am fairly certain it was a magical and memorable experience for my little guy which he will talk about for some time to come.
By guest contributor: Melissa
Use code lvillefamilyfun13 to get $2 off per ticket! Click here for ticket info