Review of Papalino's Pizza
On a beautiful Sunday evening the family and I headed to Papalino's Pizza in the Highlands for dinner. I am from New York and hold very high expectations for "New York Style Pizza".
First, Papalino's is a pizzeria, not a sit down restaurant (just like NY good start!) I ordered a pizza, a salad, some garlic knots and a couple beers for my husband and I while my husband snagged a table outside on the sidewalk (The total was close to $30). There are 5-6 tables inside but it was steamy in there with the ovens and we enjoy people watching. They provide boosters and high chairs which made sitting with a 2 year old and a 9 month old easier.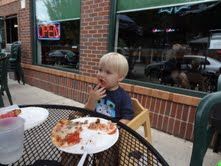 We got to enjoy our drinks and garlic knots until our pizza was ready, which took about 25 minutes. It was the best New York Style Pizza I've had outside of New York (though still not the same, something about that H20 in NYC), thin crust, a little bit greasy, the pepperoni and sausage on top was fabulous and the cheese was melted just like I remember. My 2 year old gave it two thumbs up and so did my husband. And, it was especially affordable with our Seize the Deal voucher!
947 Baxter Avenue Louisville, KY 40204
(502) 749-8525
By guest contributor: Tanya