Review of Thurman-Hutchins Park
A couple of weeks ago a friend of mine and I were looking for a playground we had not taken our kids to yet and decided to check out Thurman-Hutchins Park at 3734 River Rd. near Indian Hills Trail. It is just across River Rd. from Carrie Gaulbert Cox Park, which is along the Ohio River, but always seems more active with families to me when I drive by and the grounds seem better kept too. We found it easily thanks to a large clearly marked sign and drove back towards the playground to park. We loved that we could park right next to and simply walk into the large mostly fenced play area.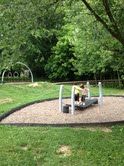 To one side are two play structures, one for younger kiddos and another larger one for the slightly older set, and a small spider web style structure. There is a great plank- like short bridge that connects to the other side, with just enough nature to spark some great imaginative play or you can just walk around and try your balance on the a giant rock and neat varied height large round wooden poles in the ground. To the other side are several unique things for different ages, like swings including ones for baby and those with special needs, balance beams, a bridge you can stand on and rock, and these really cool giant metal circles to hop through. It was great to have traditional equipment paired with these more interesting things to try.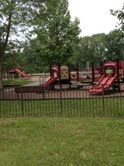 Throughout the play areas are also several small mounds that look great play on, like pretending to be "King of the Hill," and we noticed a dad and kid playing hide and seek in the small wooded areas to either side. There is so much to do, a ton of ways to get the creative juices flowing, and plenty of room to run and exercise!
There were several benches conveniently located throughout the whole area, and past the playground are wooden picnic tables and what looked from a distance to be a shelter with a grill or two. The restroom I looked at was a little unkempt, but there are more just a short walk across past the picnic tables and probably others. It would have done fine in a pinch though. There are two different height water fountains as well, just outside the restroom. We did spot a little excess pile up of trash, but it looked as if someone had recently enjoyed a large gathering and successfully put at least 95% of their trash in or near the cans, which is much better than having it all scattered about. I am sure it was schedule to be picked up soon.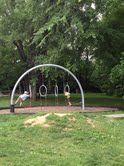 While there we stumbled upon a fun tip. Our kids were trying to collect rocks and needed some sort of container. My smart friend dug in her mom bag and came up with a pair of socks. Our three kids then collected rocks for at least 20 or 30 minutes and only stopped because we said it was almost time to go and that they should bury their treasure. So if you need a little time to sit and chat, bring some old socks to your next playground adventure!
I loved the great balance of sun and a good amount of shade trees so the playground can be enjoyed in a variety of temperatures. It is pretty area too and the very slight buzz of interstate traffic did not take away from the great outdoorsy feel. The parking lot and several of the equipment seems wheelchair accessible and designed with that in mind. Within the park are ball fields to one side and soccer fields to the other, and then a long paved walking path through and in other parts of the park that I read is 0.9 mile. We did not walk over to it this visit, but I have my eye on the and small pond and bridge that look just perfect for photos. I have seen people fishing there with their kids too. Besides the terrific playgrounds, this would also be a great place for walks, with or without your dog, and bikes.
The Patriots Peace Memorial is nearby too, which I read honors members of our armed forces who have given their lives in the line of duty under conditions other than those of declared hostile action. I plan to allow more time next tip to we can visit that too. And we're thinking of bringing the kids back with their bikes to get in even more fresh-air and exercise before sock rock collecting again!
By guest contributor: Angela