Review of Uptown Art Kids Camp (Summer camp)
Recently, I took my six yr old son to Uptown Art for a weekday Kids Camp. The program was scheduled to begin at 10 AM but the website said the doors opened at 9. We arrived at 9:40 and there were a few children there and others coming in. The space was large, colorfully decorated and organized. We were greeted promptly and I signed in while my son put on a painting shirt and wrote out his name tag. Then we grabbed a canvas and selected a stool near the front of the room. The rest of the kids trickled in (about 15 total) and camp began promptly at 10 AM.
The scheduled activities included a special craft, a canvas painting and lunch. They began with the special craft which varies daily. On this day it was decorating an umbrella. The umbrella and all supplies were included in the cost. The first step was to open the umbrella. My son had a little trouble and one of the teachers promptly noticed and helped him. There were 2 teachers present and they seemed friendly and energetic.



I left when the decorating began.
Most of the other parents were already gone by then. The camp lasted until 2:30, so at 4.5 hrs, I'd call it a half-day. It allowed plenty of time for me to go home, complete few tasks and spend some one-on-one time with my younger child. When I arrived at 2:15 for pick up, all of the painting was complete and the mess was cleaned up. The kids were sitting at the tables drawing pictures. I was so excited to see my son's "interpretation" of Kandinsky's Circles!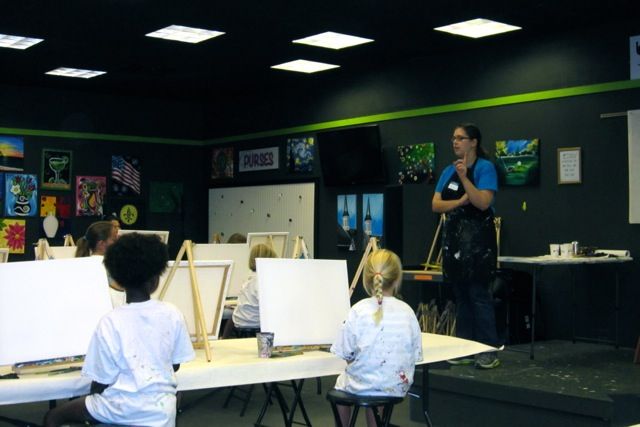 On the way home, my son filled me in on all the details. They decorated the umbrellas with paint, markers, glow-in-the-dark art daubers and jewels. Then they painted the sides and background of their canvas. They were introduced to the different sized brushes as "Big Daddy", "Big Mama", "Big Sister" and "Baby Brother". Then they washed up and took a break for Papa John's cheese pizza and soda/water. After lunch, they played a little game before heading back to the tables to paint their circles. This was his favorite part of the class because they got to mix colors. He was quizzing me about it on the way home, "Mom, what do you think you get if you mix red and white with a little dot of blue?" Clearly it was fun as well as educational!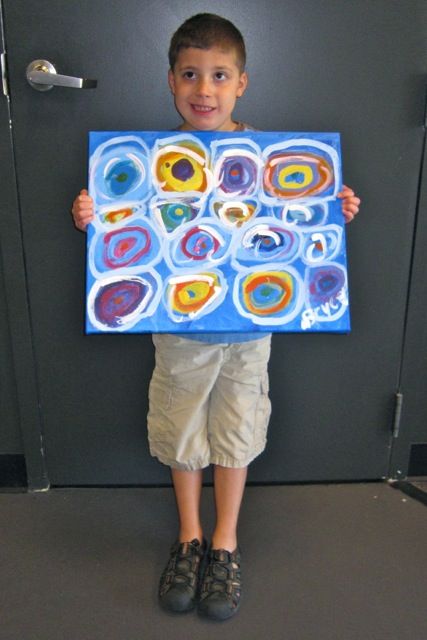 His final verdict was that it he enjoyed the class and would love to go back. He did mention that he would like to bring a friend next time, as some of the other kids brought a friend, cousin or sibling. He also said that he got a little tired toward the end. The class is for ages 5 – 12, so he was towards the bottom of that range. From my point of view, it was a fabulous camp! The cost is $55 for 4.5 hrs of kid-free time. Plus my child got to make artwork for our wall and a special project. Not to mention the fact that he learned things and they fed him lunch.
For more information, visit http://www.uptownart.com/
By guest contributor: Brandy