Review of Sweet Frog Frozen Yogurt in Clarksville

Tucked beside Wal-Mart and behind Chuy's at 1400 Veteran's Parkway in Clarksville, IN, it would be easy to miss Sweet Frog, a self-service frozen yogurt shop with a large array of toppings. But you shouldn't. It's one of the cleanest, brightest little sweet shops around. Customers serve themselves yogurt in a large range of flavors and more than 80 toppings ranging from cereal to candy to fruit. The décor is bright, friendly and fun, and my twin girls, 6, loved it. As a Mom keeping an eye on portion sizes, I appreciated that they had three sizes of cups available – which doesn't change the cost, since it's pay by the ounce (39.9 cents per ounce, claims to be cheapest around!). I helped my twins choose the smallest cups, since with larger cups, they tend to create an unholy, inedible, melted mess. I also was extremely glad to see the toppings behind a sneeze guard and small spoons in the bins so the portion sizes stay reasonable. My kids weren't quite tall enough to reach the back rows of toppings, but there were plenty of workers around to help.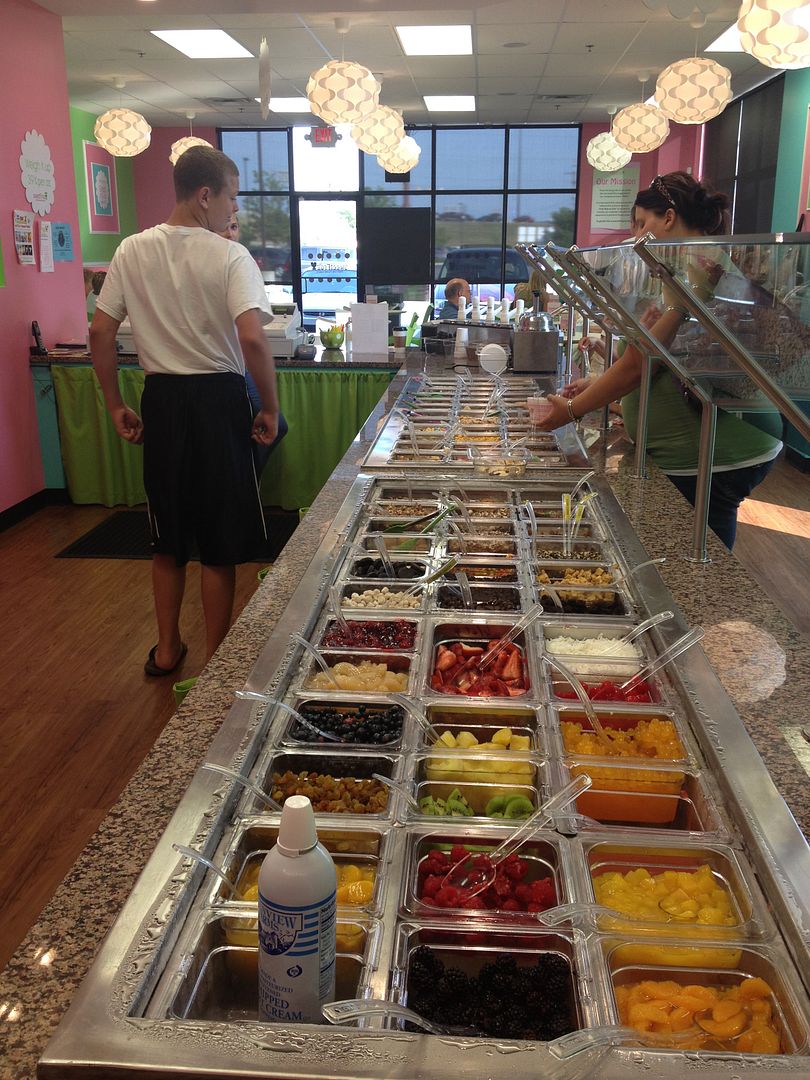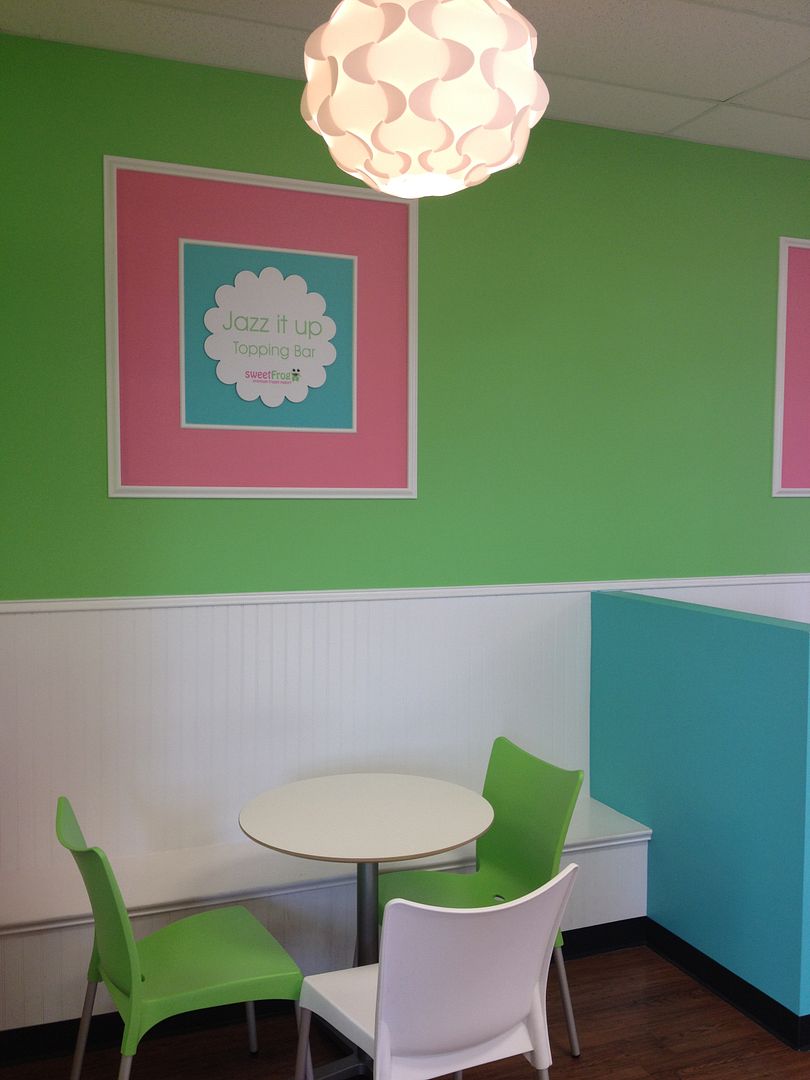 We also had a glimpse of the Sweet Frog mascot, who came out to say hi to the girls and let us snap his photo.
As for the adults, the yogurt was downright tasty, and the toppings were so great it was difficult to choose. The yogurt flavors were wildly imaginative and I enjoyed tasting a few of them. Their classic Dutch Chocolate was creamy and rich. They also had my two favorites: hot caramel and hot fudge sauce to slather on top and make my own turtle sundae. Just to give you an idea, the flavors on display the night we visited were Dutch Chocolate, Peanut Butter, NY Cheesecake, Coffee (no sugar added), Cookies n' Cream, Pistachio, Vanilla (no sugar added), Root Beer Float, Red Velvet, Banana, Cake Batter, Raspberry Pomegranate, Dulce De Leche, Georgia Peach, White Chocolate Macadamia Nut and Very Strawberry. Flavors are labeled as nonfat or low fat. Owner Ryan Linnehan, who opened the business in April 2012 with his wife, Stephanie, says the yogurt has active cultures and has the official Live & Active Cultures seal from the National Yogurt Association. Not all yogurt does.
Sweet Frog has extended hours during the summer. The shops is closed on Sunday mornings so that the owners and their employees can attend church.
Sweet Frog even has a Kids Eat Free option! Details >HERE.

By guest contributor: Robyn