The Forecastle Festival – the family perspective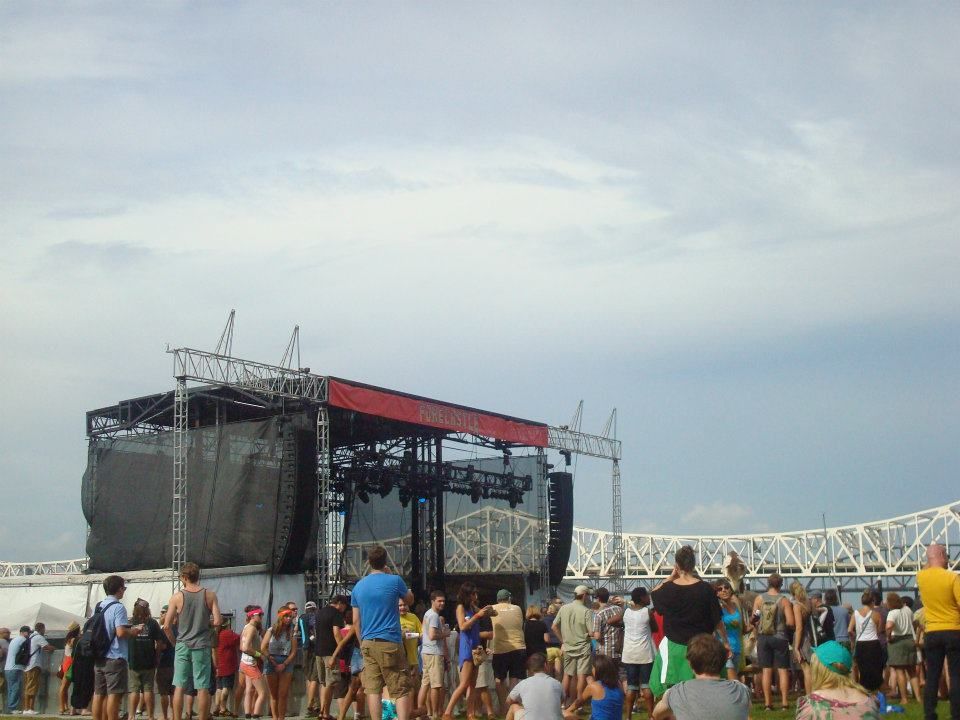 It was with quite a bit of in trepidation that my husband and I set off to Forecastle with our two children (a 5 year old and a 15 month year old) in tow. We had talked about going to a one of the large scale music festival since our daughter was born 5 years ago. Music was our first love and we spent much of the first years of our marriage together going to concerts and festivals and it was something we did not want to lose when we decided to grow our family. But when it came down to it the idea of spending three days in an open field, left to Mother Nature's will, loud music, port-a-potties and festival food as well as trying to keep the kids happy without toys was a little scary. Each year came by and each year we said to each other maybe next year.
This year's Forecastle Festival line up came out in early spring and when I saw that My Morning Jacket was headlining and children 6 and under are free, we decided to do it. The festival being in Louisville was perfect and the new policy that lets weekend ticket holders come and go from the festival as they please allowed us to feel in control, and perhaps the children could go stay at their grandparents for the night and we could go back to see the headliners without them.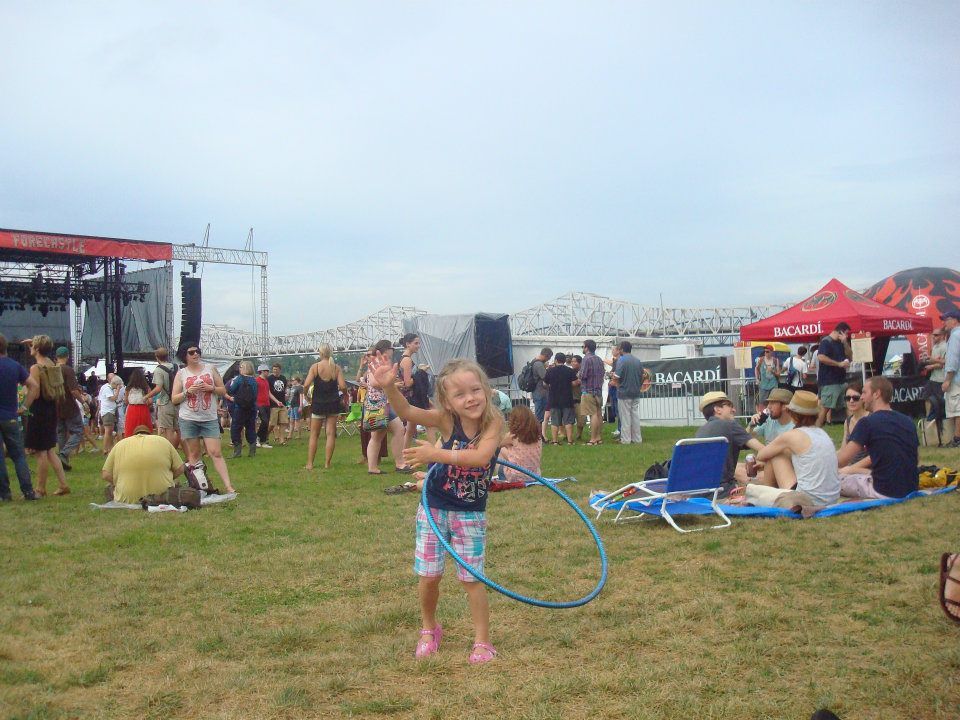 We bought our tickets in the first tier price (the earlier you buy tickets, the cheaper they are) and we ended up paying around $100 each for our weekend passes.
Mother Nature looked after the forecastle crowd. The ridiculously high temperatures felt around the region over the past few weeks had blown through, the storms in the area came in the morning before the bands began to play and we had a weekend of overcast skies with times of brilliant sunshine and a cool breeze flowing across Waterfront park and the river could be felt at all times.
The festival is set up with 5 stages, within easy walking distance to each other. Each one has port-a-potties and vendors with food and drink nearby. Camelback sponsored fill your own water bottles within easy access of the stages, unfortunately the water was not cold. We decided to take a deal from one of the vendors: a large lemonade for $10 with 10 free refills. This was totally worth it, ice cold fresh squeezed lemonade, not overly sweet or tart, just simply refreshing and the deal allowed us to drink all weekend. We were pleased to see many local vendors: Comfy Cow was selling ice cream, Val-U-Market had drinks, snacks and food, North End Café was cooking burgers etc… The options for food were plentiful and ranged from typical fair food to healthful smoothies, cheese trays, and veggies and hummus.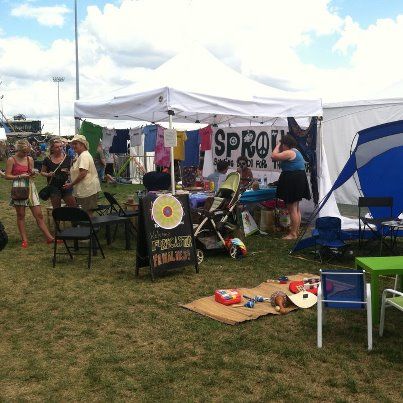 When the sun came out, we found plenty of shady places to cool off. The interstate goes right over the festival grounds which provides a large shaded area. An art installation called the "Ghost House" was inside a large air conditioned tent allowed the children to escape the heat completely. However we preferred most of the time to go close to the river and feel the breeze from the Ohio and when things became to much we found a welcome retreat in the Louisville Village area of the festival. A local organization called SPROUTS had set up a shaded kid's area. Here we found musical toys, coloring pages, modeling clay, spray bottles filled with water, a diaper changing area, face paintings. The ladies of SPROUTS were wonderful and the children really enjoyed the homely feel of this area.
Throughout the day, of course there were many wonderful bands, the children enjoyed dancing, blowing bubbles, hula hooping and playing with beach balls. We moved from stage to stage and were able to enjoy a large variety of music styles. A big thank you must go out to the Squallis Puppeteers and the March Madness Marching Band, who truly made this weekend for the kids. The Squallis Puppeteers had a very large selection of huge puppets ( 7 ft or so high) walking around the festival, hugging, and dancing with the kids. The March Madness Marching band was a huge hit with their zany outfits, crazy moves and infectious music. Both of these groups added a lot of excitement to the weekend.
The festival grounds were kept amazing clean with volunteers walking around picking up any trash on the ground all day, the port-a-potties were the cleanest we have ever experienced at a festival, or just about anywhere.
We had a truly wonderful time at Forecastle. We saw many bands and stayed for the majority of the festival. We didn't stay for the headliners, we chose instead to get the kid's home for bed and crash ourselves, and honestly I don't feel as though we missed out on anything.
The festival could certainly improve on its family friendliness by perhaps in the future having more planned children's activities or maybe even a kid's stage area with performances for children (Squallis Puppeteers, are you up for this?). But as festivals goes, Forecastle was very accommodating to families and we will certainly be returning in the future.
By guest contributor: Jennifer