All About Kids opens a new location in Crestwood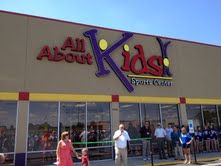 We had the pleasure of attending the grand opening for the new branch
of All About Kids Sports Center in Oldham County. It's in the old Walmart
building in Crestwood. It may be a little smaller than their
Blankenbaker campus, but I actually like the layout better.
When you
first walk in the door, the check-in is to the right, as well as the
store (they have a small store for uniforms, shoes, swim suits, and
other sports needs), Just For Kicks Tae Kwon Do room and Step One
dance room. The pool (which looks bigger than their other pool, but is
not yet finished) is on your left. I'm excited to see how it will look
in September when it's completed (swim lessons are scheduled to start
on the September 24, 2012). The main gymnastic room is straight ahead.
They have an inflatables section that looks very similar to the one on
Blankenbaker. I think the gymnastics area with equipment is about the
same size, but the open floor for cheer, dance, and gymnastic floor
routines is a little smaller. I'm hoping this will encourage them to
have less going on at the same time. The Blankenbaker campus floor
appears to always have several classes going on at once, and I'm sure
this adds to the craziness of the parking lot. The Oldham campus can
handle a lot more traffic and parked cars!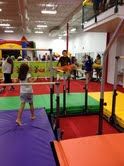 The new gym still has a
rope swing, several floor level trampolines, and pits of red and blue
foam squares to play with. They still have a viewing area upstairs,
but no classes on the second floor. I hope this will decrease the 2nd
floor crowding that is at the other campus, but the upstairs viewing
area is smaller than the one at Blankenbaker, so it may still be
packed. There are 3 party rooms at the new campus. Two are upstairs in
a room and can be opened into one big room, and one is directly below
looking out to the pool on one side and the gymnastics area on the
other side. To me, they look like even better party rooms than the
Blankenbaker campus.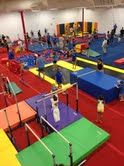 At the grand opening, they had only one open entrance to the whole
gymnastics/inflatables area which is great for security. But there is
a gate that goes just to the inflatables area as well as a door on the
opposite side of the gymnastics area that can be opened as well.
Something that is much better in the new campus is that there is a
men's and women's room connected to the gym floor. Kids can head to the restroom during class without having to wait for parents to escort them off of the gym floor. This set-up is much more time efficient and safer
for the younger kids.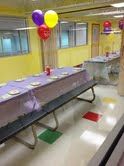 One thing the new campus doesn't have is a cafe. When I emailed one of
the staff to ask about a possible cafe, they stated, "We do not have a
cafe at this facility, nor do we have plans to build one.
Unfortunately no outside food or drink is allowed in, but we do have
vending machines (both food and drink) and an ice cream vendor in the
building as snack/treat options." The Blankenbaker campus changed their rules to not allow any outside
food or drink this past year also, so if you go for the open gym from
10am to 2pm, you may need to buy food at their cafe. Unfortunately,
the Oldham campus doesn't have any made to order food. But, if you go
early or late, you can save money by eating at home before or after
your gym/swim time.


The new Oldham County branch of All About Kids is a awesome. The
schedules look very similar on both campuses. The new building has a
great location, nice equipment, a bigger parking lot, and friendly
staff. I think the classes are wonderful, and even better is the
opportunity for your kids to gain self-confidence, self-esteem,
personal growth, health, and much more! I highly recommend you check
it out – classes have already started!
By guest contributor: Caryn