Review of the Ken-Ducky Derby
An event where they dump more than 20,000 rubber ducks into the river for a race and the grand prize is a new car sounded like plenty of fun already and even better that proceeds benefit Harbor House, a non-profit training and development center that empowers individuals with disabilities and their families to lead fulfilled and productive lives. We were happily surprised to see that there was even more amusements in store at the annual Ken-Ducky Derby event, which took place on a Saturday in late September last fall.
We went on-line in advance to "adopt" our ducks and read that we would be randomly assigned numbers that are on the ducks. You could also buy them at area retail sponsors, which were listed on the website. It was kind of a drizzly day, but we spend the whole day downtown as planned and figured it was perfect weather for ducks! We began at a local museum, followed by lunch at Old Spaghetti Factory since we had read many of the food trucks who planned to be the event were not going to make it because of the rain, and continued to the festival. It was beside the river at Festival Park just next to Joe's Crab Shack by Waterfront Park and the welcoming grouping of tents told us we were in the right place!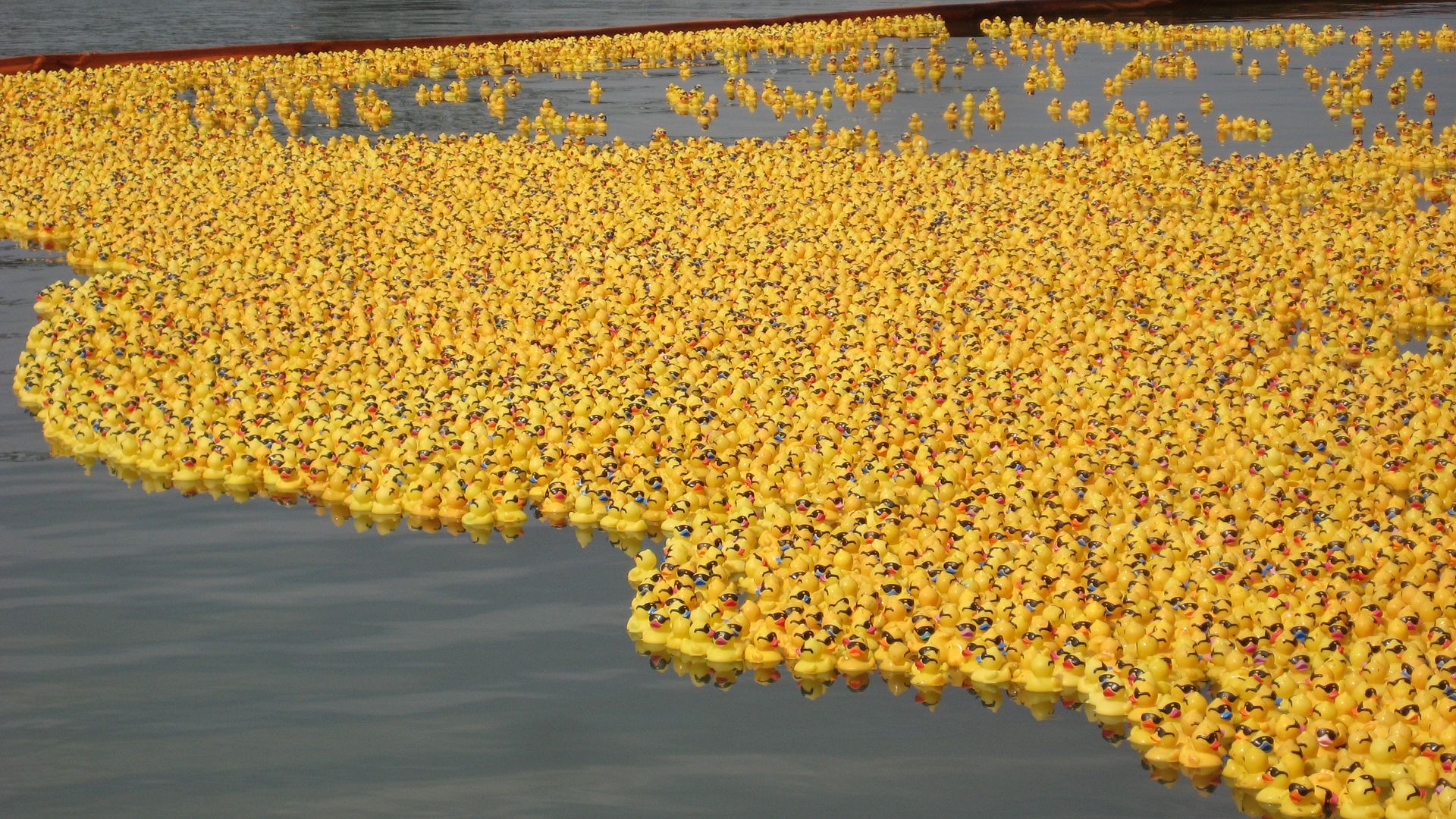 There were lots of things for kids to do and for parents to learn about. A few bounce houses were set up, along with some crafts, and games of various difficulties with great prizes. Everyone was really nice and they even let our son play numerous times, as attendance was a low due to the weather. Several businesses were on hand, passing out little freebies, chances at giveaways, and information, as well as local crafters and artisans selling their unique items. Plus, there was a person in a great duck costume, just perfect for taking pictures with.
We were there not long before the official call to post, so made our way down to the riverfront. There was a giant barge with a tremendous amount of rubber ducks waiting for their chance at stardom. They made some announcements, had some fanfare, and then let the ducks go. It was quite a sight, dizzying amounts of little yellow rubber ducks trying to make their way to the finish line, which was thankfully not far away because these ducks were not in such a hurry after all and several even tried to escape. Volunteers were out on the water in boats to keep all the ducks inside the official race line and accounted for, rather than out in the river which could later cause harm. They work hard to get every duck back out of the water once the winners make it too, so they were environmentally cautious.
The top prize winning ducks finally made it and they took them to some officials to verify whose they were. It took quite a while after for them to announce the winners back at the festival grounds, which was ok because it gave us time to explore more and enjoy the great live music. They played some music over speakers in between acts, and while most was family friendly, there were a few songs I was surprised to hear since most everything else was great for families with young kids.
This year they are putting more than 25,000 ducks in the race which is on 9/22/12, and the Grand Prize is again a new car, this time a 2012 Honda Civic, courtesy of Sam Swope Honda World. If the winner is present when announced, you will also win one year's worth of gas and a year's worth of oil changes! Other prizes include a chance to win the Million Dollar Duck, various levels of savings bonds, and more!
Visit the Harbor House event website and the "What's Quackin" official blog for more details. The festival runs noon-5pm and the race is at 3pm. In addition to the fun already mentioned, there will also be a health fair area, a green living area, and this year they are adding a fun sounding "Duck" Tape Arts & Crafts area too! Check the official site for when duck adoptions go on sale, listed as August 2. Last year it was $5 each, a "Quack Pack" of 6 for $25, a "Big Quack Pack" of 14 for $50, or an impressive "Flock of Ducks" of 30 for $100. Don't forget to check out their many great sponsors that help make this event possible too!
For a great parent's night out, the kick-off event, "Feathers & Friends" is August 2nd at Muhammed Ali Center from 6:30-9:30pm, where you can enjoy dinner, live music, and bidding on silent & live auction items. Try entering the promotion code "friends" while checking out to save 20% off for a limited time. The dress is business casual, but it states "feathered boas are welcome," which sounds like great fun!
By guest contributor: Angela