Review of the Kentucky State Fair (#2) highlighting 4-H and FOOD!
First things that comes to mind when you think of the Kentucky State Fair? Fried
food! Rides! Animals! But have you ever stopped and checked out all the
entries that are on display in the 4-H/FFA section? Maybe you have,
but didn't know how much work is put into them, and how many kids
across Jefferson county and the state that they represent. There is a
little gem to be uncovered at the Fair: it's in the West Hall.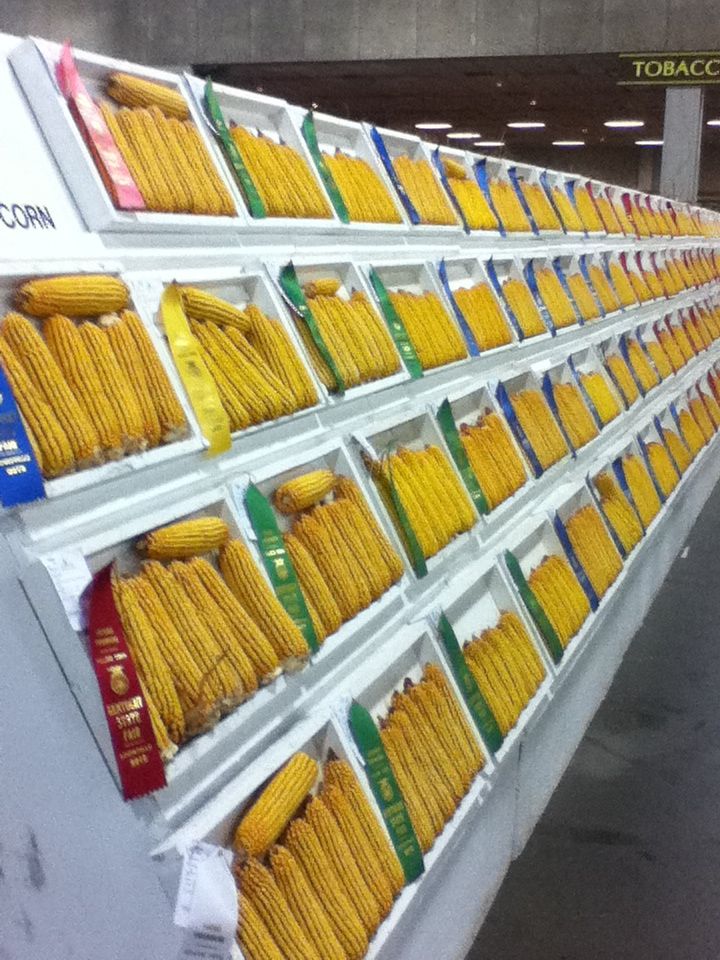 4-H
students are part of clubs that meet in community centers, schools,
libraries, churches, etc. And all year long they work on projects in
areas such as communications, science and technology, nutrition, home
environment, photography, and agriculture to name a few. The entries
you can see at the state fair are the culmination of these kids'
hardwork! These showcased entries are created by KIDS! And very
talented ones. I had no idea of the amount of talent out there until
I spent a lot of time in the West Hall looking at all the beautiful
work they do! Be sure and check it out while you're making your way
through the fair. You will see woodwork, leather projects, sewn
handicrafts, cakes, jellies, photographs, clothing, baskets…the list
could go on. Also in the West Hall is the FFA entries and winners.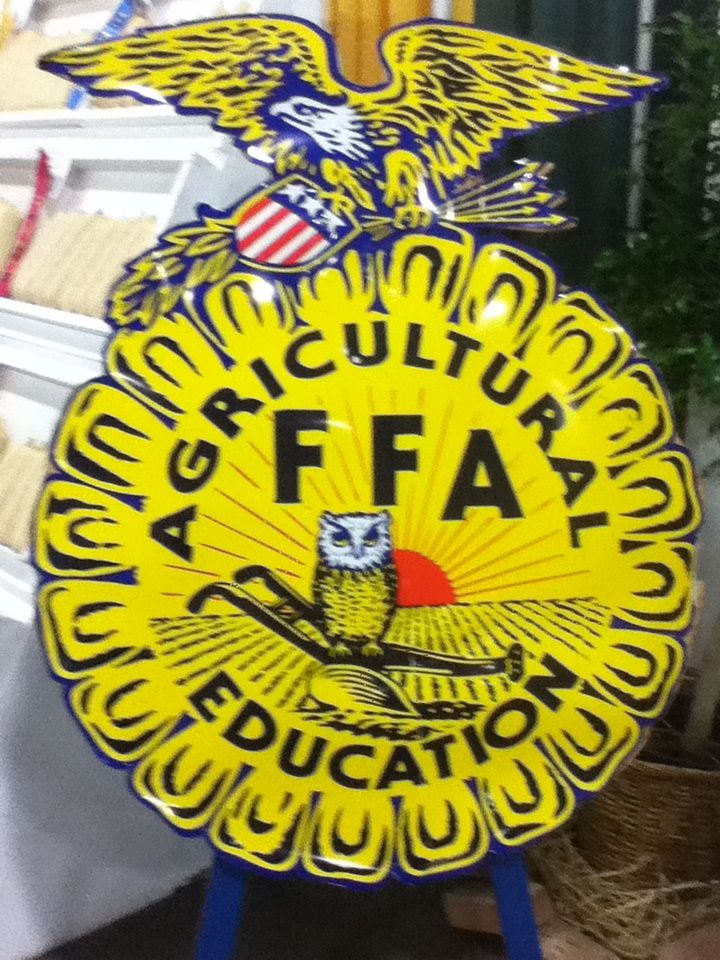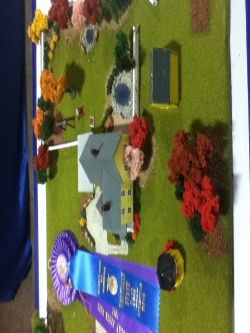 Future Farmers of America is a national organization committed to
helping young people become the best in the science, business, and art
of agricultural careers. You can see their hardwork as well. The 4-H
is an organization run through the University of Kentucky. It started
out as an agricultural entity, in which farm kids could have an outlet
to explore in the rural commnunities. The cooperative extension
office came to be to "extend" and bring that quality of service to the
city kids, and that is how 4-H clubs sprung up throughout the county.
It is a well-run, very organized, and innovative program for
elementary-high school kids. If your student is between the ages of
9-19, 4-H could be for them. The easiest way to connect with a 4-H
club is to check them out here: http://ces.ca.uky.edu/jefferson/4HYouthDevelopment, or you can find an
ongoing club at some of the libraries. 4-H is
represented by a four leaf clover: the four H's stand for head, heart,
hands, and health!
By guest contributor: Erin
*~*~*~*~*~*


FOOD!
Whether it is the unusual doughnut burger and fried kool aid, the traditional corn dog and elephant ear, or the local grown pork loin sandwich and roasted ear of corn dipped in butter, The fair has it all!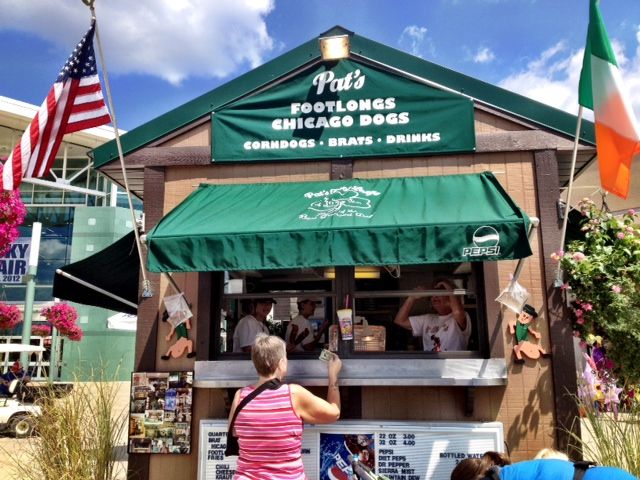 We ventured to the fair with my friend and her family. She chose the pork lion sandwich that can be found throughout the fair grounds but is cheapest at the Kentucky proud tent. This tent is located between the south wing and midway, and houses all the Kentucky produced meat vendors. It is also less crowded so your family will be able to find a place to sit.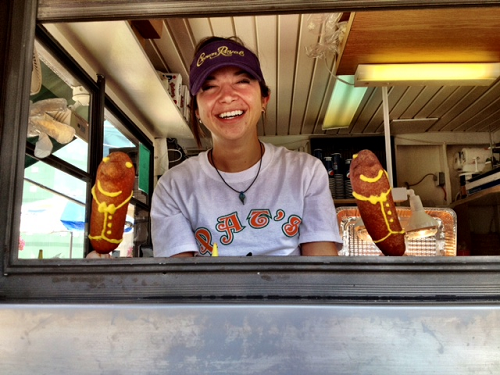 My 3 year old boys chose the traditional corn dog and fries which cost $6 for a basket. I followed suit by getting a foot long corn dog but opted to skip the fries. We found a vendor right outside the south wing, and they were served up fresh and steaming hot.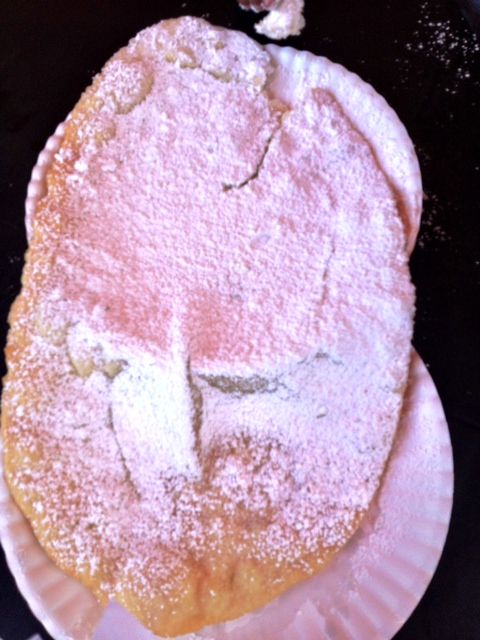 We washed them down with a large freshly squeezed cup of lemonade. The service was worth the 5 dollar price tag. After seeing the look on my kids' faces when I told them they would have to share, the server came to the rescue by cutting a slit in the top and adding an extra straw. Problem solved! The lemonade was sweet and tangy and even came with a fresh, whole lemon in the bottom of the cup.
Our last food stop was to pick up an elephant ear for dessert. Saying it was worth the $5 is an understatement. It was cooked right before our eyes and was so big it covered 2 paper plates. It came drenched in powder sugar, and definitely hit the spot.
By guest contributor: Joline