Review of New Cut Road Trolley Hop
After being alerted to a new trolley hop in town via Louisville Family Fun, I excitedly opened up the photo that LFF had posted in a link on their Facebook page. I had thought about the many times I have wanted to try the trolley hop in Crescent Hill or the First Friday Trolley Hop downtown. Gosh, I had wanted to TRY trolley hops! But for some reason those attempts keep failing. Maybe it's because the Friday nights never work out. But as soon I as learned of this new trolley hop – in a different part of town – that is a little easier for my family to get to – I couldn't wait to get on board.
The New Cut Corridor Trolley Hop debuted on Saturday, July 28 and my family and I headed to the southwestern part of our great city to experience it on its premiere run. Southwest Louisville has its own gems, home to Iroquois Park which shares its grounds with the Iroquois Amphitheater and Iroquois Golf Course. Other attractions who share the area are Jefferson Memorial Forest, The Little Loom House, and Fairdale Library. All of these Louisville treasures can be uncovered when you hop on board this new trolley!
We drove to Iroquois Park to park our car. I had read that there were designated places where you could park for free and then board the trolley. The trolley hop coincided with the Kentucky Music Weekend that was happening at Iroquois Amphitheater this past weekend. We decided we would ride the trolley and then check out the festivities afterwards. Unfortunately we did not arrive to start the trolley hop with much time to take full advantage of exploring around at all the stops. We got there around 12:30pm. The trolley hop runs from 9am-3pm. For our first time, we decided to just ride it and get a feel for where it goes and the sites along the way.
The first stop was at the Little Loom House. It is a great place to take families from what I have read. The trolley continued from there down its route on New Cut Road. It was a nostalgic sort of ride for my husband because he grew up in this area and many places we saw as we drove along reminded him of things he'd done growing up. We passed De Sales High School, the old Kenwood Drive-In, and Ken Bowl to name a few. On the trolley there is a map and guide of the route. You can also pick one up at any of the stops you partake in. The next major stop was at Auburndale Shopping Center. There was a Book & Music Exchange location here, which we mentally checked to try next time. After that we stopped at the Outer Loop Shopping Center which houses a Wal-Mart along with a bunch of other stores which are outlined on the map. A little Italian place called Tuscany's looked promising.
We traveled on down New Cut Road past the Gene Snyder exchange and headed into Fairdale. At the next stop was the Fairdale Library and beyond that the trolley takes you to Jefferson Memorial Forest. That place boasts TONS of family activities. We hopped off here and I checked with the driver to make sure there were more trolleys coming and where to pick it up to go back toward Iroquois Park. She said there were more; the trolleys were making stops about every 15 minutes. She also told us to just go across the street to the Trolley stop and wait there. You can also pick up the trolley at any TARC bus stop along with all the designated Trolley stops.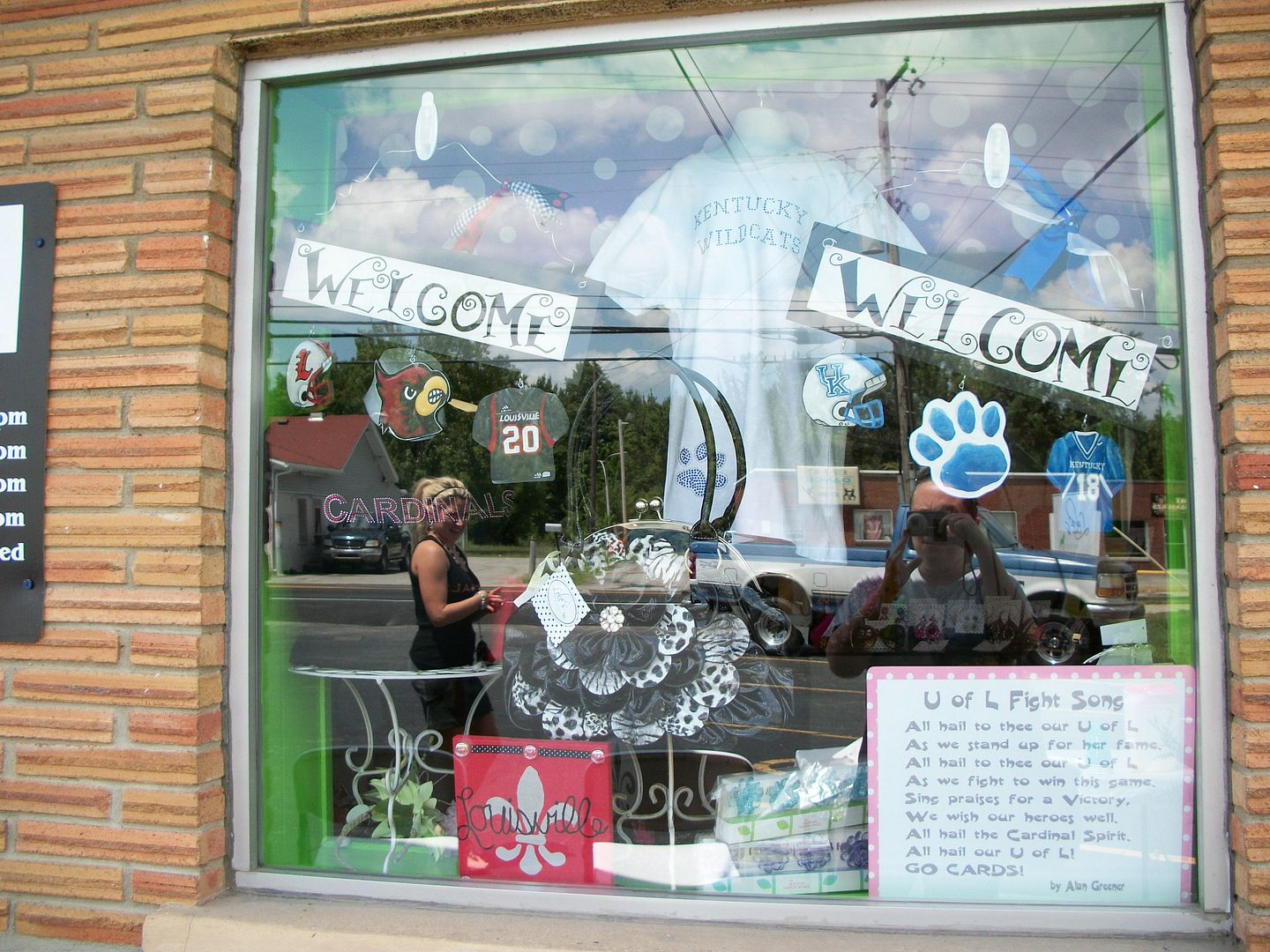 There are lots of little places along the trolley route that deserve some attention too. My family and I learned of a little place called LeLe's Boutique. The shop owners were set up outside when we got off at the trolley stop nearby, serving up some ice cold lemonade and cookies to hoppers. We really appreciated the warm welcome and cold drink! LeLe's is a quaint shop that customizes in clothing, bags, and accessories. Monogramming seemed to be the way to go once you find what you want; getting it personalized is easy! While perusing the shop I found very cute baby-kids sized outfits, unique seersucker diaper bags, and jeweled UofL and UK shirts as well. The owner, Lindsey Younger, chatted with us and asked if we were from that area. She made us feel at home! Check her out on Facebook for specials and updates. Right next door was The Floral Grind, a coffee shop located inside Fairdale Florist! They offered hoppers a 10% discount on drinks and were serving up smoothies as well! They have a wide variety of drinks and serve muffins and oatmeal too. Free WI-FI and a drive-thru help customers get their morning going! Across the street was a sandwich shop called Fat Daddy's that was also offering a special for hoppers that day. Many of the sites, shops, and restaurants along the trolley hop seemed to offer something, whether it was free family activities or a discount on dining.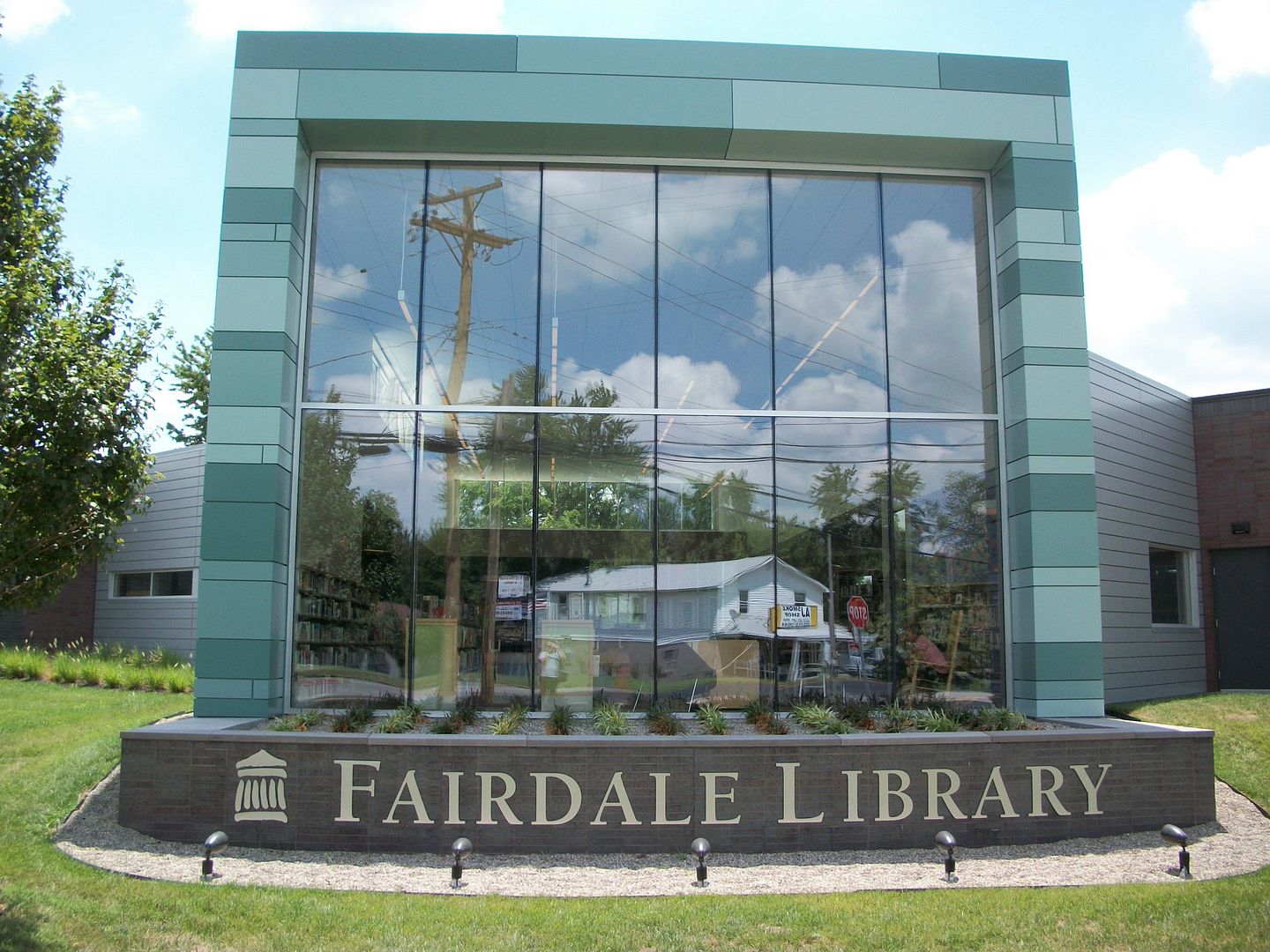 After our little visits into the shops, we ventured into the Fairdale Library which was just a block down from the trolley stop off of New Cut Road. WOW! I used to work for the Louisville Free Public Library so I am an AVID fan of our public library system! But I had not actually stepped foot into the newest library and I was amazed and proud! The new Fairdale Library opened about a year ago and it is beautiful. The new library doubled its space from its old location in the Fairdale Playtorium and has attracted lots of new visitors, families, and adults who need the services that all libraries give our community. When we entered, the clerk at the desk warmly greeted us and asked if we had come via the trolley hop. We said yes we had, and she graciously welcomed us and directed us to their meeting room where they had refreshments set up, a "hop through the library" scavenger hunt, and an origami frog hop craft. There were several frog books set up along the windowsill so my daughter read a few and my husband read one to our baby. So much fun! I scoped out the library, my favorite thing to do. I was impressed with the windows and how much natural light there was. The seating areas in the children's section were fun, and there was ample seating throughout the library for adults to read or study. I could tell that the residents of Fairdale have a great place to enhance their lifelong learning! There are lots of programs to attend in the future. The library is open Mondays, Wednesdays, Thursdays 12-8 pm, Tuesdays 10-8 pm, Fridays and Saturdays 10-5 pm, closed on Sundays.
We hopped back on the trolley right where the driver had directed us to and rode back to Iroquois Park. As we exited off the trolley, we were greeted by the councilwoman for the Fairdale area district, Vicky Aubrey Welch. She was super attentive to us and excited about the New Cut trolley hop for her area. She asked us how we enjoyed our ride and if we had any questions. She wondered if we had encountered anyone who needed help getting back to their cars, which was very thoughtful of her! It was lovely chatting with her and as we thanked her and headed to check out the KY Music festival she said, "Thanks for riding! That's what we need is to get the word out and get people riding!"
We wandered over toward the entrance to the park and the amphitheater where there were some food vendors set up, along with local artists selling their handicrafts. We saw some really neat items and listened to some impromptu musicians sitting around on the grounds of the park. We ventured over to the amphitheater where a couple was on stage singing together with acoustic sounds of their guitars. We didn't stay too long at the music festival but we enjoyed some family friendly tunes while there! We noted it for next year to come back to hear the dulcimer concert and some storytelling. As we were exiting the park grounds, I noticed Sister Bean's shop right across the street from the main entrance to Iroquois Park and Amphitheater. Their marquee read that they sell Comfy Cow ice cream!
We spent a very pleasant afternoon in Southwest Louisville! It was great to spend time there and enjoy a different part of town than where we usually hang out. I must say my kids LOVED the trolley! My daughter who is older enjoyed sitting in her own seat, taking pictures, and pointing out things along the way. Our little boy who is almost one enjoyed pointing to things! I sang "The Wheels on the Bus" to him as we went along. And my husband and I just enjoyed watching our kids' faces and talking. It was a cool change-up to a regular Saturday afternoon. We will definitely ride the remaining hops, especially those in the fall. I want to make a day of it starting with a coffee from Sister Bean's, then hit up family events those days at Little Loom House and enjoy a hike through the Forest while the leaves are starting to change colors! I also stumbled upon a website to the South End's very own local paper if you want to check out more events happening in the area.
Once again, the New Cut Corridor Trolley Hop will be running once a month. The upcoming dates are August 18, September 8, and October 20; it runs from 9am-3pm. The brochure states it will then resume in April 2013. Here's a reminder of the designated areas to park for free: Iroquois Park, Little Loom House (be sure to note the parking there is very limited), Auburndale and Outer Loop shopping centers, Fairdale Library, and Jefferson Memorial Forest Welcome Center. Be sure to keep up with them on Facebook as well. Their page is already highlighting the specials and events going on for the next hop. Did I mention, of course, that it's all FREE!? Except for the money you spend helping out those local businesses/venues along your way.
By guest contributor: Erin