Top 10 things to do in Louisville – Kentuckiana this Fall!
Fall is in the air! Get your calendars out and plan ahead for some fabuLOUs family fun!
10.
Yew Dell Gardens
Yew Dell Gardens in Crestwood, KY offers many
family friendly events throughout the year.
Books n Blankets is a great way to spend a fall afternoon- simply pay
the entry fee and ask the staff for a basket of books and a blanket. Then you can spend the afternoon in the
beautiful gardens reading nature-themed books to the kids. There are also kids' events on Saturday
mornings thru October, and BooDell is October 27 from 11 a.m. to 3 p.m. See
http://www.yewdellgardens.org/
for more info.
9.
18th
Century Market Fair at Locust Grove
October 27-28 10 a.m.-4:30 p.m.
There will be an 18th century style market, mock battles, and
lots of history. Admission is $6 for
adults and $3 for children. Check out
http://www.locustgrove.org/
for more info.
8.
Southwest
Festival
The Southwest Community Festival is a large fall festival held
each year at the Sun Valley Park. It
will be held this year on October 13 from 9 a.m. to 5 p.m. There will be a car show, Toddler Town,
inflatables, and more. See
http://www.southwestfestival.org/
for more info.
7.
Turkey Trot at the Northeast YMCA
Thursday November 22 (Thanksgiving Day) Start your day off right with
the Northeast YMCA's Turkey Day Fun Run and Turkey Trot for the kids. Long run starts at 8:10 a.m., short run and
fitness walk at 8:30, and the Turkey Trot for the kids starts at 9:30 a.m. Register online at
http://www.ymcalouisville.org/
.
6.
Earth Discovery Day at the Falls of the
Ohio
October 13 from 9:30 a.m. to
5:30 p.m. check out this new event at the Falls of the Ohio State Park. There will be craft activities, mineral digs,
speakers, guided hikes, and more. Check
out
http://www.fallsoftheohio.org/
for more info.
5.
St. James Art Fair
The 56th
Annual St. James Court Art Show will be held this year October 5-7 from 10 a.m.
to 6 p.m. There is something for
everyone here, from handmade toys and puzzles to ceramics, glass, paintings,
jewelry, and other fine arts. The show
is adjacent to Louisville's historic Central Park, which has a great playground
for the kids. Check out
http://www.stjamescourtartshow.com/
for more info. I highly recommend the
valet parking at 6th and Magnolia for $20.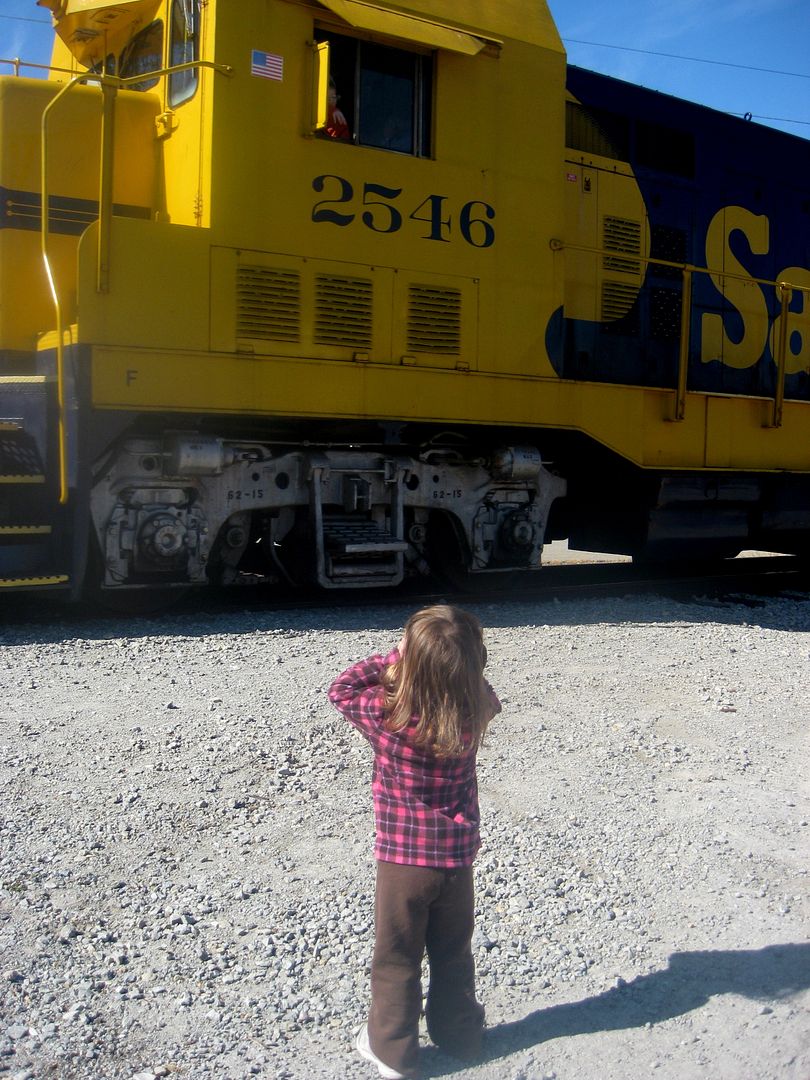 4.
Spiderman
Day at the Kentucky Railway Museum
The Kentucky Railway museum has great events throughout the year. On September 22 from 10 a.m. to 5 p.m. kids
can meet and greet Spiderman, go on a train excursion, and participate in other
children's activities. This event is $18
per person, and kids under 2 are free.
Reservations are required. You
can find more info about this and other events at
http://www.kyrail.org/
.
3.
Bernheim Colorfest
Each fall Bernheim Forest hosts Colorfest, a
fall festival celebrating the changing colors of the leaves. There will be crafts and activities,
hayrides, demonstrations, and plenty of other family friendly activities. Colorfest will be held October 20 from 10
a.m. to 5 p.m. and October 21 from noon to 5 p.m. The entrance fee is $5 per vehicle. Find more info at
http://www.bernheim.org/
.
2.
Pick your own Pumpkins at Huber's Farm
Journeying to Huber's Farm in Starlight
Indiana to pick pumpkins is a longstanding family tradition. Go on a hayride out to the field and pick
your pumpkin, eat a family-style meal in the restaurant, and let the kids play
in the Barnyard. There is so much to do
at Huber's farm year round. Fall
activities are every weekend in October.
See
http://www.joehubers.com/
for more info.
1.
World's Largest Halloween Party at the
Louisville Zoo
This event has to be
number one because of how much fun everyone has. As a college student I used to volunteer for
this event, and now I am happy to take my kids every year. The costumes are great and there is a good
balance between candy and exercise. This
event takes place October 5-7, 11-14, 18-21, & 25-28 with entry between
5:30 and 8 p.m. The first two weeks are
free to Zoo members, and discount tickets can be purchased at Meijer thru
September 28. See
http://www.louisvillezoo.org/
for more details.
Choices by guest contributor: Maggie