A Homerun Summer with the All Star Reader Program at the Louisville Free Public Library
All summer long, my two kids and a friend of my oldest and I have been enjoying the reading program
offered at the Louisville Free Public Library. We have frequented the Jeffersontown,
Middletown , and Fern Creek libraries in search of tons of free stuff. And we found lots of it and had a
great time!
Some days we just went to the Jeffersontown Library to choose books for the summer reading log. Some
days we went to use the computers for a fun game or printing for work. Mostly we went in search of the
fun programming that were the highlights of the libraries all summer long.
Our very first program that we attended was at Fern Creek Library. It was a magic show put on by Mr
Moustache. It was rousing good fun as he is year after year! He has been doing his gig for a long time
and always has the crowd of kids, parents, and grandparents laughing out loud. It's always a favorite
of mine to see him perform. The next week we went to Jeffersontown Library and saw another magic
show by Steve-O!! He was magnificent! My daughter was cracking up the
entire show, as was the rest of the audience. In both cases, the meeting rooms were packed full of kids,
moms, dads, grandparents, and babies!
A little further into the month we went to Jeffersontown Library and participated in the Robot Challenge
presented by Junk Genius. My daughter and her friend really enjoyed this one! The Junk Genius is
a very interactive, kid-focused program run by Harold Mitchell. He is always referred to as the Junk
Genius though! He puts on programs related to robotics, sculpting out of "junk", and competitions. He
teaches kids how to take toys apart and put them back together in a new and challenging way to create
something completely different out of them. I believe the Junk Genius is starting a Facebook page but
as of this publication it was unattainable. He has many offerings through the library, especially during
spring and summer breaks. He also offers birthday party options and has a pretty big following; he can
be reached by calling at 502-454-5409 to find out more about his extreme robot birthday packages.
We also attended the Raptor Rehab program that was very cool, informative,
and educational all in one. Raptor Rehab is a volunteer-run organization that specializes in helping
hurt and orphaned birds of prey. They work closely with the birds at their facility and help them to be
rehabilitated and return to the wild. Sometimes the birds cannot return, and they end up living at the
home permanently. Those are the birds that the Raptor Rehab volunteers bring with them to meet
and greet with the community. The program was very educational for both kids and grownups. They
teach the kids about the laws of the Fish and Wildlife Department which states how it is illegal to keep
birds and raise them on your own. It is even illegal to have a bird feather that comes from a protected
bird! My daughter and her friend learned a lot at this program. They saw and learned about a peregrine
falcon, great-horned owl, red-tailed hawk, and turkey vulture. You can find out more about Raptor
Rehab and all the work they do on their website.
Another highlight program of the summer was one entitled "Strange Birds and Horses" at
the Jeffersontown Library. It is a program in collaboration with the Speed Art Museum. The education department at the Museum has a wonderful program
called the Youth Art Apprentice Program, YAP. High school students ages
14 and up are selected as interns for the summer and they develop and lead art projects for elementary
school kids as an outreach into the community. I totally love and support the YAPS at the Speed! At this
summer's program, kids learned about sculpting as an art and got to see and handle some artifacts from
the Museum. The YAPS presented an hour long demonstration on the contemporary sculptures of two
American artists. After the YAPS introduced the process and discussed some of the sculptors for the kids
to learn about, they showed them a technique they could do with wire sculpting. It was really neat, very
hands-on, and all the kids made some very unique creations! My daughter made a superhero-girl!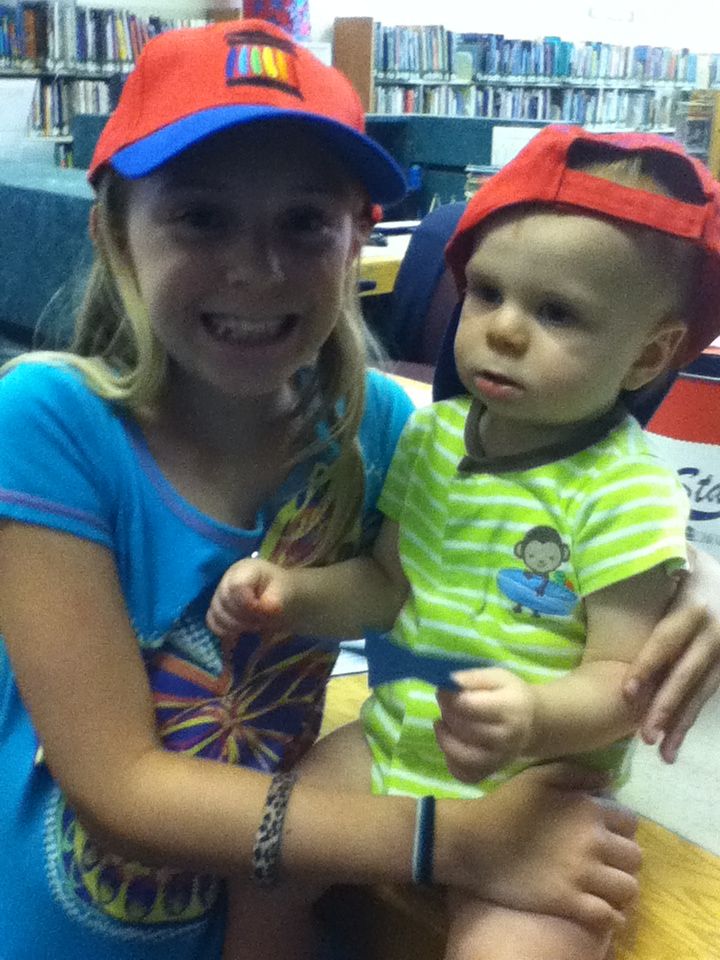 Our final outing to the Jeffersontown library involved that fun series of books: Diary of a Wimpy Kid.
My daughter loves those books! And so we had to check that one out. It was planned by the fabulous
children's librarian there, Miss Mel and she did a wonderful job of incorporating so many little details
of the themes of the series. She and her friend had a great time playing fun improv games, eating
cupcakes from the cafeteria, and making their own diaries to take home. They both really enjoyed it!
And even though the days of summer are coming to an end, the Library's 18 locations offer free fun events all year long. From storytimes to chess clubs, knitting to DIY projects, kids
from birth to high school can find something to entertain them at our great Louisville libraries!
Of course the grand finale of summer was winning those awesome prizes for reading 10 books! My 9
year-old worked hard all summer reading longer chapter books and my 1 year-old enjoyed being read
to:) They both won a cool baseball cap, free coupons and tickets to Louisville attractions, and passes
to UofL athletic events. The summer reading program at the Library is not to be missed! If you did this
year, wait for it again next year about the 1st of June. But surely you didn't and your kids have already
enjoyed that Frosty:)
By guest contributor: Erin