Review of Home Cuisine in Louisville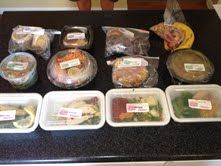 Home Cuisine is a meal service focused on eating healthy. Whether it's for losing weight, eating better foods, or just for someone who doesn't have much time to prepare and cook a meal. Recently, Home Cuisine gave me the opportunity to sample 4 days of meals. I admit I was pessimistic at first. No sugar, no white flour, no snacks or desserts and you heat up all your meals in a microwave? And I'm not really a goat cheese and turkey bacon kind of girl. What was I thinking? Well, after day one, I was completely sold on it.
It was an easy pick up for me. I just went to the Rainbow Blossom down the street from my work (home delivery is also available for an additional fee). No tip, no hassle, just a free pick up. I realized quickly that as a working mom, Home Cuisine made it really easy to have dinner ready as soon as I got home. It's already cooked, you just re-heat it (most of the containers are microwave safe). And it's WAY healthier than any fast food I could have picked up on the way home. Home Cuisine's ingredients are bought local, organic, have no sugar, no white flour, no canned ingredients or trans fats, and it's not frozen or preserved like other meal programs. Every container is labeled for the date and meal to make it simple. I was so impressed how fresh tasting everything was – even my fish dinner tasted like it had just been prepared instead of picked up 2 days earlier and re-heated in a microwave. I know…it sounds too good to be true. But wait, there's more.

Aside from feeling like I was eating healthy and supporting local farmers and businesses, it kept me from going out for meals because I knew they were waiting at home for me. They got me to eat lunch at work instead of snacking on bad food when I got hungry because it was so easy to just grab and take it with me in the morning and pull out at lunch. I even lost a few pounds in just 4 days even though I "cheated" a little bit. I loved not having to worry about grocery shopping for all of my dinner ingredients, not having to cook, and not having to clean. But I have to say, one of the best parts about it was the taste of the meals. I'm not a huge fan of peppers, goat cheese, and other sauces, but these meals were DELICIOUS! With no sugar and white flour, I thought everything would be tasteless or have crazy flavors, but I was wrong. I loved the taste of every meal. Yes, the crepe wasn't as sweet and the English muffin wasn't as buttery as I'm used to, but the many combinations of ingredients and flavors made everything fantastic.
I think my only complaint was the amount of food for each meal. I had the small portion meal program focused for weight loss. They have a 1200 calorie per day program to lose weight, or a 2000 calorie per day program to maintain weight. There were no snacks or desserts (which is good for my body type's ability to lose weight, but may not appeal to those who do better with eating small bits all day), and I often felt hungry after eating. But after sticking to this program a few days, I began to feel content as my body got used to the portion sizes. And if I was looking to lose weight, that's the point, right? But I found it did take some self-discipline to not eat two meals at once in the beginning.
The only other drawback of Home Cuisine is the price. It's always cheaper to buy junk food, and cheaper to buy from large national or international chains that can buy in bulk and preserve the food. But it's healthier for your body, and better for Louisville's economy to buy fresh and local. If you pay for their largest program of 3 meals a day for 7 days a week, it averages to only $6.45 each meal on the 1200 calorie per day program (the 2000 calorie per day is only about $7.15 a meal). But this is per person, so for a couple to buy the program, it seems expensive to pay $270 up front. But that's your whole week's meals. If you don't want meals for 7 days a week, the program becomes more expensive up to $18-$20 a meal for a three day program. They also offer family meals for 3 nights a week for about $45 a dinner. But if you think of the cost of eating out with a family of 4 or 5, it would be more expensive and not as healthy.
I think Home Cuisine is a terrific program. As a working mom, it makes me feel healthy and efficient to use these meals for my family. As a health professional, I love that they follow the ADA and AHA guidelines which are great for people who need a diabetic diet or heart healthy diet. Take a look at their extensive menu. I see its potential to be used for home-bound family and friends, or meals for pregnant women and new moms. They even have vegan meal plans available. I enjoyed my four days of eating healthy, losing weight, and taking a break from my usual kitchen work, and I encourage you to give it a try too!
By guest contributor: Caryn