Review of Johnny V's Pizza in Jeffersontown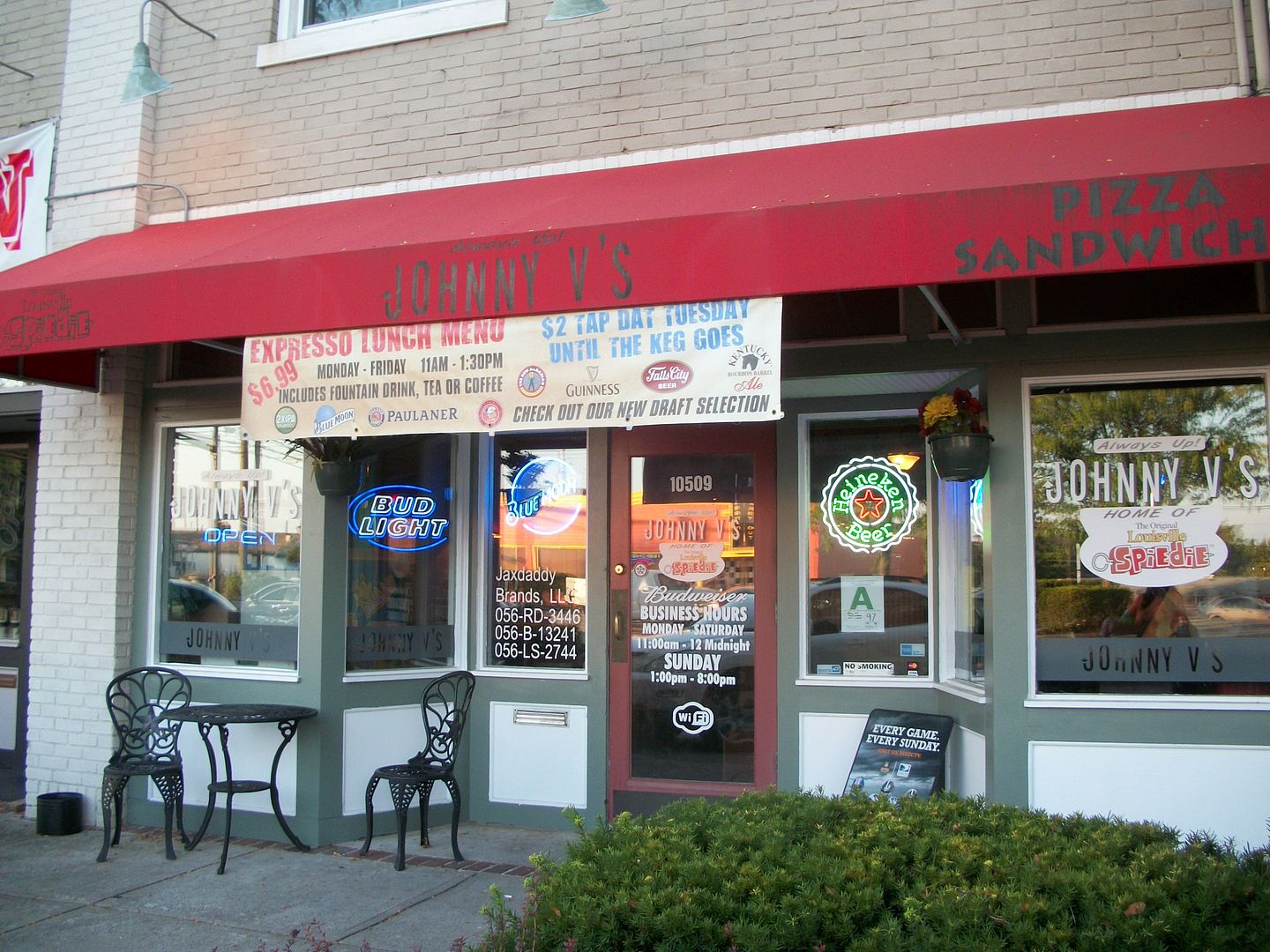 Up in what locals in Jeffersontown call "the square" is a casual, family, tiny Italian restaurant called Johnny V's. My family and I decided to dine here this past week for a midweek pick-me-up! Well it wasn't quite midweek yet; maybe we just needed PIZZA!
Johnny V's, located at 10509 Watterson Trail, is a very laid back and cool spot for the locals. My family and I dined there on a Tuesday evening, and the place was hopping! We walked in and were directed to sit wherever we wanted. The waitress grabbed a high chair for us as soon as we walked in. We picked a booth and a young guy immediately came over and took our drink orders. Service! I noticed a lot of parties with friends hanging out, large groups of family get-togethers, and couples just winding down after a day at work. TVs are on every wall so you can keep up with games, or you or your kids can play a video game on one of their arcade machines. It's so local, I ran into a former colleague! I love the feel of places that are local, small, and treat you like you belong there.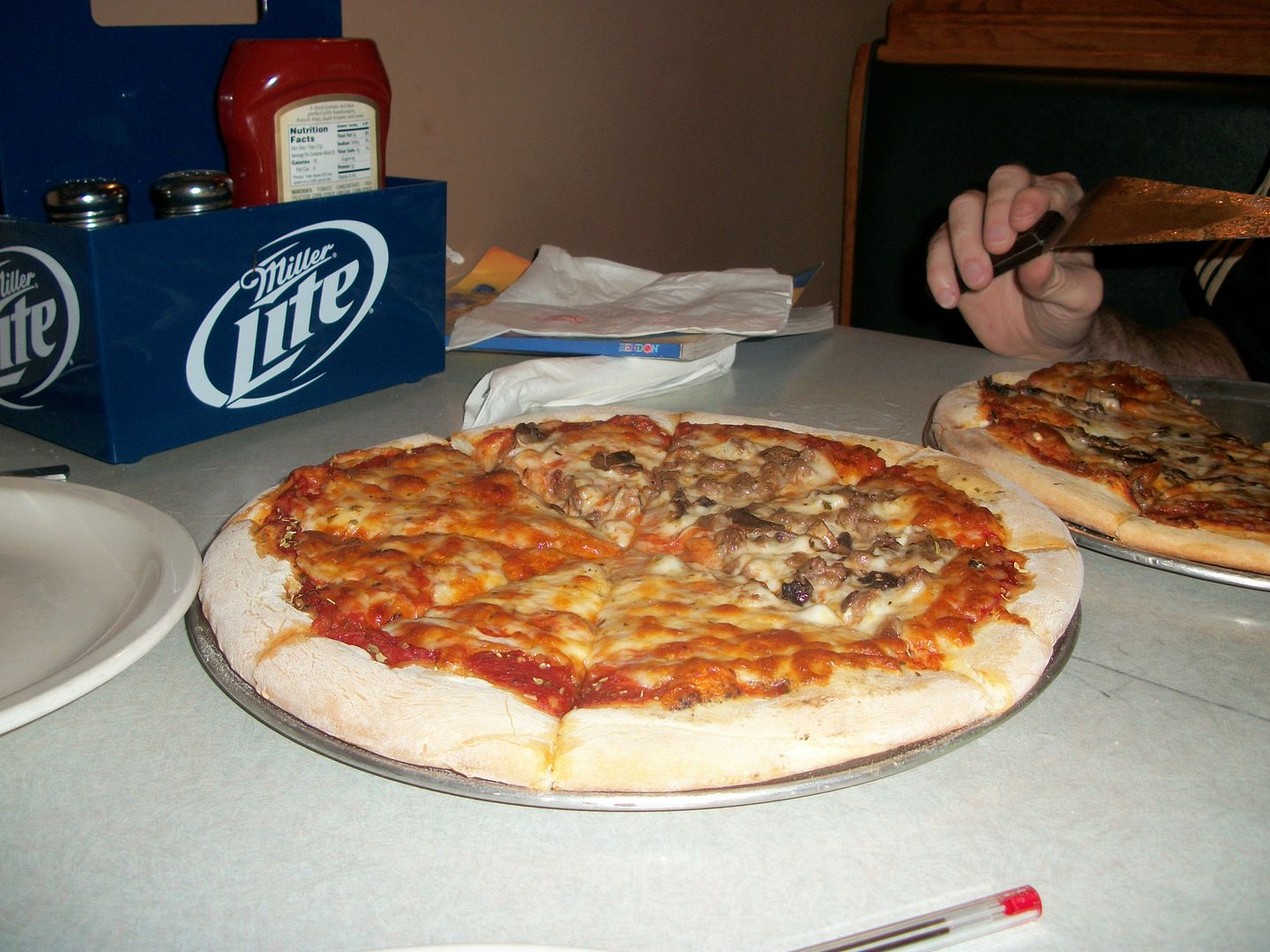 We chose to dine on a Tuesday night because I knew about the Tuesday night special they have every week.Tuesday night is Two 4 and Tap Dat Tuesday. It's a great deal if you want to try their rotating beers for $2 each. It's an even tastier deal if you want pizza! Tuesday night is buy one pizza, get one free. Any pizza, any size all night long!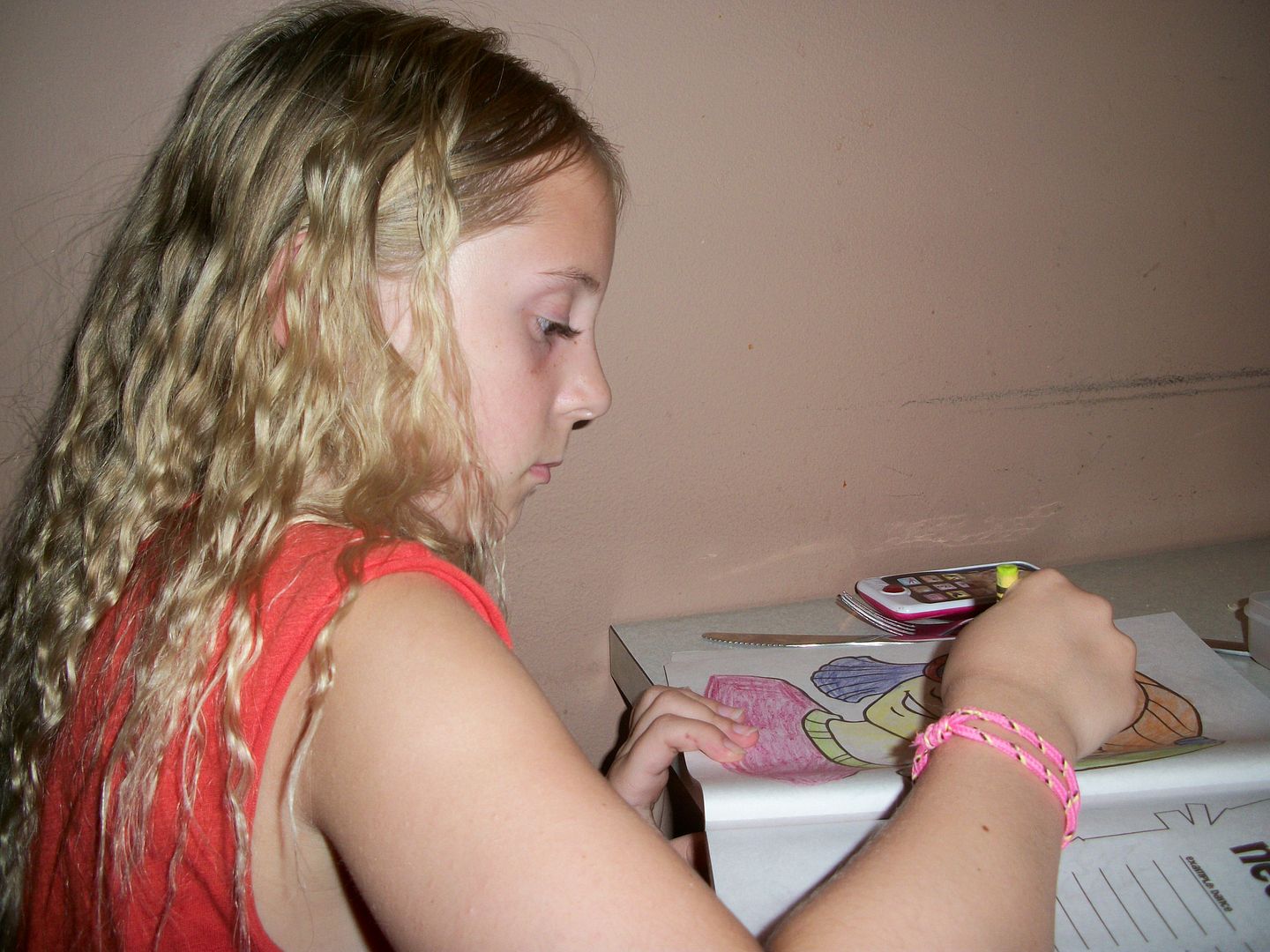 We ordered two pizzas and three drinks. On the pizza order, we got two smalls (menu price $12.00) and got one with half cheese and half mushroom + ground beef (toppings are $1.00 each.) For the other pizza we requested mushroom. Since they were BOGO, we chose smalls because that would be plenty for three of us eating. Our one-year-old didn't eat pizza; we brought along his normal array of food and his cup of milk. We took home a lot of pizza so it would be plenty if you have more eaters than we have.
There's more than pizza on the menu, with such selections as sandwiches, salads, pastas, and home to the original Louisville Spiedie sub. They have an Expresso Lunch menu that offers 8 items for $6.99 and includes a drink. The dinner menu is huge. We ordered our pizzas with our own topping choices, but they have several specialty pizzas to choose from as well. While we waited for the food to come, we had fun unwinding, people watching, and taking in the atmosphere and hustle bustle of the restaurant. After our waitress took our order, she came by the table with a pencil case of crayons, some coloring books, and some little toy cars for our kids to occupy themselves with. I thought that was pretty cool and had never had anyone bring us toys to a table at any other restaurants before. They know how to treat families with young kids! Again it was just so casual and super attentive. If you prefer, you can also have a nice night out away from your kids if you want to enjoy a beer or glass of wine as a midweek date night.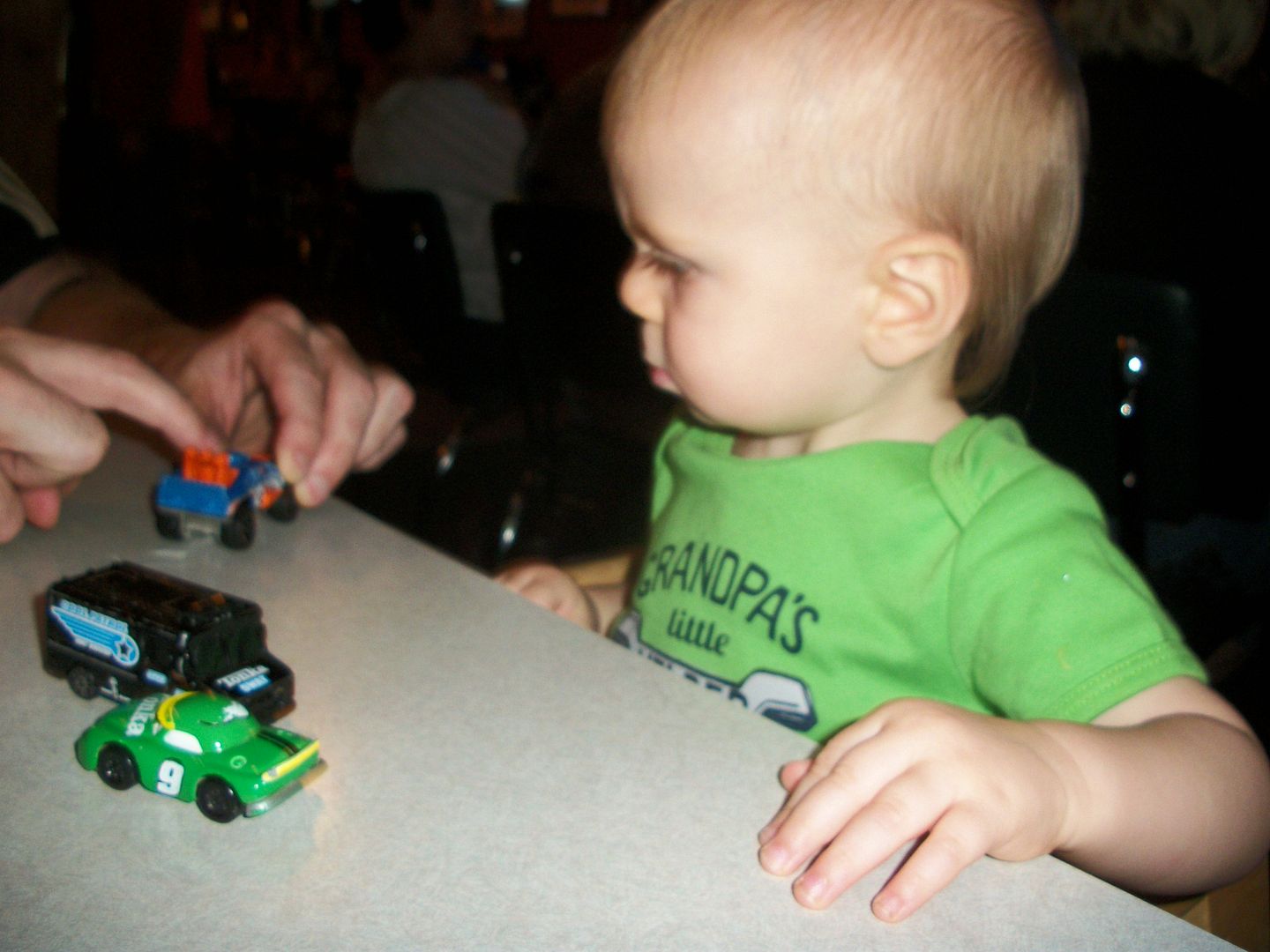 The pizza was delicious, a good quality restaurant pizza. It was crispy, full of flavor, and piping hot: be careful! A small pizza had eight slices and between my husband, our daughter, and me, we had plenty. The pizzas take a little while to cook, which is a good thing in that you know it's fresh. I didn't mind waiting, as it also means that this small business is busy and in this economy is worth waiting a little bit to me.
Our bill was under $20.00 before tax and tip, due to the great deal on Tuesdays. Here is the list of their daily deals:
Mondays – kids get a FREE personal pizza with purchase of an adult entrée when you dine-in only
Two 4 Tuesday and Tap Dat – buy one pizza get one free and $2 rotating craft pints
Wine Down Wednesday – $2 glasses of select wines starting at 4pm
Thursdays – ½ off appetizers 4-6pm
You can get these deals and more, check out their website for other coupons. I also noticed that they advertised a party room. They have a room upstairs that can be used for business gatherings, birthday parties, showers, receptions, etc. Some nights they also have live music and their events calendar mentions Family Day Deals. After eating, you can take a walk through downtown Jeffersontown. You can walk to a couple of little shops along Watterson Trail, or walk a couple of blocks down to the library. Eventually Jeffersontown will have a great pedestrian pathway system that will link to lots of other areas.
I live in Jeffersontown, love Jeffersontown, worked in Jeffersontown, so I will always boast big about Jeffersontown! Come by and eat at Johnny V's one night. They are open every day Monday-Saturday 11am-Midnight and Sunday 12-8pm. Johnny V's: it's fun, it's local, and it's a little part of LOU! You'll enjoy the pizza and not feeling like you're just a ticket number.
By guest contributor: Erin