Review of Mammoth Cave – Mammoth Cave National Park
Note, this post is from 2012
My family recently visited Mammoth Cave National Park.We try to go every summer, and every time we discover something new. This year we arrived a little
late in the day, so we had to do the same tour we did last year. I was a little discouraged, but the kids
were excited so we forged on. Then the Ranger announced he was going to take us on a little detour.
Our eyes lighted up. He took us through the historical mining area to another historical area I had never
before seen in all my years going to Mammoth Cave.
This area contained historical graffiti that was made in the 1800s by tourists and guides
alike. It was made using grease candles in an era before electricity when the cave was privately
owned. Our tour guide told us the story of Stephen, the most famous tour guide Mammoth Cave
had ever had. Stephen drew maps of the cave from memory that are still on file at the Library of
Congress. People came from all over the world requesting Stephen as their tour guide. But what was perhaps most remarkable about
Stephen was that he was a slave who would later be freed by his owner.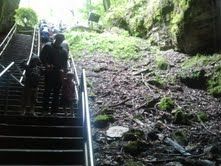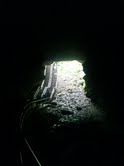 Mammoth Cave makes a great day trip from Louisville at about 90 minutes from downtown.
There are tours that are great for families with smaller children that only last 45 minutes to an
hour, though strollers are not permitted. If you have older kids, the longer 2-4 hour tours are lots
of fun. Make sure you take a jacket, as the temperature inside the cave is 54 degrees year-round.
There are plenty of tourist attractions in the area, such as Dinosaur World, as well as
camping and lodging if you want to make a weekend of it. Perhaps the coolest lodging in Cave City is the
historic Wigwam Village where you can sleep in a teepee. Even if you
just go for a short tour, make sure Mammoth Cave National Park is on your to-do list soon. Check their website for information about pricing, there are so many options so we didn't list them all!
By guest contributor: Maggie