Review of Minds in Motion: Part 2
During the month of July, my 6 yr old I had the opportunity to enroll my son in the Summer Camp program at Minds-In-Motion. Minds-In-Motion is a unique research-based program that helps children to integrate sensory-motor processes. This integration puts children in a better position for learning and reaching their highest potential. Minds-In-Motion combines mind and body training, helping to strengthen the brain's ability to process and organize information correctly.
The camp lasted for 4 weeks, 2 hrs per day, M – F. We selected the morning session, but an afternoon session was also offered. The children rotated through four unique rooms, each offering a different element of focus and training. There was a computer lab, a well equipped gym, a vestibular room and a balance room. The children were grouped with peers and worked together on certain activities. Parents dropped off their children for camp on most days, however, there were certain days when the parents were encouraged to stay and observe what their child was working on.
My son really enjoyed Minds-In-Motion camp. He found many of the balance and gross motor tasks to be challenging, but he felt a sense of pride each time his performance improved. The teachers were very helpful and encouraging. They took time to work with him individually when they noticed him struggling. Minds-In-Motion encourages children to spend more time engaging in active play. I liked that the children were given a weekly log to record physical activity. At the end of the week, the children were able to select prizes based on the number of "activity points" they accumulated. Also, on the last day of camp there was a brief ceremony where each child's accomplishments were highlighted, and they received a ribbon, as well as a Minds-In-Motion t-shirt.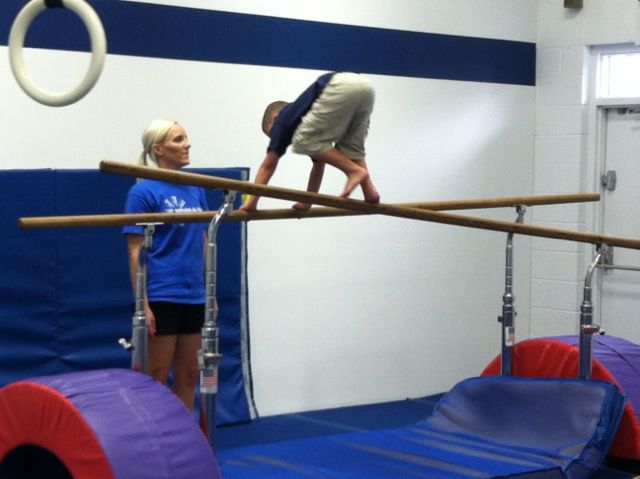 Before camp began, my son participated in a pre-assessment, which included a stability test that was originally developed for NASA, a vision screening, auditory tests, reading/computer tests and observations of motor movement and strength. He was reassessed at the end of the camp. I was quite impressed with his results on paper. He showed marked improvement in auditory and visual processing skills as well as motor ability and core strength. The improvements in eye tracking and focus allowed for a large improvement in reading comprehension. He improved by almost an entire grade level in a matter of a month!
At home, I notice that my son is now willing and able to read silently to himself for an extended period of time. He also seems to have a boost in confidence and better balance skills. Two days after his 7th birthday, he mastered riding his bike without training wheels! Minds-In-Motion camp was a great experience for our family! I would recommend the Summer Camp to anyone interested in helping their child reach a higher potential. Minds-In-Motion also offers sessions in the Spring and Fall.
For more information about Minds-In-Motion, visit http://mimlearning.com/
By guest contributor: Brandy