Slime Time: How to make homemade slime
Monday was a rainy day and I was really in a fog from sinus pressure so I decided it would be a good idea to make some homemade slime. Surely, this would occupy the children long enough for me to lay down for a moment.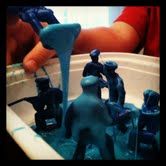 After some googling, googling is now a verb you know, I found that slime is made with borax. Interesting, we have borax in our garage and we use it to attract and kill bugs. I still went ahead and made it knowing that I would be playing with the slime with the kids and I could make sure they don't ingest it. Considering nearly every recipe I found had borax in it, I decided it was ok to use the borax – don't you believe everything on the internet?
Here's the recipe we used:
1 teaspoon borax powder
1.5 cups of warm water
.5 cup of white glue, like Elmer's
Food coloring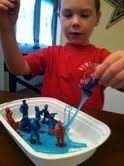 We dissolved the borax in one cup of warm water and the glue in another bowl with .5 cup of warm water. Mix food coloring with the glue/water. Then, we mixed it all together. We stirred and popped bubbles and then kneaded it. If you let it sit and water can run off, you can pour it out. Keep kneading it and it will firm up. You can let the kids play with it then or you can store it in a baggie.
It is very easy to clean with just soap and warm water. It comes right off of hands, bowls, plastic in general.
Have a slimy day!
Stephanie
*This is not a recipe for human consumption. It is for play purposes only. Make sure to always supervise young children.