Five Favorite Fall Crafts
Break out the red, yellow, and orange. It's time to turn your house into an autumn array of color!
1. Bumpkin – Brown paper bag pumpkin (or apple)




Supplies:
• Brown paper bag
• Orange or red paint
• Paintbrush
• Newspaper
• Twist tie or piece of string
• Leaf
Simply have your children paint the flat brown paper bag orange (or red if you want to make apples!) After the paint dries, open the bag and stuff with newspaper. Twist at top and secure with a twist tie orstring. Add a leaf!
2. Silly Scarecrow Gourd
• Small gourd or pumpkin
• Wiggly eyesGlue (hot glue gun works well, adults only)
• Pieces of felt for nose and mouth
• Collection of items from outdoors to embellish
• Small straw hat from $1 store (optional)
• Pieces of recycled things to use for a hat or topper
• Twine
Make a face on your gourd with the eyes and pieces of felt. Make it silly! Add a hat or somestraw or pine needles. We used a piece of an apple or potato bag from the grocery store. Useyour imagination! Use the twine to make a loop at the top so that your scarecrow can hang from adoorknob. Secure with hot glue (supervise!)
3. Leaf Collection Collage
Supplies:
• Variety of leaves
• Clear contact paper
Tape a piece of contact paper sticky side up to your table. Arrange leaves anyway your kids like! Place another piece of contact paper over leaf covered one. Trimaround edges if needed. Makes a fun and festive placemat!
4. Edible Acorns


Supplies:
• Hershey kisses
• Bite size nutter butter cookies
• Chocolate chips
Melt a little bit of the chips in the microwave (you don't need much.) Take a dab ofmelted chocolate and place on a Hershey kiss. Add a cookie. Take another dab of meltedchocolate and place on the miniature chip. Add the chip to the top of the cookie.
5. Fall Trees with Celery Prints or Leaf Prints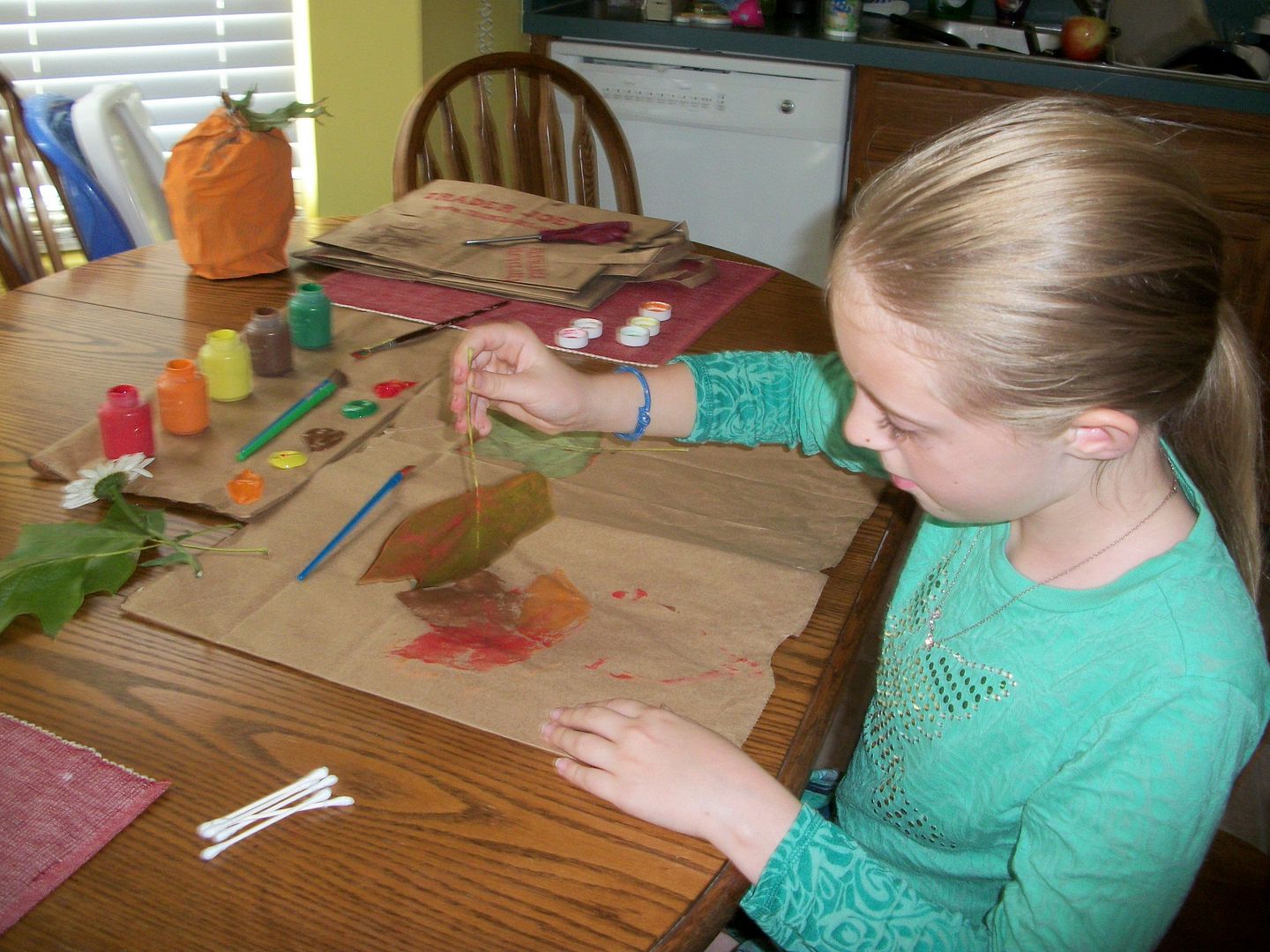 Supplies:
• Paper
• Paints
• Cut off stumps of celery
• Large and smaller leaves found outside
Using the large leaf, paint it any way you would like. We use fall colors and paint top, middle, andbottom a different color
Place the leaf onto the white paper. A fall tree!
A variation: use the celery stumps to paint a tree. First draw a tree on the paper. Much like potato or apple prints, place the celery into some paint. Touch it to the paper in a variety of places to make falllike bushes or bunches of leaves on the tree.
By guest contributor: Erin