Review of Disney on Ice – Worlds of Fantasy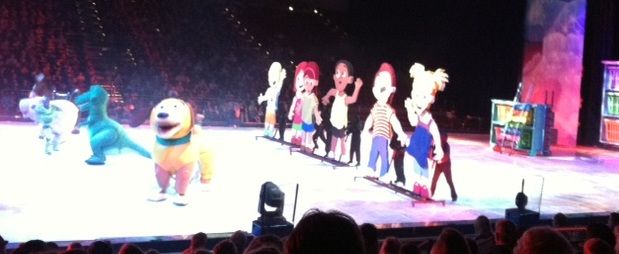 This weekend, my husband and I had the opportunity to take the kids down to the KFC Yum! Center to see the Disney on Ice show. I love taking the kids downtown for events and I think the KFC Yum! Center is so easy to access. Also, the event parking is just $5 so you don't get burdened with a big extra cost.
We arrived 20 minutes before the show and got our tickets at the outdoor ticket windows. The kids love going inside the grand venue and riding the escalators, holding their tickets and searching for their seats. There are many folks around selling Disney stuff so either prepare to say no unless you want to splurge on a special treat for the kids, it's priced for an event!
The show had several character themes. Mickey, Minnie, Donald and Goofy served as the main hosts in between the different acts. The first half of the show featured the Little Mermaid and all of her friends as Ariel transformed from a mermaid to a human and dazzled the kids with songs. Then, Cars characters took the ice and that was fun to watch. They were pretty large and I definitely didn't expect it! Also, Tinkerbell and her Pixie Hollow friends came out to perform and tell the story of Tinkerbell saving the day and helping change the season to Spring. This was all about 45 minutes.




Then, there was a short intermission during which event staff traveled about the aisles to sell drinks and cotton candy. We took that time to stand up and stretch about; it was short enough that the kids did not get antsy. The last part was all about Toy Story 3. It told most of the main story line with all of the main characters from that movie and this was definitely the best part of the show. Both my husband and I were laughing at the Barbie and Ken bit as we did in the movie. The music during this part of the show was really great! The kids loved the fire and the claw, pretty much sitting mesmerized through the entire thing. My asked to watch the movie immediately when we got home and talked about it all day and was so excited to tell his teacher about it the next day at school.
This outing was out second Disney on Ice experience and so far, both of them were positive. The pricing of these shows are always reasonable for a big to-do and they usually run a discount. Look for it to come to town again and check it out!
Stephanie