Parent's Night Out! Review of Martini's Italian Bistro
For our anniversary this year, we decided to check out Martini Italian Bistro. Martini's is located in The Summit, which is one of my favorite shopping areas, and gave us
somewhere to walk around before and after dinner as part of our date
night.
Martini's describes itself as "comfortable yet sophisticated
locally owned restaurant and bar." They focus on Italian food
including pastas, pizzas, meats and seafood dishes. When we first
walked into the restaurant, we noticed the great atmosphere of the bar
area. There was table and bar seating, sports on the TVs, a live
pianist playing requests (which sounded great in the background), and
over 70 hand-crafted martinis to choose from.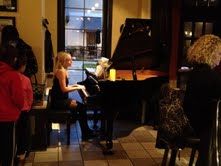 We were seated in the
main dinning room and I immediately loved the set up. There is the
main room, a separate section to each side, open hallways to the
kitchen, and the kitchen itself, all with the visual impact that you
are sitting in an Italian courtyard surrounded by different buildings
because of the use of half walls and pillars. One of the sections has
glass between the pillars and a door making it available for private
parties. The lighting was dimmed enough to be romantic while still
being able to recognize people across the room. The Italian music was
subtle enough to hear the piano if we listened for it but without having to
yell to have a conversation. The wait staff were all very pleasant,
cheerful, and knowledgeable. The kitchen being in view of the diners
always makes me feel better about health standards, and it is a
made-from-scratch menu meaning you can order your food however you
want. They can even do whole wheat and gluten free pastas.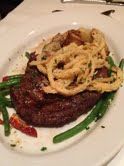 We ordered
appetizers, entrees, and a dessert (as well as enjoying the olive oil
and dipping bread they bring to your table before your food arrives).
All of the food was delicious and we ate more than we should have! The main dining area had a varied crowd from kids to adults, informal
to business casual, and couples to groups, while the bar area seems
separate and more of a bar scene. They do have a separate kid's menu,
and it even has activities on it for them to draw on, so it can be
good for a family meal or date night. It was a very comfortable,
relaxing evening, and I look forward to going back for another date
night. Martini's also hosts Happy Hour, Martini Madness, and Wine
Enthusiast Night, so be sure to check their website for details! Additionally, during the warm months, you can dine outside!
By guest contributor: Caryn