Review of Gaylord Opryland – A Country Christmas and Dreamworks packages
One of my favorite things about winter is the Holiday Season with Christmas as its' shining star. So many of my family's traditions are situated around our celebration of Christmas, from our tradition of getting special ornaments for our tree to seeing shows and attending Holiday events. This year we discovered a place where we can get as much Holiday spirit as we can handle all in one place: Gaylord Opryland's A Country Christmas Celebration.
Opryland is located in Nashville, Tennessee, and it only took us a little over three hours to make the drive from Louisville. This in itself makes is a great long weekend destination, particularly if you have younger kids. We had just gotten to the point of fighting in the car ("His apple is redder than mine!" Seriously, I can't make this stuff up.) when we arrived. After check-in we were led through the Cascades area of the hotel to our room. I could have been very happy just hanging out in there the entire three days. There is a Koi pond, waterfall, two restaurants and a coffee shop, and beautiful greenery to enjoy. Our room had a balcony overlooking this area and even my kids enjoyed sitting out there and taking in the beautiful climate-controlled scenery.
This resort is famous for its' Southern Hospitality. The staff were all friendly, gracious, and accommodating. Perhaps my favorite thing about the staff is that their name tags list their hometowns. Right off the bat I met people from Michigan and Seattle, two places near and dear to my heart. Throughout our stay, the staff went out of their way to speak to my children about their experiences and ask them what they had liked the best so far. Adults who go out of their way to make children happy are rare, and that's what A Country Christmas is all about. At one point my youngest son fell asleep at the lunch table and the server pulled three chairs together to make him comfortable. You don't get service like that just anywhere.
I must admit, when I first read our itinerary I was intimidated. We were scheduled to attend a minimum of four events a day, and I just wasn't sure whether my three and five year-olds would be able to keep up. But the events were exciting enough to keep their attention and most were short enough that my little ones were able to sit through them with no problem. Because the event was a media preview event, I was able to do things that are not normally available to the public. My favorite thing was meeting all the Executive Chefs and many of the Sous Chefs from the resort and trying some of the many wonderful foods available at the resort. Everything from sushi to pizza to prime rib is available, and I had no problem with putting my usual vegetarian diet on the back burner for a few days to try Bourbon glazed ham, crab cakes, and my favorite shrimp and grits. The food was so amazing I could not imagine ordering anything and not liking it.
After being serenaded at the Lighting Ceremony we headed to the Gaylord Opryland Events Center for ICE! Featuring Shrek the Halls. This 40,000 square foot complex houses some of the most beautiful and intricate ice sculptures you will ever see, including four 20 foot tall ice slides. My son went down thirty gazillion times (by his estimate) and we nearly had to drag him out of the below-freezing environment. Admission includes the use of parkas, but I recommend bringing warm gloves, hats, and scarves for this event. Tickets are $24.95 for adults and $17.95 for ages 4-11, and this event is included in some of the "A Country Christmas" packages. After walking through the gift shop you can stop by Gingy's house and purchase a gingerbread decorating kit or have your picture taken with Gingy.
After Ice! We headed to the world famous Grand Ole Opry House for the Radio City Christmas Spectacular starring the Rockettes. I had never seen the Rockettes before and it was truly a mesmerizing event. Even my children were enchanted by the singing and dancing. Right before intermission there was a brand new 3D movie featuring Santa Claus, who was delivering toys to all the boys and girls of the world. Even though this was one of the longer shows we attended and my youngest fell asleep ten minutes into the second act, we all loved it so much we would go again and again and it would never get old. The sights and sounds of the Holidays really come to life, and the finale is a wonderful interpretation of the story of the first Christmas. At $25-99 per ticket, this is one of the more expensive shows Opryland has to offer, but I highly recommend choosing this show even if you are on a budget. It is included in the "A Country Christmas" packages.
The next morning we slept in and ordered room service, which was a real treat for my kiddos. The food throughout the resort is amazing, and the room service is no exception. Then we headed down to the Treasures for the Holidays Craft show ($6 for adults, $4 for children 4-11). There were more than 40 vendors, some of which had truly unique items. We purchased personalized Christmas ornaments for the kids and our family dog and a pair of earrings for me. I really wanted a CanJo (exactly like it sounds- a banjo made from a can) or a washboard tie (!) but sadly I didn't see myself ever having a need for these things. This would be a great place for mom or dad to duck into for some fun Christmas gifts, but I wouldn't recommend taking younger, active kids to this.
After lunch we headed to the Holly Jolly Town Square, which is free unless you go into the Hall of Trees or ride the rides. The Holly Jolly Town Square features 1950s style storefronts, a candy shop, toy shop where kids can play with classic toys and games, a train ride, and an opportunity to meet Santa Claus. My kids had a blast just sitting and playing all the different games and riding the train.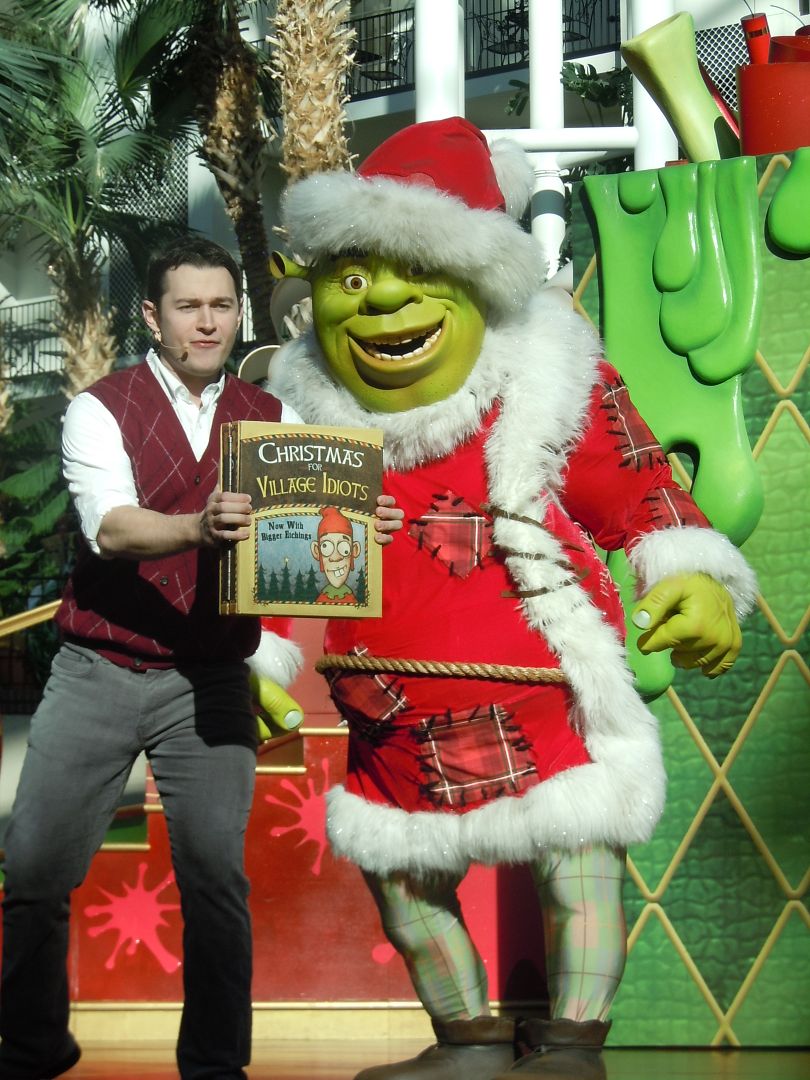 Next we headed over to the Holiday Shrektacular Show, which amazingly is free with seating on a first-come first-served basis. (If you get the Dreamworks package hold on to your wrist bands because they get you into all the VIP activities throughout the resort. We made the mistake of throwing ours away after the Holiday Shrektacular.) My kids could go to this show over and over again. Before the show, some of the dancers talked to the kids in the audience about their experiences so far and asked them which characters they thought they were going to see in the show. Again, people taking time to make sure my kids are having a good time means the world to me. The show was about half an hour, and Shrek learns what the Holidays are all about with some help from his friends and a book entitled "Christmas for Village Idiots".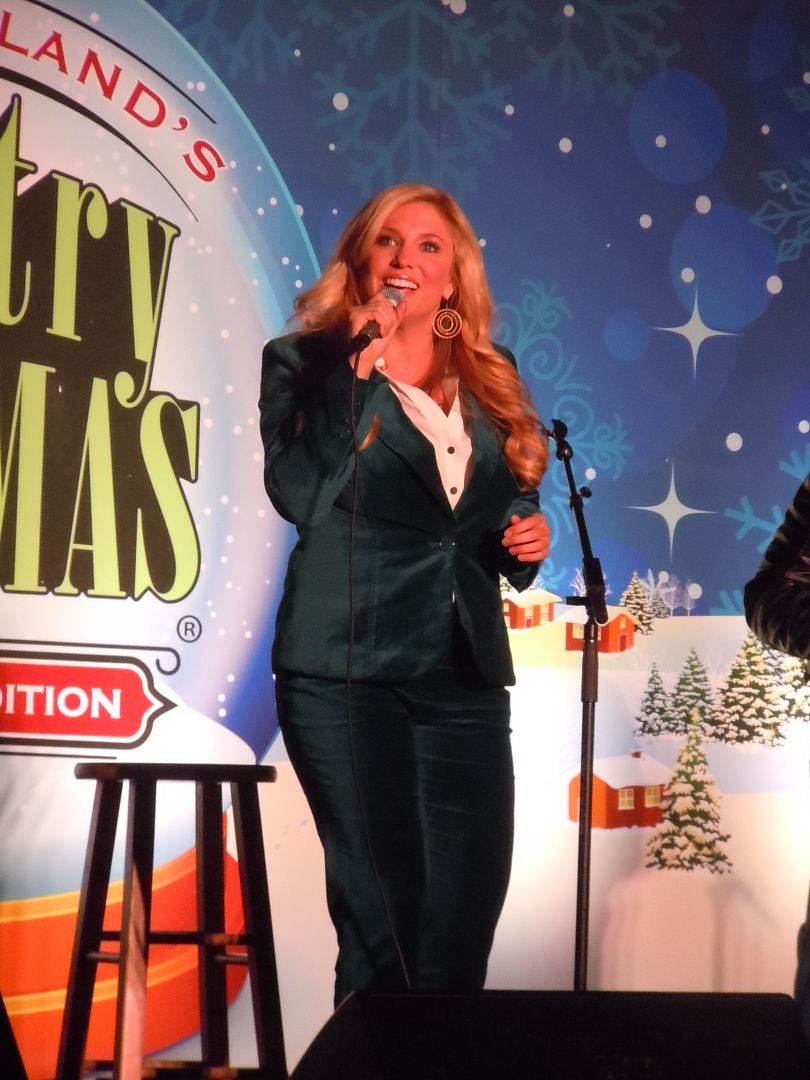 Later we attended Lorrie Morgan's Enchanted Christmas Dinner and Show. Again, even the banquet-style food was great. The show was beautiful and festive, featuring some of Lorrie's hits as well as plenty of Christmas songs. This event was a little more difficult for my young kids to sit through, though once the show started my five year old seemed to enjoy it. I would recommend this show to adults and older children, though if you're on vacation and feeling brave it is doable with little ones. Tickets are $69 for adults and $39 for kids 4-11 and are included in the "A Country Christmas" package. The menu is set and a children's meal is available.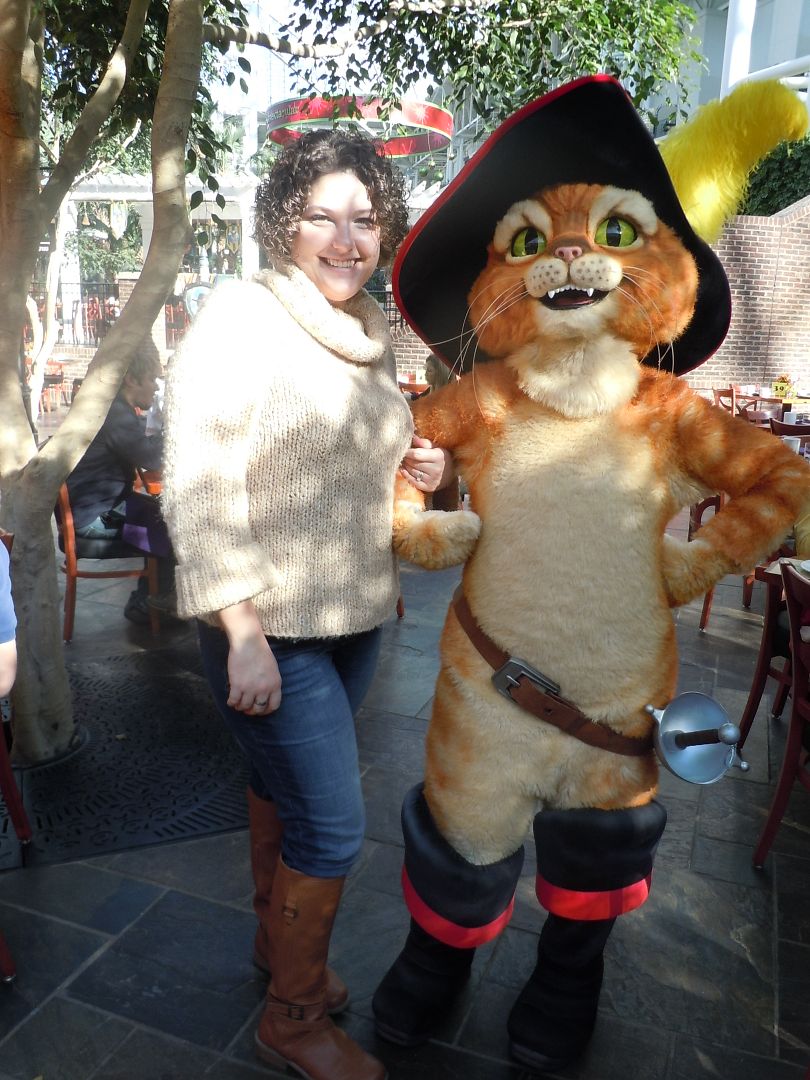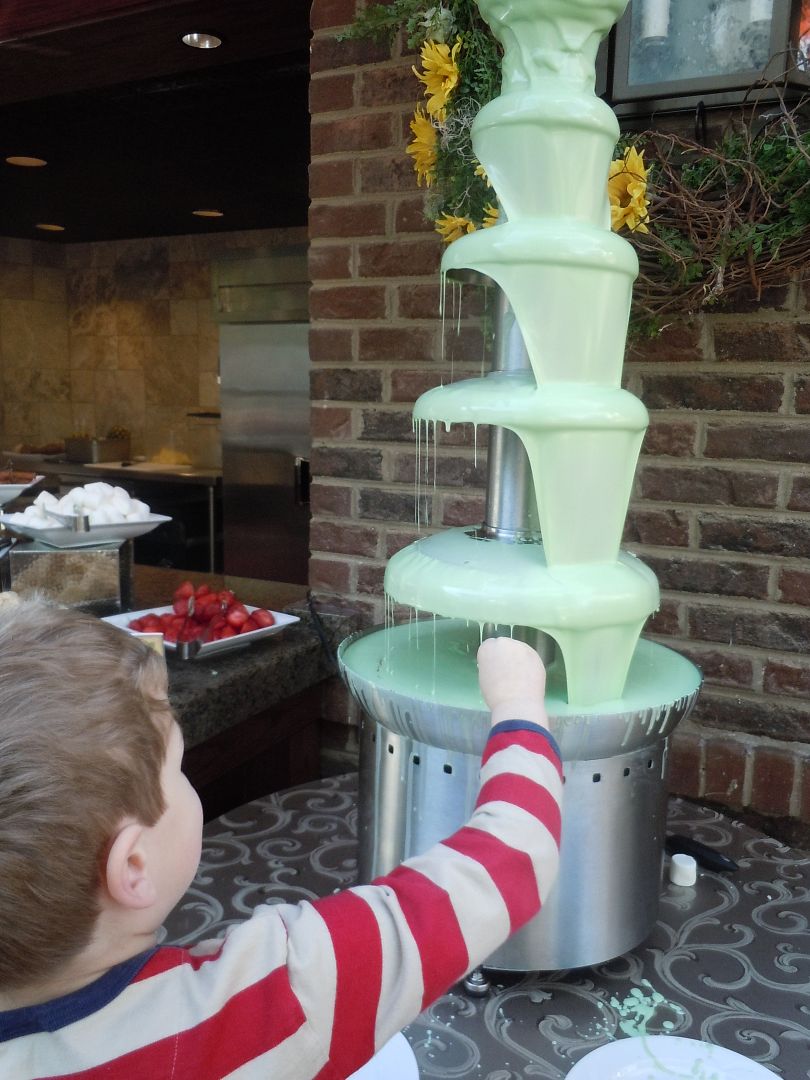 After dinner we went to meet Gingy and then returned to our room to find soft Christmas music playing on the radio(the alarm clocks have stereo sound and connect to your mp3 player or iPhone, and they are also white noise machines), chocolates on our pillows, and my kids' stuffed animals neatly tucked into their blankets. We slept well after the excitement of the past two days, and then headed to ShrekFeast in the morning. This was one of my kids' favorite activities, because not only was there a breakfast buffet complete with a green chocolate fountain, they also got to meet Shrek and Fiona as well as Puss in Boots. My five year old relished every opportunity he had to meet the Dreamworks characters, but my three year old was apprehensive. Once again the staff went out of their way to make sure my children had a wonderful time- Puss in Boots approached my little one gingerly and gave him a chance to warm up to the experience at his own pace. ShrekFeast is included in some of the DreamWorks packages. Otherwise, tickets are $29.95 for adults and $19.95 for kids 4-11. I highly recommend this if you have little ones.
If you don't have time for all your usual Holiday traditions this year, I highly recommend Gaylord Opryland's a Country Christmas Celebration. You can fit so many memory-making experiences into a short time frame with all the activities Opryland has to offer. There are even more activities than I have reviewed here, because I could only do so much in three days! Dreamworks packages start at $219. This event will definitely be on our list to do again in the future.
By guest contributor: Maggie