Things to do in and around Louisville for Christmas & Holidays
2016 info – Click here – Best List of Holiday Events


This post is sponsored by


There are so many ways to get out and about in Louisville / Kentuckiana for the holidays. This is a long list of events and I bet there's even more so if you know of any events we don't have listed, just comment on this blog post so we can add them! (Links too, please)
The Festival of Trees & Lights is Nov. 9th -11th at Slugger Field. Ticket info on their website.

Celebration of Lights in Shelbyville Nov. 10th from 3-8pm
Bass Pro Shop Christmas: A must do! They offer so many activities, a free photo with Santa, games, crafts, freebies and more! Starts 11/10 and goes through December 24th and check the times of different promotions by clicking HERE.
A Christmas Story is running at Actor's Theater. It's good for ages 7 and up
Lights Under Louisville is open 7 days a week for a fun drive through festive experience of lights and holiday music starting 11/16 and running through 12/30. It's $25 per car.
Light Up The Summit is November 16th from 6:30-9pm and includes fireworks. November 17th – December 16th, the Santa Experience runs weekends and for $10 shoppers will receive a photo with Santa and sleigh ride.
Light Up Simpsonville is November 17th at ~6pm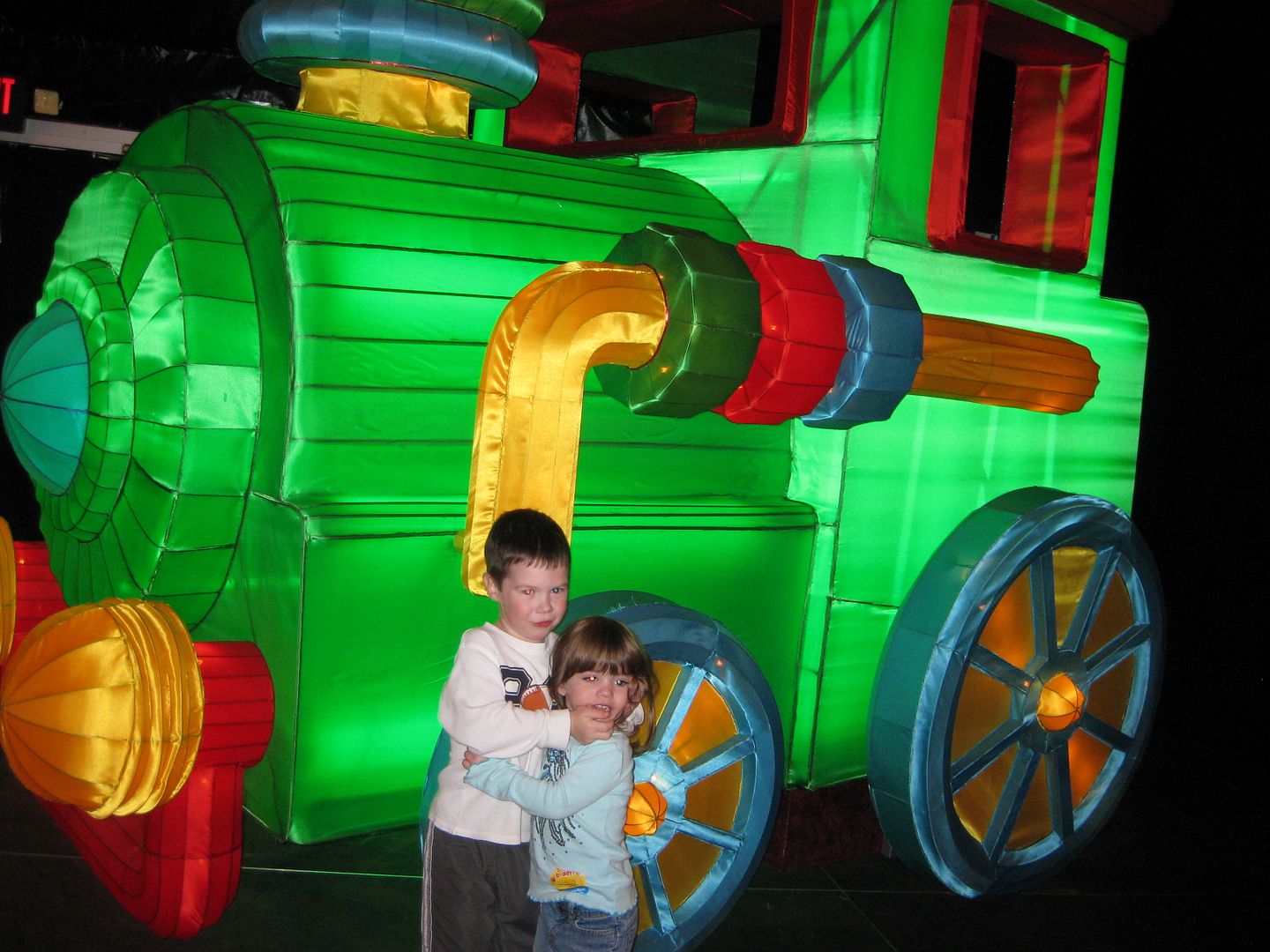 Christmas at the Galt House – November 17th – January 2nd. Kalightoscope, Candy Cane Forest, Peppermint Express kiddie train, Snow Fairy, Christmas village and more. Here's our review from last year but they have added even more!
Light Up Louisville & 40 Nights of Lights – Santa arrives for the Light Up Louisville event on November 23rd. Then, in 4th Street Live there will be nightly holiday entertainment with an ice rink and light show! Parade info HERE. The Galt House, Frazier Museum, Muhammad Ali Center and Belle of Louisville all have specials associated with 40 Nights of Lights.
Yew Dell Gardens Holiday trains exhibit – Nov. 23rd – Dec. 16th various dates and time
Locust Grove Holiday Sampler – Nov 23rd 10-4:30.
Stage One-The Best Christmas Pageant Ever: Good for ages 8 and up. Various weekend performances starting 11/24. The Kentucky Center, Bomhard Theater. Tickets are $19.75
A Fairytale Christmas at Derby Dinner Playhouse is a great family option. They have multiple show dates starting in late November. It's $16 for breakfast and $21 for lunch performances.
The
Santa Express at the Kentucky Railway Museum
: Day and evening excursions starting on November 30th and running varies dates and times. It's $20.00 for Adults and $18.00 for children ages 2-12, kids under the age of 2 are free. 90 minutes, Santa will visit and more
Light up Prospect at the Point – November 30th 5-7pm with Santa arriving at 5:45pm (Prospect Point Shopping Center)
Norton Commons Holiday Festival – Nov 30th and Dec 1. Santa, Shopping, horse drawn carriage rides.
The Nature of Christmas in Goshen at the Creasey Mahan Nature Preserve: FREE! Hayrides, Gift and Craft booths, free food and more. December 1st from 12-3pm. Santa & Mrs. Claus arrive at 1:30 and there's gifts for the first 250 kids. LouFamFun is an official supporter of this event!
Nutcracker in a Nutshell
: Dec. 1st at 2 or 7pm Enjoy a shorter, family friendly holiday classic at the Louisville Palace!
Christmas in Anchorage Holiday Boutique – December 1st 9-3pm
Holiday on Gaslight Square in Jeffersontown. Dec 1st from 6-8pm
Christmas in Anchorage December 1st, various activities all day including breakfast with Santa.
Light Up LaGrange for a great small town family experience. December 7th starting at 6pm. So much to do during this event!
Country Christmas at Blackacre Conservancy – Dec. 8th starting at 2pm
Holly & Ivy at the Louisville Nature Center on Dec. 8th from 9-3pm
The Sugar Plum Fairy from the Louisville Ballet on various dates from December 8-23rd.
The Olde Tyme Christmas Celebration on Frankfort Ave. is December 8th from 9am to 8pm including live music, photos with Santa, free trolley and horse carriage rides (noon-6pm) and more.
The Louisville Chorus performs Christmas Wonderland at St. Mary's Catholic Church in New Albany at 7pm on December 8th. Student $6 Senior $15 General $18. Also, Christmas at St. Brigid on December 15th at 7:30.
City of Jeffersonville Nutcracker on Ice December 9th at 11am.
Cookies with Santa Dec. 9th from 2-4pm at Baptist Eastpoint. Snacks, free photo with Santa and more.
Santa at the Zoo during the Louisville Zoo Santa Safari that takes place December 8th-9th and 15-16th at 10, noon and 2pm. Ticket info on their website, new this year is a Polar Express 4-D show.
The lights at Toyland Christmas display are wonderful, set to music and you can make donations to benefit the Home of the Innocents. Details still pending for 2012 on their website. We wrote a review, click HERE to read about it and see photos/video. Here's the MAP on how to get there (6801 melon court, Louisville, KY).
Pictures with Santa at the malls
Mall St. Matthews
Oxmoor Center
Jefferson Mall (details not on website yet)
Green Tree Mall
Make free ornaments at the American Printing House for the Blind on Saturday Dec. 8th from 10:30-12:30pm. Good for all ages (and all holidays!). Registration required (call 899-2213)
North Pole Express at Kentucky Dinner Train in Bardstown – various dates starting December 9th. $50 for adults, $35 for kids up to the age of 12. 1.5 hr excursion, photos with Santa, meal and a surprise for each child!
Nutcracker on Ice from the LSA on Saturday, December 15th & 16th 1:30pm.& 4:30 p.m. at Iceland.
You can have breakfast with Santa on the Spirit of Jefferson on Dec. 15th at 10am.
December 16th, Santa is coming to The Parent-Teacher Store and Toys too! 1-3pm and every child gets a gift, bring your camera!
December 16th is the Bright Lights of Brooklawn event from 5:30-7:30pm. There will be the lighting of the Brooklawn Christmas Tree, a visit from Santa Claus and a tour of the cottages, decorated by the children who reside at Brooklawn. Even holiday treats and food will be available to all guests.
Sunday, December 18: 2:00 p.m. & 6:00 p.m. at Iceland Sports Complex. $12 per person.
The Louisville Christmas Show, huge shopping event if you love expo-style shopping. Free admission and the first 500 kids each day get a free photo with Santa. December 7,8,9th
I'll add more when/if I find more! Know of any more, email info@louisvillefamilyfun.net
New for 2012! Groupon TOY DEALS!


Stephanie
One time fee sponsorships available for this post. Email melissa@louisvillefamilyfun.net