Review of BLU Grille – Brunch with Santa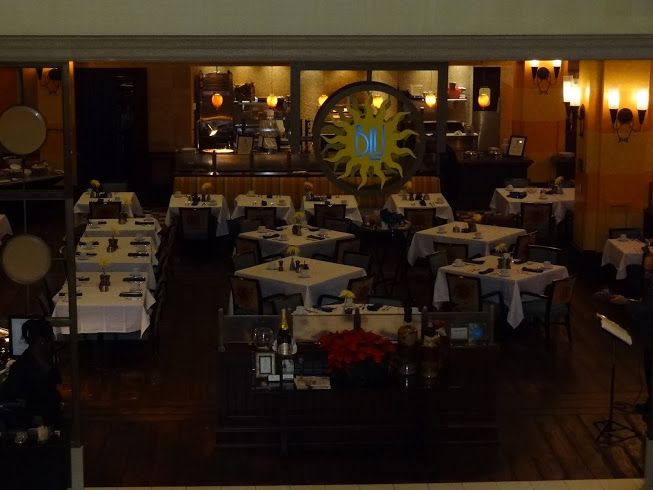 My family had the pleasure of dining at BLU Italian Grille's Fresh Pasta & Jazz Sunday Brunch, located inside the Marriott downtown. Santa Claus greeted us in the beautifully decorated hotel lobby. There was only one other family having brunch at Blu so my 3 year old had the opportunity to take three separate trips to Santa's lap without having to wait (my daughter screamed if we got in fifteen feet of Santa, she's 15 months old).
We were seated in the dining room and were promptly brought a high chair and booster seat. There were only four other tables with patrons so we had lots of attention and could enjoy 5 different buffet stations without having to wait. The stations included: a pasta, omelet and carving station, an antipasto station, a breakfast station (complete with eggs benedict, French toast, fresh fruit, breakfast pizza and MUCH more), a station with hot brunch choices (salmon, oysters and vegetables), and a dessert station. We stayed for an hour and a half enjoyed the musicians playing jazz Christmas melodies and sampling as much food as we could. The food was better than typical brunch food and we loved that we could have pre-made items or have made to order items at each station.
I'm truly surprised there wasn't more families taking advantage of this opportunity. Given the cost, atmosphere, and lots of quality time with Santa in comparison with other events we've been to with small children, it was well worth it. Go while you still have a chance!
BLU Italian Grille's Fresh Pasta & Jazz Sunday Brunch with Santa
Sundays, December 9-23
10:30 a.m. to 2 p.m
$22.95 per person; $11.50 (plus tax & gratuity) for children 4-12 years old
(See COUPON HERE)
Free for children under 4 years old
Complimentary parking is available for all brunch guests, street parking is also free and plentiful
By guest contributor: Tanya