Review of My Old Kentucky Dinner Train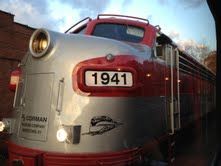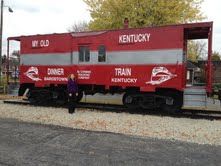 For my birthday and anniversary, my husband and I decided to go for
our first ride on My Old Kentucky Dinner Train. The train leaves from Bardstown and
travels north through Bernheim Forest and the Jim Beam distillery
property to Limestone Springs and back. The trip is a 37 mile round
trip excursion and is approximately 2 ½ hours long. The Bardstown
railroad branch was originally constructed by The Bardstown and
Louisville Railroad in 1860. The R. J. Corman Railroad Company
purchased the branch in 1987 and developed the Dinner Train which had
its inaugural run in 1988. The four cars of the dinner train are all
steel skirted cars built by the Budd Company in the late 1940's after
World War II that were refurbished for the dinner train.
It's best to buy your tickets in advance if you want to ensure a seat,
and many of the excursions are sold out early. As of November 2012,
they still did not have online advanced tickets, so we called and gave
our information over the phone a month before our excursion date. They
ask you to be at the train depot a half hour before your train is
scheduled to leave. When you first enter, you check in at the depot
desk and get your ticket. You are assigned a seat in advance, so it
does not matter what time you do arrive as long as you arrive before
they board. Everyone waits in the depot where there is a bar and small
gift shop. Once your train and seat section are called to board, you
board the train car and find your table. Each table is a 4 person
table, so if you have a party of 2, you will be paired with another
party of 2 that will be seated across from you at the table. We were
seated with two strangers who we had very little in common with, but
we enjoyed chatting with them. Private seating may be purchased for an
additional fee (the fee is $75 for lunch, $100 for dinner and $125 for
the murder mystery excursions).
On our train, the plates were already set with an appetizer of grapes,
crackers, and cheese when we boarded. Once everyone was on board, the
waiters and waitresses came out to get drink orders and your choice of
salads. Your non-alcoholic drinks are all included, and they have a
long list of wine by the bottle, a list of wine by the glass, beer,
and other liquor drinks for purchase (you can pay your bill at the end
of the ride by cash or credit). They ask you to call them with your
choice of entree a couple weeks in advance of your excursion, but the waitress did ask us
for our entree, salad, and dessert choices. The food was delicious and
was a large portion size. No one went home hungry or disappointed. We
enjoyed meeting the chef who stopped at each table to chat with you
before the dessert was served. For dessert we ordered the Chocolate
Choo-Choo for Two. It was so delicious and neat looking, we ordered a
separate one to take home to our kids for only $3 extra!
The scenery on the train was mostly woods, houses, the Jim Bean
distillery, and lots of large whiskey distilleries where rows upon
rows of whiskey barrels are stored. Once it was dark, the scenery was
minimal despite the under lighting of the train, but since we were
going back along the same route, it was nice to focus on our
conversation and the atmosphere of the train on the return trip. One
word of advice – if you are easily motion sick, you may want to ask to
sit facing forward on the first stretch of the trip (seats B and D).
The train moves slower on the way out, and that is when you eat most
of your food. The trip back goes faster and was more difficult to see
that you were moving backward in the dark.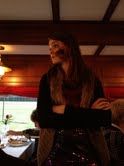 One thing that was different on our excursion from others, was the
Murder Mystery performance. We were entertained between each course by
5 actors that put on a play down the center aisle of the train car. It
was fun to be entertained during the trip, it was neat to be sitting
right next to the actors as they performed, and I enjoyed trying to
solve the mystery before they told us who did it. I think it added
something to the train ride that made the price worth it for a special
occasion. One word of warning – while children ages 5 through 12 are
permitted to ride the murder mystery dinners, our performance included
a lot of adult content and a few choice words that would keep me from
bringing younger children on board. You may want to double check the
content before you let your kids ride with you.
Our train ride was in October when the changing leaves made the ride
extra beautiful, but the train does run year round. Most of the train
rides are Friday and Saturdays, but there are mid-week excursions for
holidays, kid's events, and specialty events like The Wild Turkey
Bourbon Run, and North Pole Express. As of 2012, the prices for adults
are from $60 to $100 each depending on whether you ride for lunch,
dinner, special excursions or murder mystery trains. Children's
tickets (ages 5-12) are from $35 – $60. Group pricing is available for
groups of 10 or more. I think the ride may be a little too long for my
kids to enjoy without getting antsy, but it was great for a special
date night. I think for my kids, I would stick with the special
children's excursions. They have for excursions for kids ages 3
through 12, and breakfast excursions are only 1 ½ hours in length.
We really enjoyed My Old Kentucky Dinner Train and thought it was
wonderful for a special occasion. It was a unique setting to enjoy
delicious food, fun entertainment, and beautiful scenery.
By guest contributor: Caryn