Things to do in Downtown Louisville for the Holidays
If you are celebrating Christmas or another holiday, heading to downtown Louisville like a tourist or with out of town guests can be a fun adventure without getting out of town. At the last minute one day, I decided to gather up some things in a backpack and play tourist along the 4th Street area of Louisville with the kids after school. It was a mild day so I knew it would be the perfect opportunity.
For convenience, we parked in the 4th street Live parking garage that you can access from 5th street. We arrived at 3:15pm and parked until 7:30pm, it was $8. There is cheaper parking, many of the lots where you pay at the machines are $5 but again, I chose convenience. We walked into 4th Street Live and first things first, we hit the bathroom to make sure we were good to go for a while. You will find an open public restroom in the food court on the second level. After that, we walked around and just did some sightseeing and then decided it was time to go skating.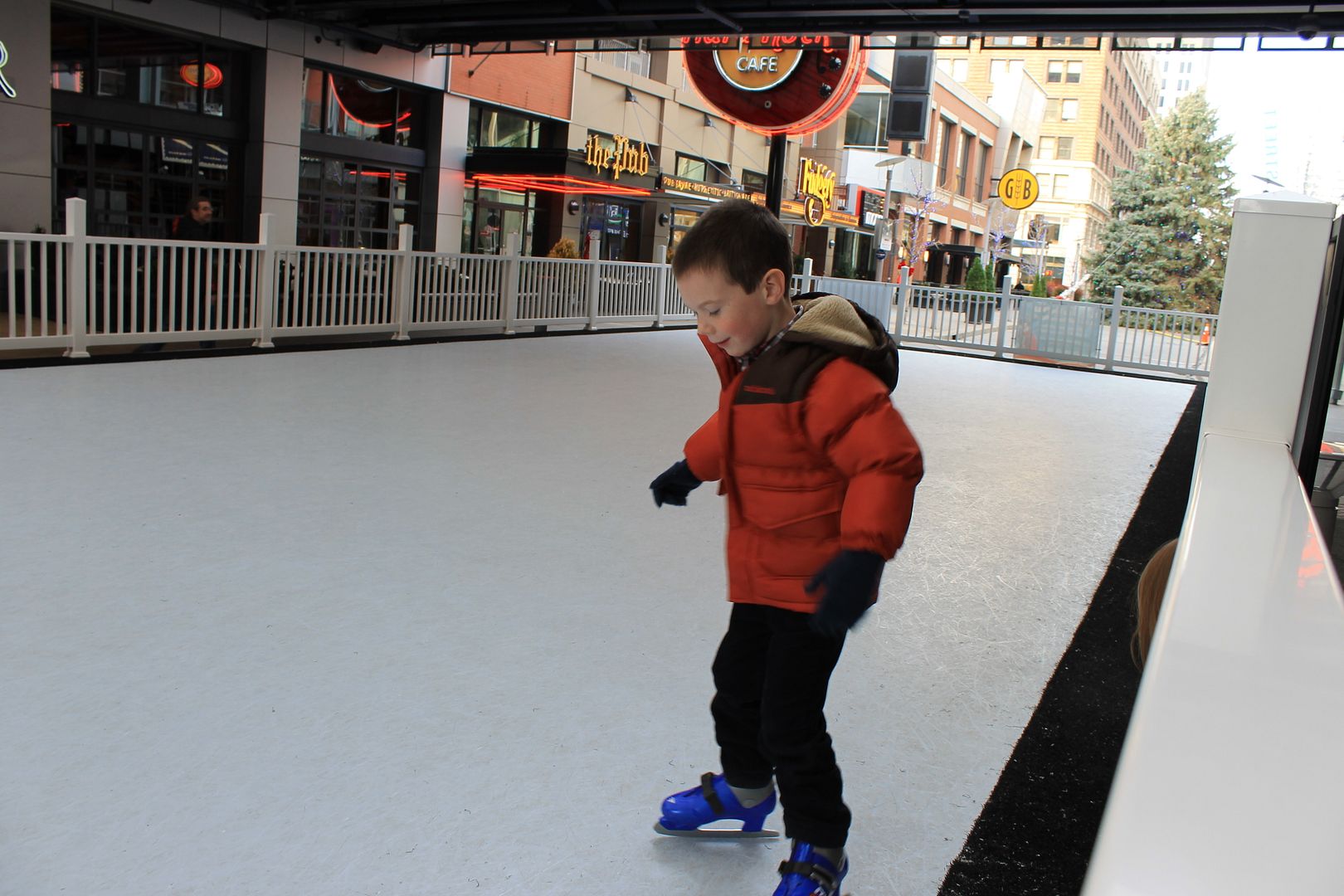 They have the entrances and skate rental set up outside of the Sports & Social Club restaurant in the middle of 4th Street Live. It's $3/hr for kids, $5/hr for adults and $2/pair if you rent skates. They do have day pass options if you want to be able to come back and skate later on the same day. They only took cash. The skates didn't have laces but instead, these retractable bands that make it pretty quick for putting them on and off with the kids. They have sized toddler 9 and up (but I'm not sure just how big they go if you are a guy and have large feet, forgot to ask! Probably a 13, I assume). You pay after you skate. We hit the ice. Oh way….I feel strange referring to it that way. It is NOT ice. They may say it's synthetic ice but sit on it, feel it, it is NOT ice. It is basically pieces of what looks and feels like a cutting board material that has been oiled. I grew up in NY, my Dad taught me how to ice skate. I can ice skate. I could NOT skate on this stuff. It was very strange. My son (5.5), being fearless, just took to it and did his own version or skate/walking/running and had a blast. My daughter (4) did fine holding my hand and fumbling on the surface but she too had a great time. I didn't like it for skating. The experience was fun, but it was not ice skating. Just an experience outside, people walking by, chilly weather etc. Also, I didn't think it was very clean. My daughter's tights were quite dirty and so were her gloves. I don't know how often they clean the surface. Again, my kids didn't find anything wrong with it but from the expression on my people's faces there to try it out, I could tell I was not the only one somewhat disappointed. We paid $17 for all of us to skate.
We skated for about 45 minutes, paid and moved on for a treat. We tried the relatively new Fudgery. The kids were drawn by the delicious smell and the we went at the right time when the employee what whipping up some fudge on the slabbed. He entertained the kids by throwing the fudge around and making bubbles to slap and pop with his big spatula. We purchased a pretzel rod dipped in chocolate and half a pound of tasty peanut butter fudge for about $11. I packed drink pouches, great decision, saved money! So far, total cost of our excursion: $36.
Then, we walked around, picking at our treat and looking at the big tree at 4th Street Live. We stopped into A Taste of Kentucky and got a cool horse shaped cookie cutter and shopped a bit. We needed to make another bathroom break soon so we headed to the Galt House to see the holiday decorations. I decided to do something a little different and cut into the Convention Center and headed to the second floor to walk with the kids along the sky walk. They got a kick out of that and you know you can take that from 4th Street Live (in the food court) to the Galt House, great for inclement weather or just a different perspective. My kids loved walking OVER the streets. It's called Louie Link. Cost of sightseeing: ZERO
We explored the Galt House, chatted with the bellman dressed as Toy Soldiers, looked at the bird displays and some of the KaLightoscope art that they have out in the lobby areas. We paused for a snack, which I packed in order to save money. But, we were really getting hungry for dinner so we walked two blocks east to 2nd and Main and at Bearno's by the Bridge. It was really busy since there was a U of L game at the Yum! Center but we were still seated right away. We sat in the basement area and the kids thought that was neat and different. There is a buffet option down there that seemed really popular for the pre-game crowd. It was filled with game-goers and families. We chose a simple medium cheese pizza, waters for the kids and a soda for me. This was my first time trying Bearno's pizza and I was pleasantly surprised! The crust was different, a bit crunchy and usually I like a soft crust but this was really great. And, a bonus that I noticed. The crunchy crust made it really easy for the kids to handle since it as sturdy; they usually struggle to hold a soft crust pizza slice so I have to cut it into a million pieces. We ate the entire pizza, just the right size for us and it was about $18 with tip. Total cost of outing so far: $54 (3 hrs of fun so far).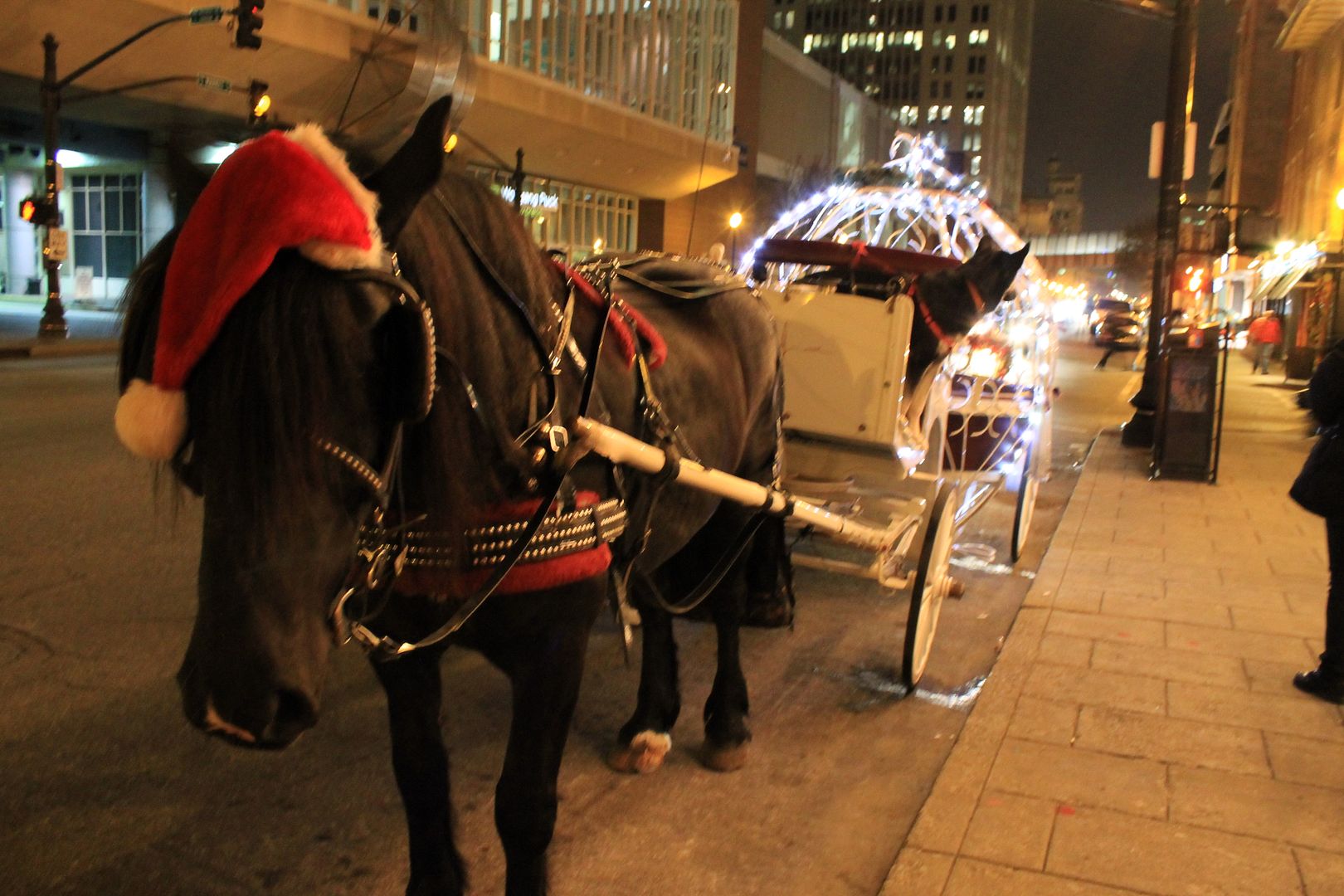 Finally, I thought: what a nice evening for a horse and carriage ride! We had never done this in downtown Louisville and we always see them parked by the Old Spaghetti Factory so we headed that way. I looked it up that afternoon so I had an idea of what they offered. The weather was perfect, not too cold, and the lights would be on for the holidays and 40 Nights of Lights and there was lots of bustle on the streets because of the basketball game. We walked 1 block south to Market and 1 block west to 3rd and there were 2 horse drawn carriages awaiting us! My daughter squealed with delight because one of the carriages was a lit Cinderella-style carriage. Of course, we chose this ride. It was $20 for a 15 minute spin around about 4 blocks. I couldn't tip her because she had not change and I only had 2 – $20 bills. The website said they take credit cards, they did not. Lesson learned, bring singles. My kids LOVED it. They were waving to people as we trotted by and yelling "Merry Christmas, have a nice day!!" and people were responding with thanks or greetings. It was both hysterical and heart-warming at the same time. You can make reservations or you can take your chance that they will be by 3rd and Market, evenings. Total cost of adventure, final: $74 for 4 hours of once a year fun.
I NEVER spend $74 on 4 hours of activities. I think it can be done a little cheaper if you want. Pack a dinner and eat it somewhere or don't splurge on the horse-drawn carriage ride and just get a free pet of the horses and photo opportunity. And, the ice skating was just ok but really not too expensive for testing it out (and my son did say it was his favorite if the day). But, hey, it was awesome to walk hand-in-hand with the kids in that urban setting with music piping and lights on for 40 Nights of Lights and I just couldn't resist. But, a day downtown for under $100 can definitely feel like a getaway and a getaway would be far more expensive!
Stephanie