Church Summer Picnics in and around Louisville: May-August 2013
Click HERE For 2015 Directory of Church Picnics
Church Summer Picnics, you say you've never been?! There is so much fun to be had!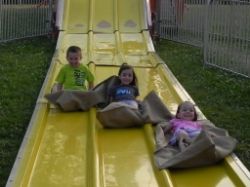 From the beginning of May through the end of August, Summer Picnics are everywhere (followed by Fall Festivals in September-November). These Picnics provide a little of everything – great food, music, arts and crafts, games, casino nights, beer tents, bounce houses, and rides (*depending on the location). Whether just grabbing a bite to eat at a fried-chicken-dinner night, or spending some time at the game tents trying to win a houseplant, there is a little something for everyone in the family.
We have been attending the picnics since my son was a little over one, and have found them to be a great family evening out! Just don't forget your change at home to play games. As far as costs, they do vary. Picnics are free to enter; otherwise it depends on whether you purchase tickets/arm bands for rides, eat a meal, or hit up the food vendors. Generally games are cheap: nickels, dimes, and quarters, but can be up to a dollar for "fun" games for the kids. Picnics normally run on Fridays & Saturdays, some being Saturday only, and a few open up the rides for a special "ride night" on Thursdays.
Dates and locations can be found at: http://www.archlou.org/parishes/picnics-festivals/
By guest contributor: Karen