Events for Disabled or Special Needs Children around Derby time around Louisville
Finding activities for children who have special needs can sometimes be a challenge. Whether your child has sensory sensitivities, physical or intellectual disabilities, Louisville Family Fun is here to help! Check back often for monthly postings!

Saturday, May 4th, Louisville Rowing Association -The Louisville Rowing Club offers adaptive rowing for children who are leaving the 5th grade and up. They welcome anyone and will teach you rowing skills despite any previous experience. The first meeting for the season is on Derby Day-May 4th. If you are interested, please call Randy Mills at 419-0033.
Sensory Sensitivity Cinema, Saturdays 10am
Rave Stonybrook 20 Theatre is providing a unique opportunity for those who have sensory sensitivity, anxiety, or any fears regarding movie theatres. The theatre will show a movie with the lights on and the sound at a more comfortable level. Talking, moving around, singing or whatever makes your child more comfortable is OK. This is a safe and accepting environment. You'll need to call ahead to check on which movie is scheduled at 499-6658.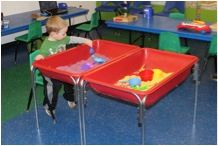 Tuesday, April 30th 8:30-9:30am (and future dates) Kentucky Science Center Playdates are a great way to give your child, age 0-7, the opportunity to explore exhibits in an environment with less noise and crowds. There are lots of sensory activities, hands-on activities, and computer-based learning for those that love technology. The playdates are free-no membership required and are held on the last Tuesday of every month.
Saturday, April 20th, 10am-2pm
Thunder Day at Camp HiHo is an event specifically designed for children on the autism spectrum and their siblings. Thunder Day gives your child the opportunity to socialize, have some fun, all while having their caregiver there for support, if needed. They will offer fishing, boating, sports, forts, zip line, rope and tire swings, archery and arts & crafts. All supplies are provided, but be sure to bring your own sack lunch. Space is limited and you must register HERE.
By guest contributor: Jennifer