Review of Bluegrass Indoor Karting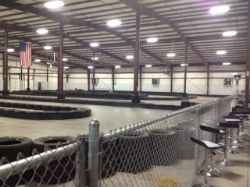 So I was dying to try this place out while my 12 year old nephew was in town for Spring Break. After that experience there are a few very important Family Fun details I would like to share with our readers.
1. Juniors (7-15) and Adults race separately, per the information I neglected to read provided on their website. When you know better you do better. So, here it is for you: "Due to the difference in speeds between Junior karts and Adult karts, we cannot mix the two in a single race. Adults race with other adults and juniors will race with other juniors. For safety purposes, and due to State and insurance requirements, no exceptions can be made."
We were super bummed to find out we would not face each other in ultimate battle. However, they do provide a great detailed printout of stats including fastest lap, average and how you stack up against that week's racers. So we compared our statistics and were satisfied with that. Come to find out, I'm not as super-fast as I thought. Bummer.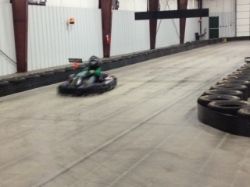 2. Racing is only for kids 8+. However, they make exceptions for 7 year olds Monday through Thursday. I'm assuming that is because there is more traffic over the weekends. I don't knowpeople, I don't make the rules…I'm merely the messenger. "Junior kart drivers must be at least 48″ tall and 8 years of age to race. Drivers that are 7 years of age may race, but only Monday through Thursdays and not on weekends. All drivers must meet the 48″ height requirement."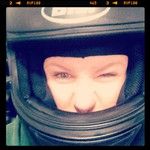 Beyond figuring out the initial regulations, we really enjoyed ourselves. This isn't your average put-put go Karts. This is the real deal…initial safety briefing for first timers, victory stand, trophies, the whole 9. This would be a great birthday party for that older dude or dudette that has outgrown the bouncy house, but not the birthday party.
The staff was super friendly and although the location was kind of in the middle of nowhere, it was easy to find. The facility was clean and had great alternatives if you were waiting to race or just spectating. There were a few arcade games as well as a cool spectating area out on the track to snap some pictures and watch the action or you could watch from inside as well. All-in-all another FabuLOUs place to hang with the fam. Check out Bluegrass Indoor Karting for more information; they are located at 2520 Ampere Drive in the Bluegrass Commerce Park in Jeffersontown. 502-297-9899.
By guest contributor: Whitney