Review of 2 Dips & a Shake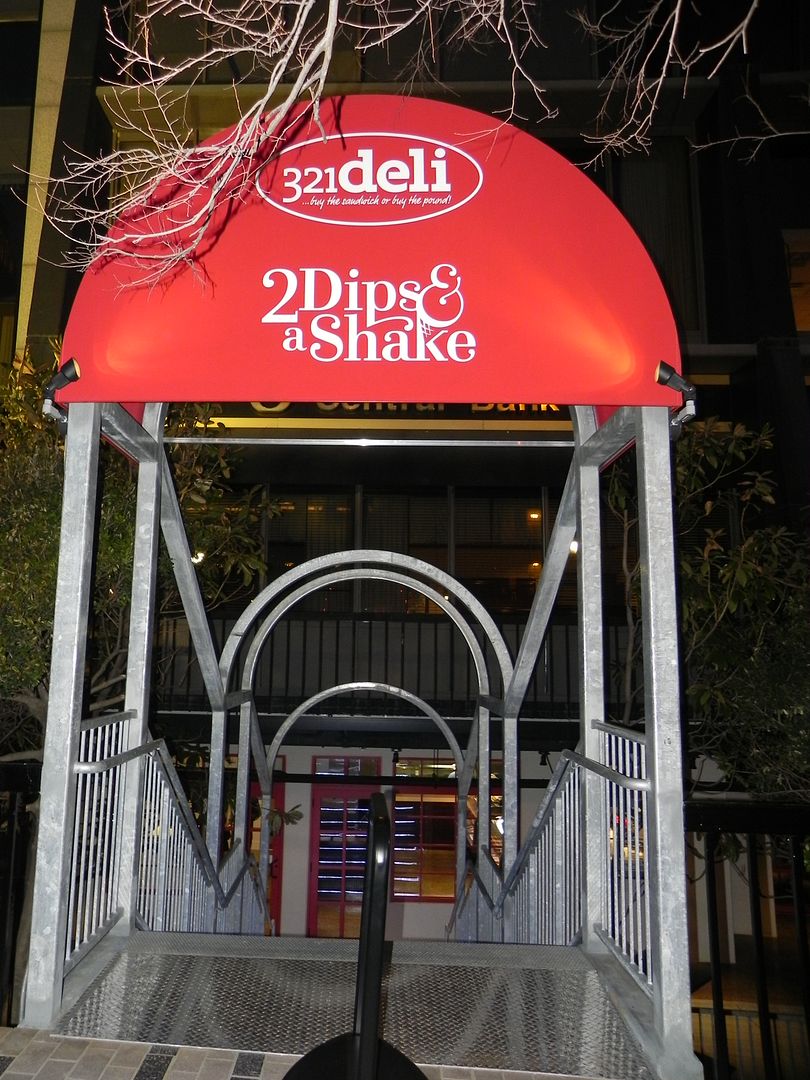 321 West Main Street
(located on the bottom of the Waterfront Plaza building on the
corner of 3rd and Main).
Hours: M-Th 11am to 9pm, F & Sat 11am to 10pm, Closed Sunday
Our family set out for a fun-filled Friday evening spent entirely downtown. After
strolling across the Big Four Bridge, and playing at Waterfront Park, we had dinner on
the river and wanted to end out the evening in style – What better than to indulge in some
yummy dessert?!?
Being that 2 Dips & a Shake had just opened that same week, we hoped it would make
the perfect place. It is easily accessible, as the Waterfront Plaza Garage (off 3rd) has
parking on the same ground floor level, and a marked door that leads into the back of the
parlor.
Upon entering, the first thing I noticed was that there is no seating; literally a counter to
order from and that is all. Inquiring with one of the workers, I was informed that there
is seating outside (cafe-style tables), which are located under a large awning in case of
rain. Patrons are also permitted to sit in the attached restaurant, Down One Bourbon Bar. The bar/restaurant and 321deli, which is located
directly next door, are all locally owned and operated by the same company. I also took
note that there are no bathrooms attached to the parlor, and was informed that patrons
also utilize the restaurant for this purpose as well. *Note, there are no changing tables in
the bathrooms.
As for the ice cream – well, it is quite yummy! They have 12 Comfy Cow flavors to choose from, including all your basic flavors as well
as some fun ones – Derby & Bourbon Ball. They also offer 5 different sundaes, which
include some with flair – Super Coffee Sundae made up of coffee ice cream, coffee syrup,
espresso grounds and chocolate-covered espresso beans, and a Mint Julep sundae made
up of mint chip ice cream with bourbon syrup! There are also 8 different shake choices,
that which include your basics, as well as some usually ones – Bourbon & Nutella!
Lastly, they offer a variety of unusual fountain drinks, including Mojito, Spicy Mango, &
Pineapple/Chipotle, just to name a few!
As for the prices, I think they are to be expected for fine ice cream/desserts – $3.50/scoop
$4.75 for a double, $5.50-7.50 for sundaes, and $4.50/6.00 for shakes.
Overall, the desserts are yummy (per my kids' happy, messy faces), and the atmosphere
(as least outdoors) is pretty neat. Given the location, it's a perfect stop for some after-
theater or post-game dessert, especially in the summer months where seating outside is
optimal. If not on an outing with the family, it would certainly provide the perfect cute
little "date-night" stop with your loved one … especially after dining nextdoor at Down
One Bourbon Bar! 😉
By guest contributor: Karen