Review of First Friday Trolley Hop in Downtown Louisville
On Oaks Day, I took my daughter downtown to the First Friday Trolley Hop for a couple of hours of mom and me time. The trolley hours are 5pm-11pm. Of course the more family-friendly hours of the trolley hop are from 5pm to approximately 8pm; after that time frame the crowd and atmosphere becomes more adult-like.
We parked at Louisville Slugger Field for free. The website newsletter states "free parking is available at Slugger Field at Main and Jackson (except during Louisville Bats game nights), Fourth St. Live! Garage after 6pm, and street meters after 6pm." We hopped on the trolley at the front of Slugger Field's parking lot on Main Street. The trolley's course runs down the Main and Market corridor.
We started the hop around 6pm and ended about 8pm. There were many people boarding the trolleys and getting off at various stops along the way. We got off the trolley near 21C Museum Hotel and stepped inside for a few minutes to check it out. When we were leaving, a limousine had pulled up to the curb and my daughter was dying to see who was in it! We hopped back on and drove down the rest of Main Street to 10th and over to Market Street. We passed by Old 502 Winery which was buzzing with people; the Grind food truck was parked there. We took the trolley to the Nulu district and got off near Taco Punk. We were looking for a place to grab a bite to eat and considered Taco Punk, but then saw Lil Cheezers food truck at the curb and decided to grab two grilled cheese sandwiches from them. Our food + two drinks was $16, which was kind of pricey but was the only money we spent on our adventure, and it was local as well.
My daughter and I ate at a small table and chairs outside of Please & Thank You and just enjoyed our girl time together and people watching. After we were done eating, we walked into WHY Louisville (WHY Lou Two) on East Market Street. Inside people were shopping for unique gifts and souvenirs, especially during this busy Derby time. A cool feature set up near the window display was pony rides for $.25! We were planning on walking around there some more, but then it started raining and the sky turned gray, so we hung out under a doorway near the trolley stop until the next trolley came. It took us right back to Main Street and Slugger Field where we were parked. Trolleys were coming about every 5-10 minutes, and getting on and off the trolley was very easy. You can board a trolley at any stop marked with this T sign. The map and schedule is available on the trolleys, or you can download it here.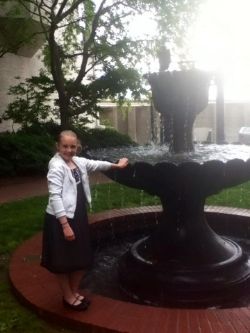 My daughter is ten, and she and I love getting out around the town and exploring together. We had a blast sightseeing and exploring our great downtown. The hop was definitely family-friendly during the time we were there. As a message that I received back from the event coordinators about this hop says, "People of all ages are welcome to the Trolley Hop! It is a family-friendly event, although some of the bars and restaurants that participate later in the evening (after 9 p.m.) are catered to a more adult atmosphere." I found it very easy-going and family-friendly. I would not have any problem taking our younger child along some other time. I saw a few parents with kids on the trolley and out walking the areas where we were. You and your kids can definitely enjoy an evening out together without any adult-influence and be home by 8:00pm. Or you can make it a date night and enjoy the nightlife as a couple.
The First Friday Trolley Hop runs every first Friday of the month: the next one is Friday, June 7 starting at 5pm. Click here for a newsletter and complete listing of all participating venues. The First Friday Trolley Hop Facebook page has up-to-date information listed daily. This trolley hop is completely free, rain or shine, and runs year-round.
By guest contributor: Erin