Review of Huber's Winery Tour, a great Parent's Night Out option
During the cooler weather, we decided to try a winery tour at Huber's Orchard & Winery. We have visited Huber's for plenty of you-pick fruits and vegetables, kid's activities, as well as eaten their delicious meals, but we had never tried a wine tour. Huber's has over 600 acres of fruits and vegetables, and is one of the oldest wineries in Indiana. They have now become so large, and sell to so many states, that they are no longer considered a small business winery by the State of Kentucky, and can no longer participate in some of Kentucky's festivals.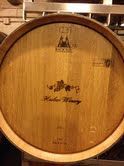 The tour began behind the register in the wine barn. It was a guided tour of the cellar, barrel room, distillery, and bottling facility. There are several staff members who give the tours, and you may even have a tour given by an eighth-generation Huber. It was very informative, personal, and interesting. I enjoyed hearing about the machines that bottle hundreds of bottles a day, down to the old-school bottling method that is still used for a certain type of drink which involves 4 people to physically pour and seal each bottle. Our tour ended with wine-tasting at a long bar set up with a selection of wines to choose from, and a plate of cheese, crackers, fruit, and chocolates to bring out the flavor. We also received a souvenir glass for each member of our party, and a bottle of wine to take home from a select list.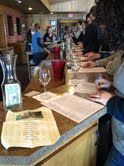 There are several wine tours to choose from, from individuals to groups, and each comes with different offers from food to wine bottles to a trip out to the vineyards with a guide. The tours—which require a reservation—take place during business hours, from 10 a.m. to 6 p.m. on Monday–Saturday and from 12 p.m. to 6 p.m. on Sunday. The final tour each day begins at 4 p.m. They prefer at least a 2 week reservation notice.

For more details, check out their wine tour packages
here
.
By guest contributor: Caryn