A day in historic downtown La Grange, KY
I decided to spend a day in Historic
Downtown La Grange
. I have been in the area several times, but
never got to fully enjoy the day there. I decided to walk down one side the
street, and back up the other side. There are tons of cute "mom and pop" type
shops. I believe every shop is locally owned – I didn't see a single chain store
during my day. Aside from the cute shops and eateries, the fun part of Historic
Downtown La Grange is the trains that go right down the center of Main Street.
It is an amazing site to see. The trains dwarf the buildings and cars they pass
by. Any train lover will stand in awe as the trains go by several times a day.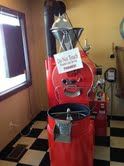 I parked near the
Coffee Roaster
s where they ground their coffee beans regularly, right there in the
front of the shop. It was easily the most delicious tasting coffee drink I
have ever tasted. They have live music Monday nights, a puzzles and games table
with plenty to choose from, and the atmosphere is friendly and comfortable. Then
I walked down the street toward the
La Grange Farmers and Artisan Market
which is held every Saturday. Here you can find
fresh vegetables, eggs, beef, jewelry, art work, cookies from
Q&A Sweet Treats
, and more.
As I walked through Downtown La Grange, I went into most of
the stores. Here are just a few of the shops I visited:
Absolutely Fabulous
is a great shop filled with new gifts and collectibles every week with a
Kentucky-boutique feel to it.
Rainy Day Resale Upscale
has recycled clothing, jewelry and accessories for women and
teens – the stock was brand new looking, and the prices were amazing! At
Karen's Book Barn & Java Stop
, you
can enjoy a great cup of coffee, a cappuccino or frozen beverage while browsing
through new and used books. There is a cute kid section, and many of the
shelves are made from old doors adding lots of character to this already cute
shop.
La Grange Arts & Crafts has
the latest in scrapbooking supplies, jewelry making components, and art and
craft supplies. Classes and crop/craft
sessions are scheduled regularly. TheWOOFery, is a shop that carries organic, safe foods, toys, bedding and
supplies for dogs AND cats. They also offer pet sitting while you shop! The Treasured Child is an old-fashioned
looking toy store with newly released toys for kids and adults including a
riding penny pony and train table to play with. Friends & Fiber has multitudes of specialty yarns, including
alpaca. The 1887 Corner Store has gifts,
kitchenware, jewelry, scarves, horse items, and Kentucky-made products –
perfect for gift shopping!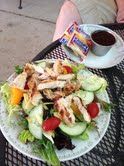 When it comes to food, there are several delicious choices. I
decided to go for lunch at
Serendipity Café & Gifts
. I had seen the sidewalk tables, so I knew they provided
lunch, but I had only ever seen the boutique items, chocolates and ice cream
inside. It looked like a great little "Mom and Pop" restaurant and
store. I was pleasantly surprised to see tables in multiple rooms and the back
outdoor patio. The selection was good for lunch, the waitress was very
attentive, they have a kids menu, and the food was great. They even gave us a
free scone appetizer while we waited for our food! I very much enjoyed my
experience at Serendipity, and would highly recommend it!
In the past, Downtown La Grange has hosted various events
for every month of the year, with their most well-known event being
Light Up La Grange
. This event began
back in 1986 and has become a tradition for many as Santa and the mayor light
the town every first Friday in December at 6:00 p.m. Check their
calendar
for
details of upcoming events.
I highly encourage a trip to Downtown La Grange.
Enjoy the weather while you shop, eat, and support a local community with a lot
to offer.
By guest contributor: Caryn